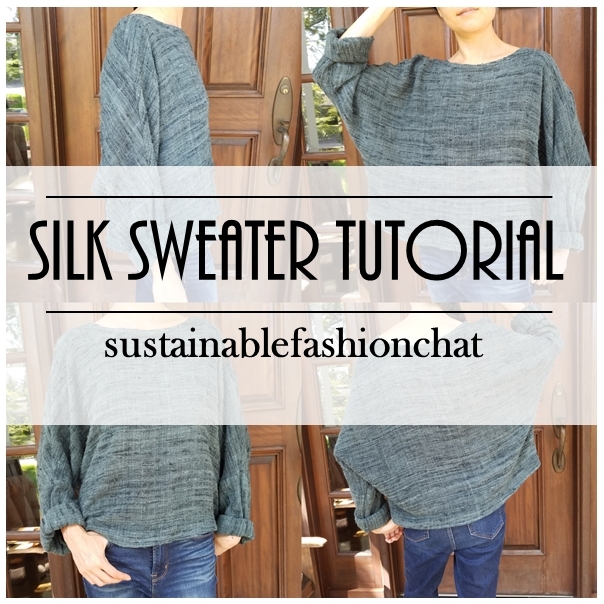 Time for another tutorial! For this tutorial, I'm going to teach you how to sew a top that is somewhat similar to the Jamie and the Jones T sweater. I've never owned one of these tops, so none of the measurements are directly from J+J's design, just the overall idea and aesthetic.
I have been eyeballing the T Sweater for a while now, but I didn't want black, and the cream color doesn't look great on me. Still, I just love the oversized, slouchy, comfortable look. I was considering making a version for myself, but wasn't sure what fabric to use.
I was wearing my silk matka Emma-like kimono and realized that the rough-woven texture of the silk matka could be perfect to get a similar look. I gave my local fabric store a call, but they were out of the silk matka fabric. I did some research and found this lovely shop, B. Black and Sons, based in California.
After much browsing and consideration, I decided to go with the textured gray color. This was a bit of a risk. The fabric's not cheap. I ordered 2 yards which, with shipping, totaled to $65.
It arrived on Friday and, unpacking it out of the box, I was a bit worried that it wasn't the right fabric for my project. While the silk matka I got at my local store has a soft hand (very similar to linen), the fabric I got from B. Blacks was quite stiff. The gray also had a sheen that made it look silvery. Definitely not the casual, cosy fabric I was hoping for.
But I forged ahead and put it in the wash, figuring a wash and dry might soften things up. And it did, beautifully. Even just coming out of the washer, the fabric had 'fuzzed' up, looking much softer and more matte. After a bout in the dryer, it was perfect. One thing to note -- it shrank about 10%. My 72" of fabric lost about 6-7" during the wash and dry. Luckily, that was just enough length for my project. The one thing I don't love about the fabric is that the gray has a greenish cast to it. Not my favorite shade of gray, but it's just fine.
I'm sure there are other fabric options out there that would work just as well. Keep in mind that you want something with some body, but still with good drape. Maybe there are some wool blends or flannel-like fabrics that could work well too. That rough-woven texture contributes to the look too, so keep you eyes open for something like that.
Ok - ready then? Let's get sewing