Although I was hoping at the beginning of the year that I wouldn't purchase anything other than the linen dress I mentioned in this 2017 wrap-up post, the truth is, I've spent $876. That's quite a bit considering I really didn't need to add anything at all to my wardrobe. If I were to spend this much every quarter, I would be spending more than I have in the past 4 years I've been tracking. I'm trying not to be annoyed with myself, and at least want to be intentional about what I buy, so I'm going to list all my purchases this year by quarter.
So without further ado, here are the items I've bought and why I bought them:
1 | J Jill Linen Dress | eBay | $25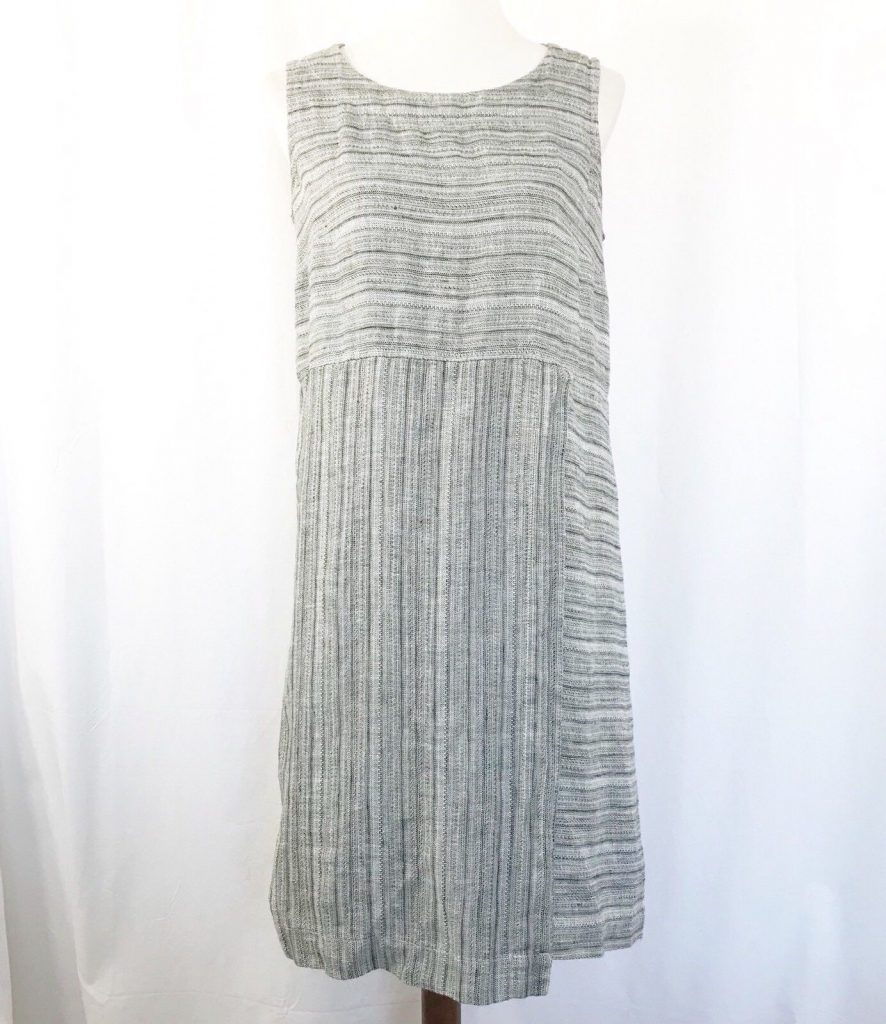 I won't talk too much about this dress as I covered it in an earlier post. It hasn't been warm enough to wear it yet, but I think it will be just the right casual dress to wear on the weekends in warm weather.
2 | Elizabeth Suzann nude silk Georgia dress, dyed navy | selltradees | $160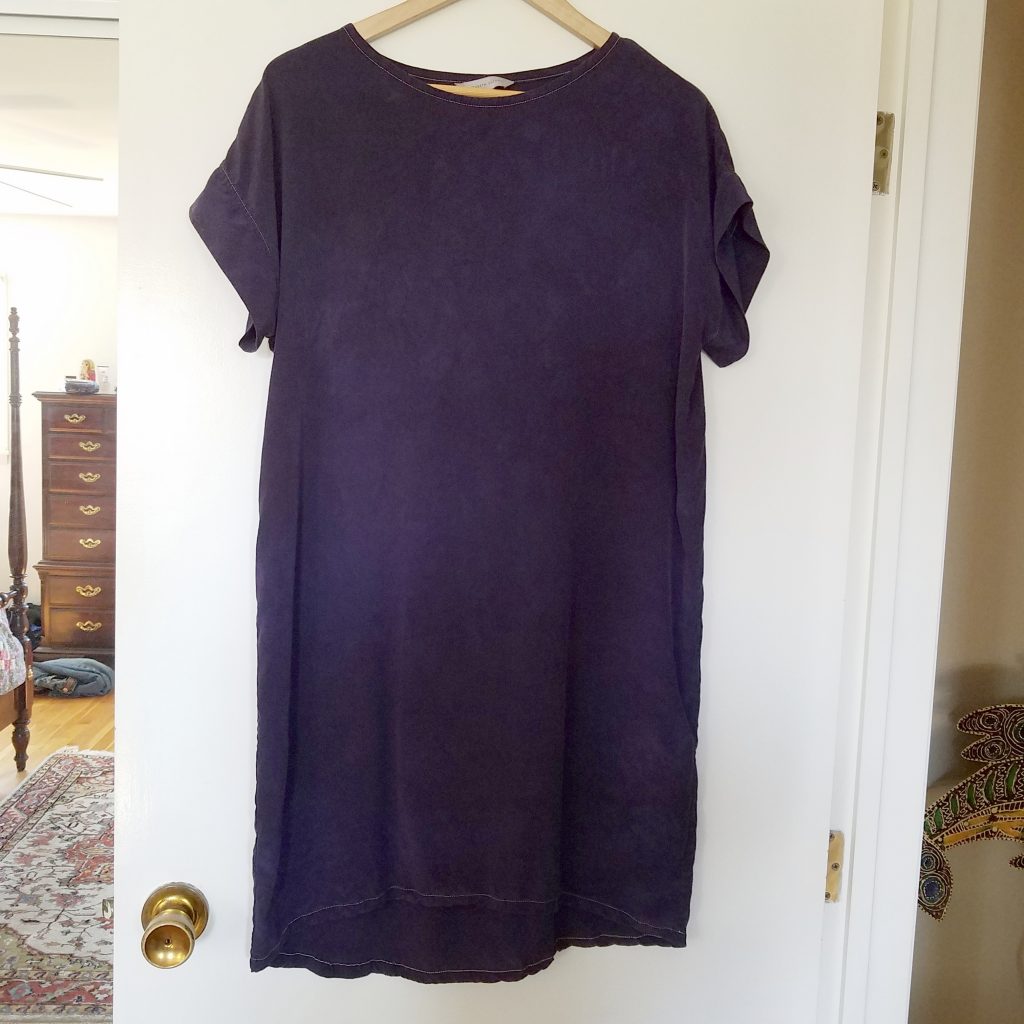 Sometime in late February, I started thinking about lighter colors for spring, and started regretting culling my nude silk Georgia last year. The reason I sold it was that it wasn't super versatile — I didn't want to wear it for most casual things as the light colored silk showed even water marks (from wet hair, for example.) But it really is such a nice, neutral, yet slightly pinkish color, and I missed it.
So I put out an ISO on selltradees. Shortly thereafter, someone listed a nude Georgia dress in OS-. Because I wasn't sure how long it would be before I'd see a top listed in that color, I decided I'd go ahead and buy the dress, and shorten it to a top.
Well, when it showed up, it was more stained than the description had led me to believe. They weren't dark stains, just very faint oil stains, but present enough that I wouldn't want to wear it as a top or a dress.
The other thing I had been toying around with looking for in the summer was a navy linen Georgia, so I lit upon the idea of dyeing the dress navy. I went ahead and took the plunge and it came out… decent. The dyeing is a bit uneven, but it gives a little depth. I don't mind that at all. The main issue is that there was something on the sleeve that blocked the dye, so there are a few light splotches at the cuff of one of the sleeves.
I guess it will be ok for casual wear. I chalk this up to a mistake purchase, which is unfortunate, but I'll just wear it over the summer and see how it goes.
3 | Jamie and the Jones blush silk crepe top | Jamie + the Jones | $230 (with shipping)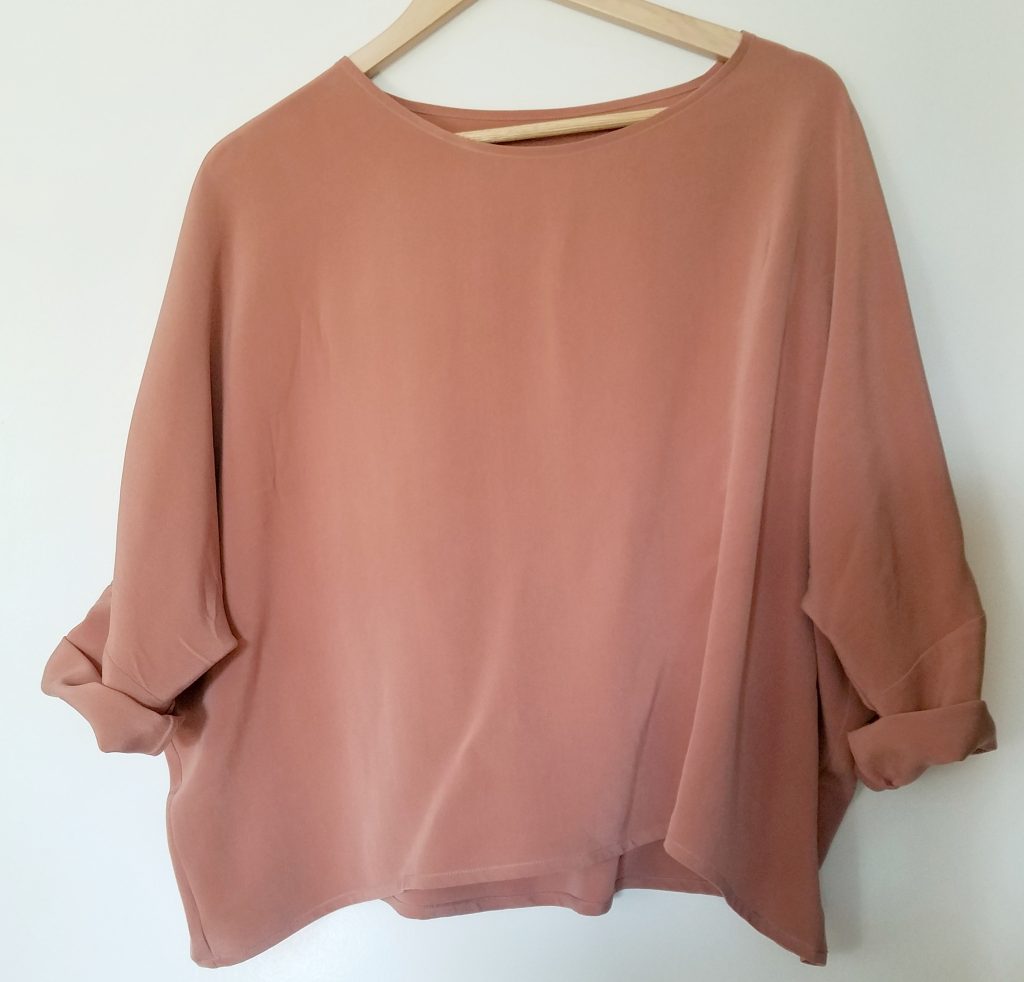 I was still thinking about spring-y colors in February, and I re-focused my attention on the J+J T Top in blush silk crepe. I had seen it when J+J first launched their silk crepe, and hadn't paid a ton of attention at the time. But I do love me some silk, and the blush color is just the understated shade of pink that I like. I did some searching on eBay to see if I could find a less expensive dupe, but there was really nothing like it. So I pulled the trigger on that too. It was a splurge, but I'm glad I did it. I really love wearing this top. I'll review it separately in a J+J review post.
4 | Elizabeth Suzann nude silk Georgia top | selltradees | $120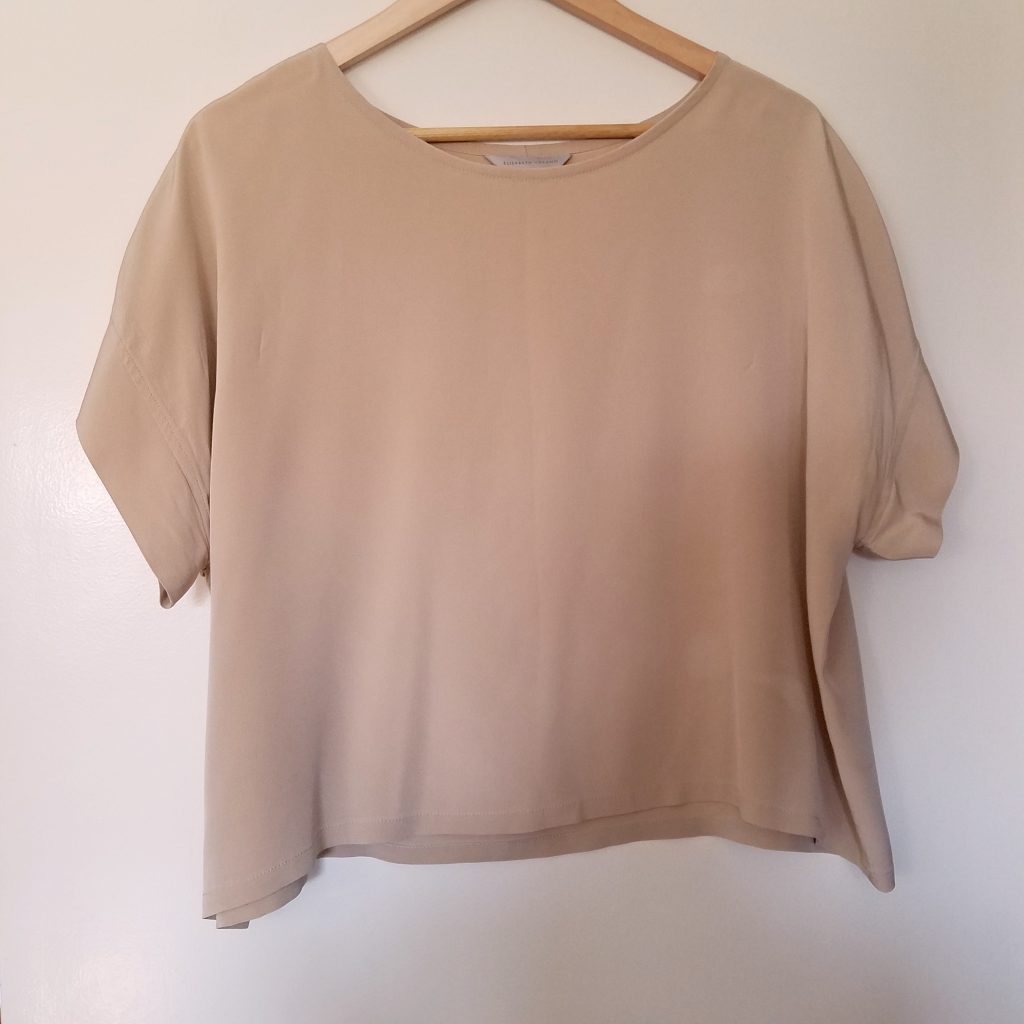 And then of course, after all of that rigamorole with the nude Georgia dress, an actual Georgia top became available for purchase, so I jumped on it. So at least I was able to reverse a regretted sale from last year 🙂 Thanks selltradees!
5 | Cowl neck light gray cashmere sweater | eBay | $31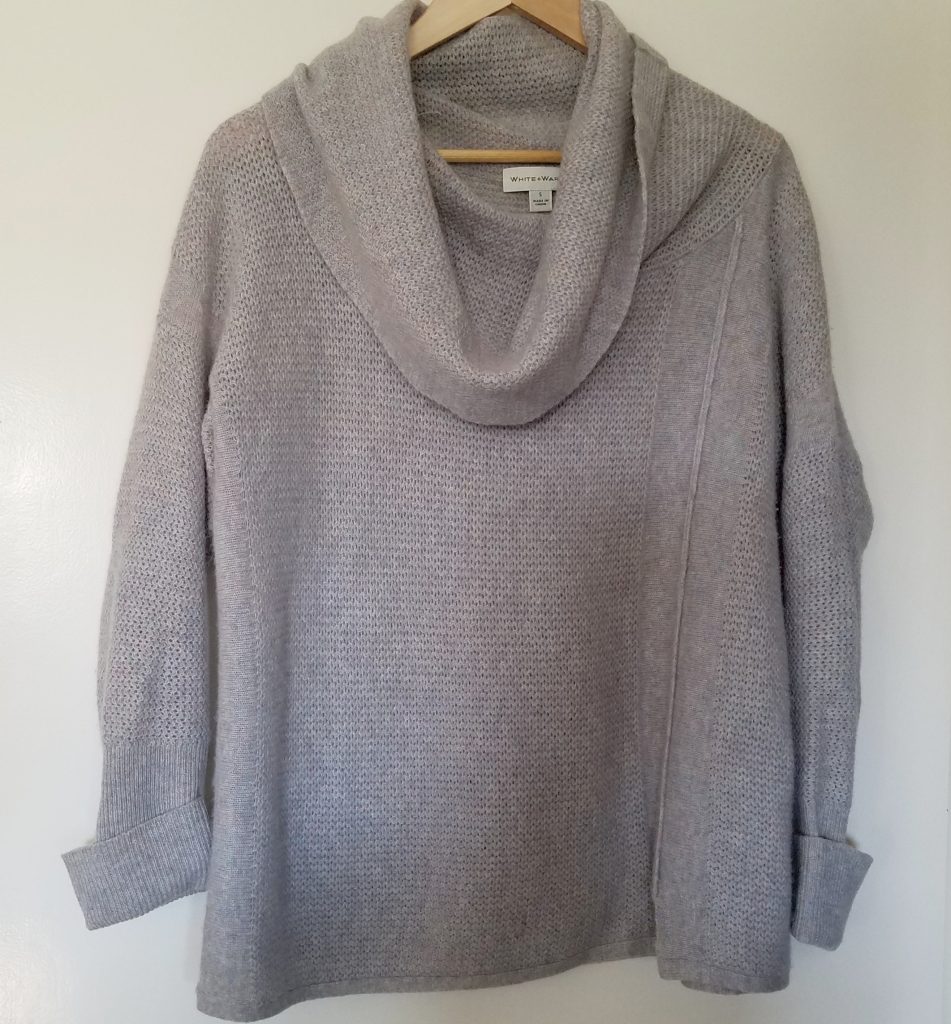 We were season ticket holders at the symphony this year, so we've gone out nearly every Saturday through the cold months. Just about all of my dressy clothes are black or dark gray, so, as we got closer to spring, but were still experiencing cold temperatures, I felt like I'd like something a lighter shade, but still warm. This is my favorite kind of purchase. It's a very high quality sweater, in a luxurious fabric, and I got it on eBay for a very affordable price. And I really like it too, so it's an addition to the wardrobe that I feel good about.
6 | Jamie and the Jones black silk crepe pocket tee | Jamie + the Jones | $150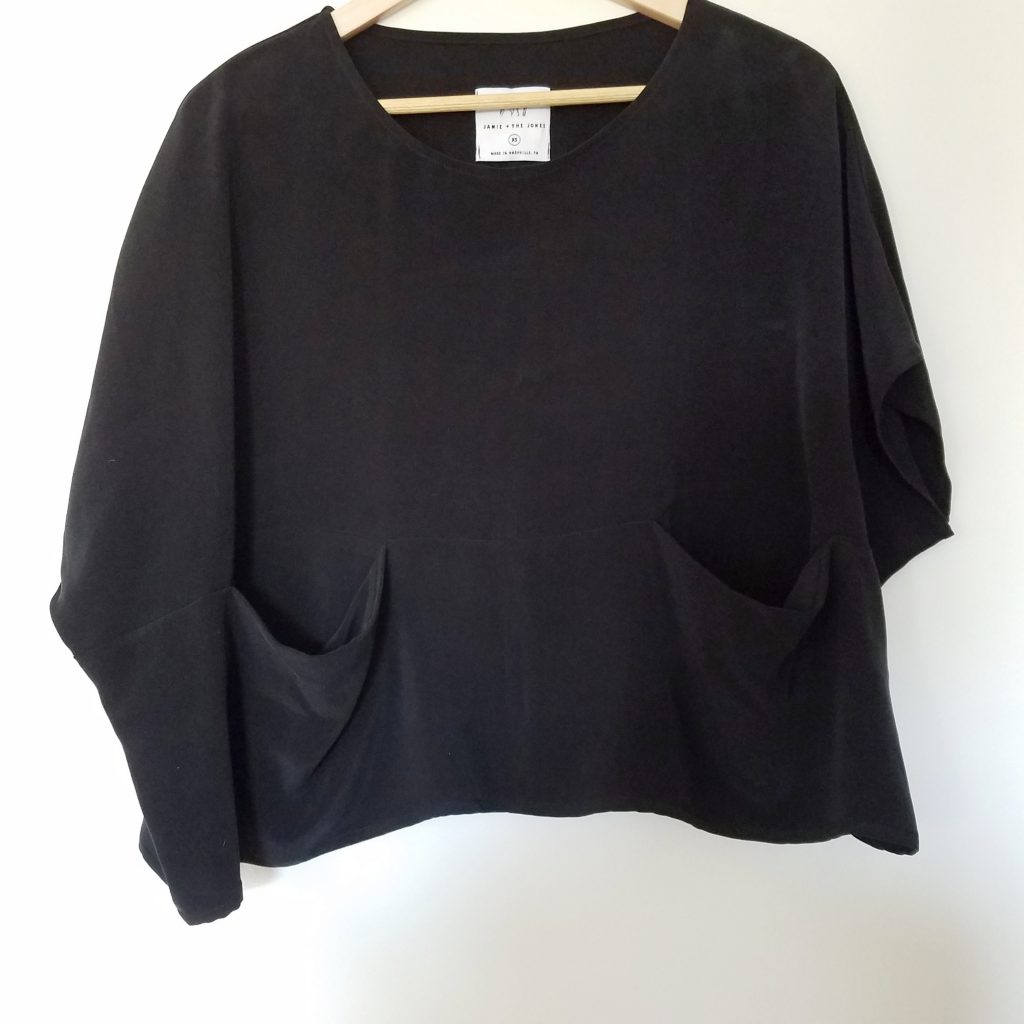 I really love the J+J silk crepe fabric, so when I saw they were having a sample sale, I had to check it out. Turns out I could have waited and gotten my blush T Top at the sample sale (dang it! But it was nice to have the option to return, just in case it hadn't worked out), and they had a black pocket tee available. I decided to just go for it. Yes, impulse. I did wait about 24 hours between when I saw it and when I purchased. Since it was still available, I decided it had my name on it.
7 | Nisolo Ava ballerina black flat | Poshmark | $60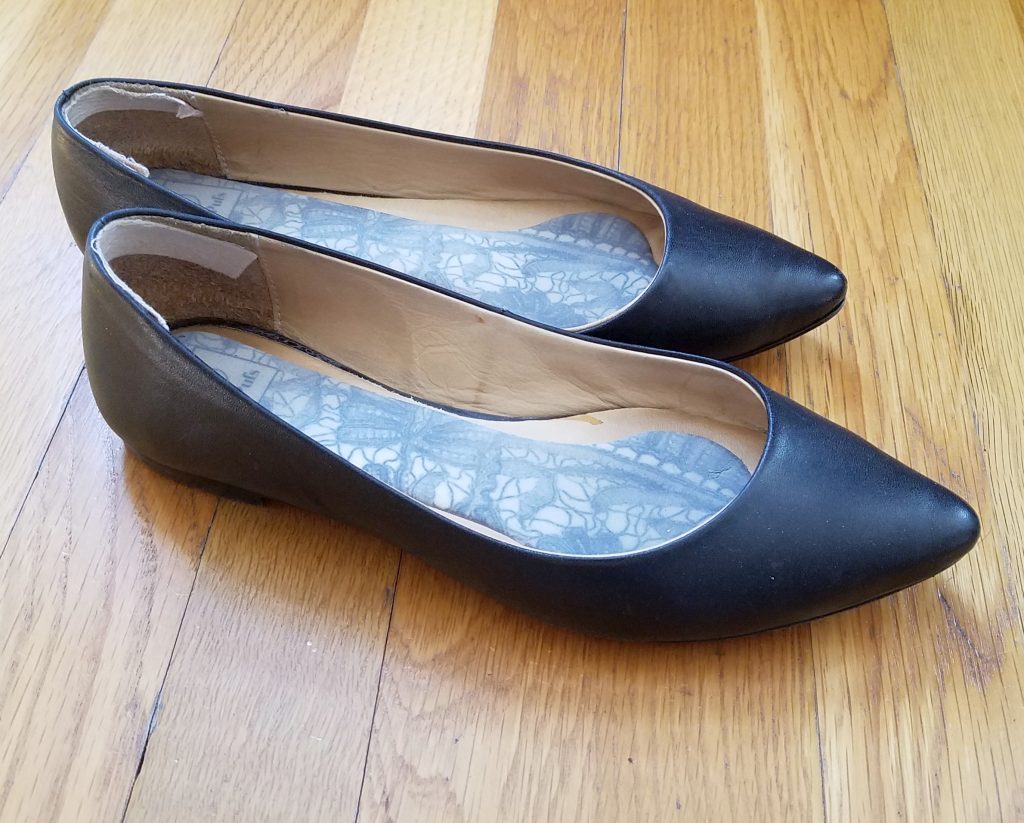 I get so much wear out of my pointy black flats. They go with nearly all of my outfits and are relatively comfortable. The thing is, they're from Payless and they're basically plastic and starting to show some wear (not bad, though, after two seasons.) I decided the idea of pointy black flats has proven itself and I should consider upgrading to a nicer version. Imagine my delight when I checked Poshmark and there was a pair of Nisolo flats in exactly my size. I consider this a complete workhorse purchase. No regrets on this one.
8 | Nisolo Sofia slip-on in sand | Poshmark | $90
I've been eyeballing the Nisolo Mariella mule. I like the idea of an easy nude-colored shoe that basically reads as a non-shoe. I always struggle with shoes, so something that is easy to wear and looks like bare feet is very appealing. When I was looking for Nisolo flats on Poshmark, these Sofia slip-ons also came up in my size. I decided to go for it. I actually thought I was getting the Mariella's because I didn't look at the pictures carefully enough. I'd prefer to have the mules, but the slip-ons will do nicely as well. I'm not totally sold on these, so I'll wear them a few times and see if I want to keep or sell them.
Shopping triggers
Here are a few reflection on what has triggered me to buy these items:
Gap filling
Looking back, it seems like my biggest shopping trigger is finding 'holes' in my wardrobe. Some of these are kind of legitimate. For example, I did have a lack of warmer clothes in lighter colors that would be good for early spring. So the J+J blush top and light gray cashmere sweater were both purchases that filled that gap and I feel good about both of them. Additionally, my original purchase of the year, the J Jill linen dress will be the perfect casual dress for summer. Previous to that, my only other dress for that occasion (which comes up every weekend in the summer), was my slate gray Linen Fox dress.
Upgrading or replacing
The next trigger is upgrading or replacing items. The Nisolo flats and the Georgia top fall into this category. The flats needed both upgrading and replacing, as they were quite worn. The Georgia top was something I had regretted selling last year and wanted to replace. Again, I feel good about these purchases and wouldn't change anything about them. Bonus points because they were both purchased used 🙂
Impulse and Oops
Impulse is what triggered the Sofia slip-ons and the J+J pocket-tee. They really weren't needed, but if I find I enjoy wearing them (and I'm pretty sure I will), then they'll be worth it.
The biggest oops was the $160 I spent on the Georgia dress. Even if I wear it as a casual dress (which I don't really need because I had just bought the J Jill one), it is way too darn expensive for a casual dress. I need to learn a little more patience. I had the top listed on the selltradees ISO and should have just sat tight and waited. The exact top I was looking for came up less than a week after the dress.
So that's the biggest thing I learned this quarter — to have more patience, and not to panic and buy something because I'm worried about availability.
I feel like I've already applied this a few times. I was considering trying for a light gray Billie sweater that came up on selltradees, but didn't because the price was quite high for the occasional wear I was planning for it.
Same with a pair of Nisolo Chelsea boots I saw on eBay. I was considering upgrading my current Chelsea boots, but ultimately decided to stick with what I have. I don't wear them that often (I usually wear my lower cut Lucky boots) and an upgrade isn't warranted at this time. The boots I have still have tons of wear left in them, so I'll stick with them.
Items in action
Here are a few photos of my items in action. I'm enjoying all of them and will try to get some wear out of the 'oops' Georgia dress this summer.