I have recently become quite obsessed with Jamie and the Jones. They aren't as well known as Elizabeth Suzann, but their designs are just as simple yet unique, and they also add an element of color that ES tends to steer away from. J+J emphasizes color, silhouette, and natural fabrics, and the resulting items are truly lovely.
First I'll cover some overall impressions:
| CUTS & STYLES | J+J is all about easy-to-wear, loose and boxy styles. They feel artsy without being too out-there.
| CONSTRUCTION | J+J pieces are extremely well constructed with French seams and clean finishes throughout.
| FABRIC | J+J offers items in silk crepe, raw silk, cotton jersey, and artisan woven fabrics. They also occasionally offer hand marbled and hand-pieced items.
| FIT | Because the tops and dresses tend to be loose and boxy, there's a lot of flexibility in sizing. I have pieces in XS, S, and M and they all fit well.
| PRODUCTION & SHIPPING | J+J items usually have a 3-4 week wait time as the items are made to order.
| CUSTOMER SERVICE | Customer service is super fast and friendly. I've canceled a few orders and the response and refund were immediate.
OK – now we'll get into a piece-by-piece breakdown.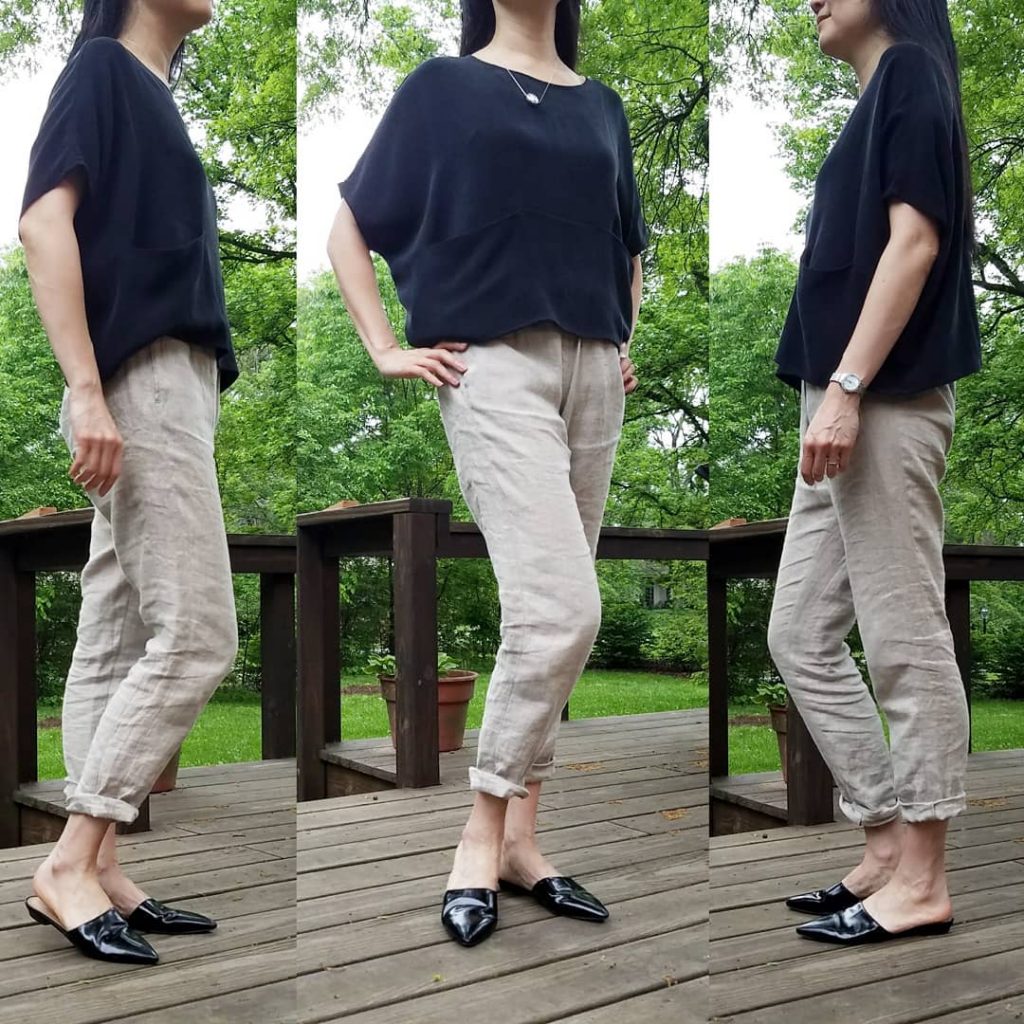 | PRICE | $208 (purchased at secret shop for $150)
| OVERALL IMPRESSION | I picked this top up on a whim from the J+J Secret Shop page and I'm so glad I did! The silk crepe that J+J uses is thicker and more luxurious than Elizabeth Suzann silk. I absolutely love this stunning fabric. The drape, the sheen, and the slight stretchiness make me feel like royalty when wearing it.
| SIZE | I'm wearing an XS in this picture. While I prefer a S, the drapiness of the crepe means the shorter length still works for me in this piece.
| CUT | This top has a boxy fit and all sorts of drape. The pockets in front add some interest and keep it on the casual side.
| STYLE | I've worn this to work, to a Grateful Dead concert, out for a night on the town, and just to hang out at home. It pairs equally well with linen slacks and jeans. One of my favorite looks is with distressed jeans and black clogs.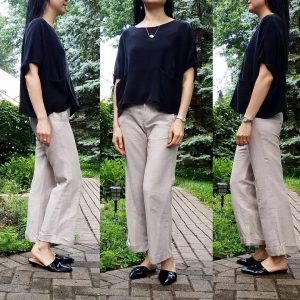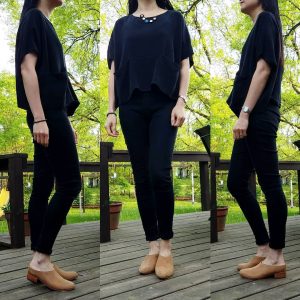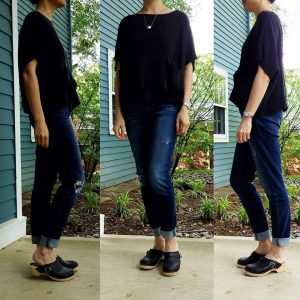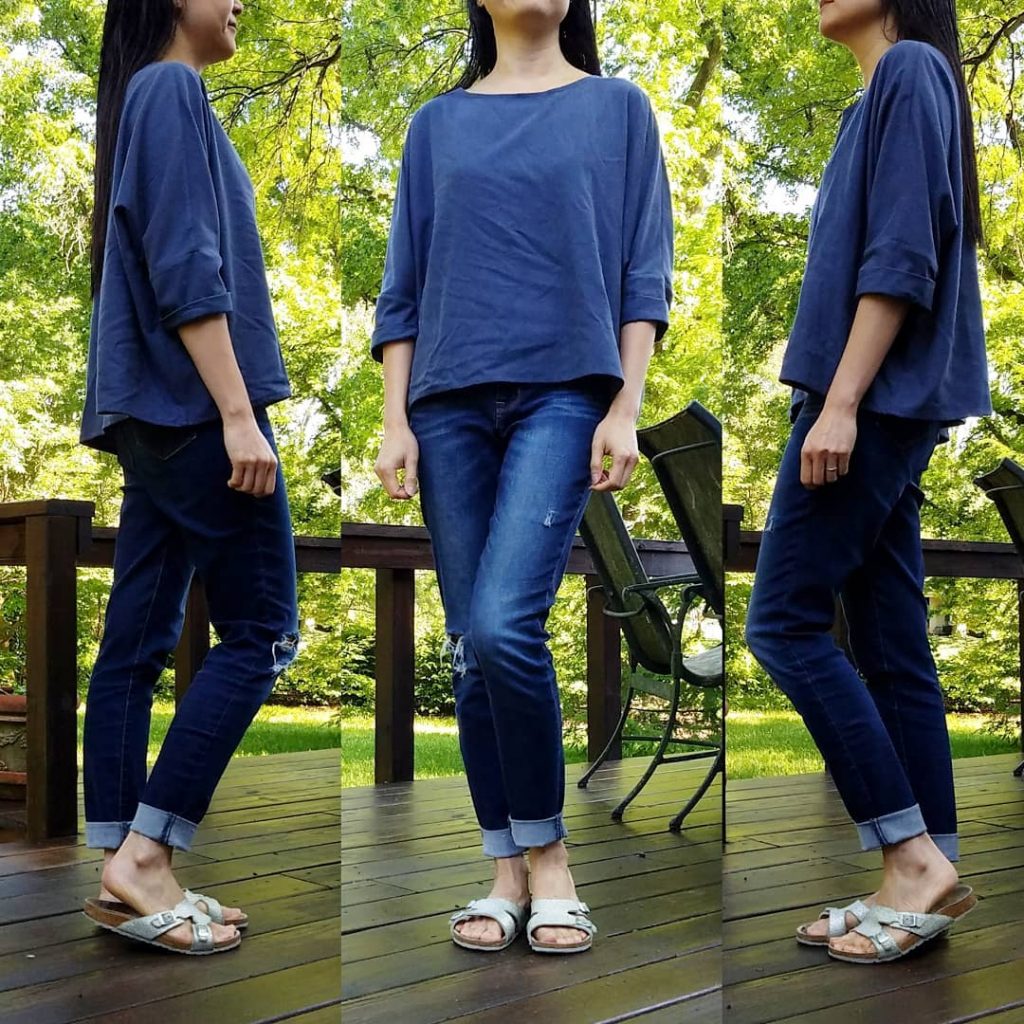 | PRICE | $188 (purchased at secret shop for $100)
| OVERALL IMPRESSION | I picked up from the Secret Shop as well since I've been wanting to try a J+J piece in raw silk. The T Top is deceptively simple. A boxy silhouette rendered in nubby silk fabric, but the result is kind of magical. It's casual, yet chic. Warm, yet cool. Can you tell I'm in love with J+J?
| SIZE | I'm wearing a medium in this picture. I've compared it with my small T Top in silk crepe and they are almost identical. There's theoretically an extra inch of length in the medium, and a bit larger neckline and sleeves, but I don't notice much of a difference. I will say that although the XS Pocket Box Tee works fine for me, I tried an XS raw silk T Top and it was too short. The medium has plenty of length for me, and it's worth noting that J+J now offer their T Tops with the option of "Sheila" length, which is 3 inches longer.
| CUT | As mentioned, I love the cut of this top. It's reminiscent of wearing a big oversized sweater or sweatshirt, but is much more refined than that.
| STYLE | This is definitely a casual-only piece for me. I often throw it on over my sleeveless jumpsuits to keep of the chill at grocery stores when we're running errands. I can also see it coming in very handy when we're on vacation in Michigan, to keep warm in the evenings.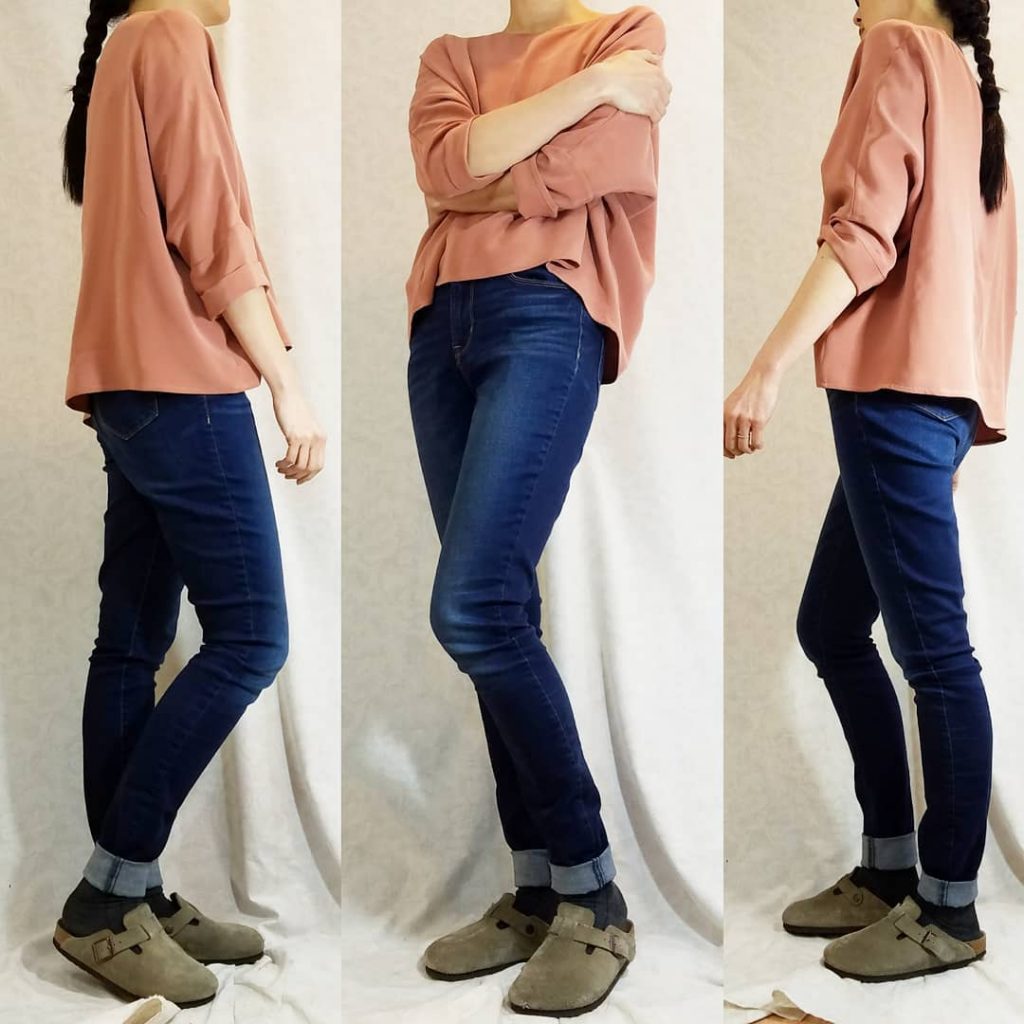 | PRICE | $220
| OVERALL IMPRESSION | This is another one of J+J's iconic pieces rendered in that yummy silk crepe. I bought this in the dead of winter, when I was longing for a hint of pink to bring in spring.
| SIZE | I'm wearing a small in this picture.
| CUT | This top has a boxy fit with a lot of drape. The length is on the cropped side, but I don't have problems wearing it with mid-waist pants.
| STYLE | I've mostly worn this to the office, but it could be worn anywhere when I don't have to worry about too much grease or mess.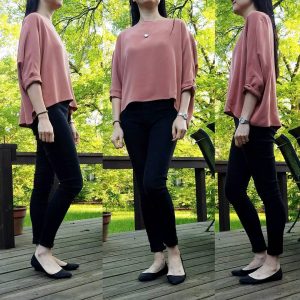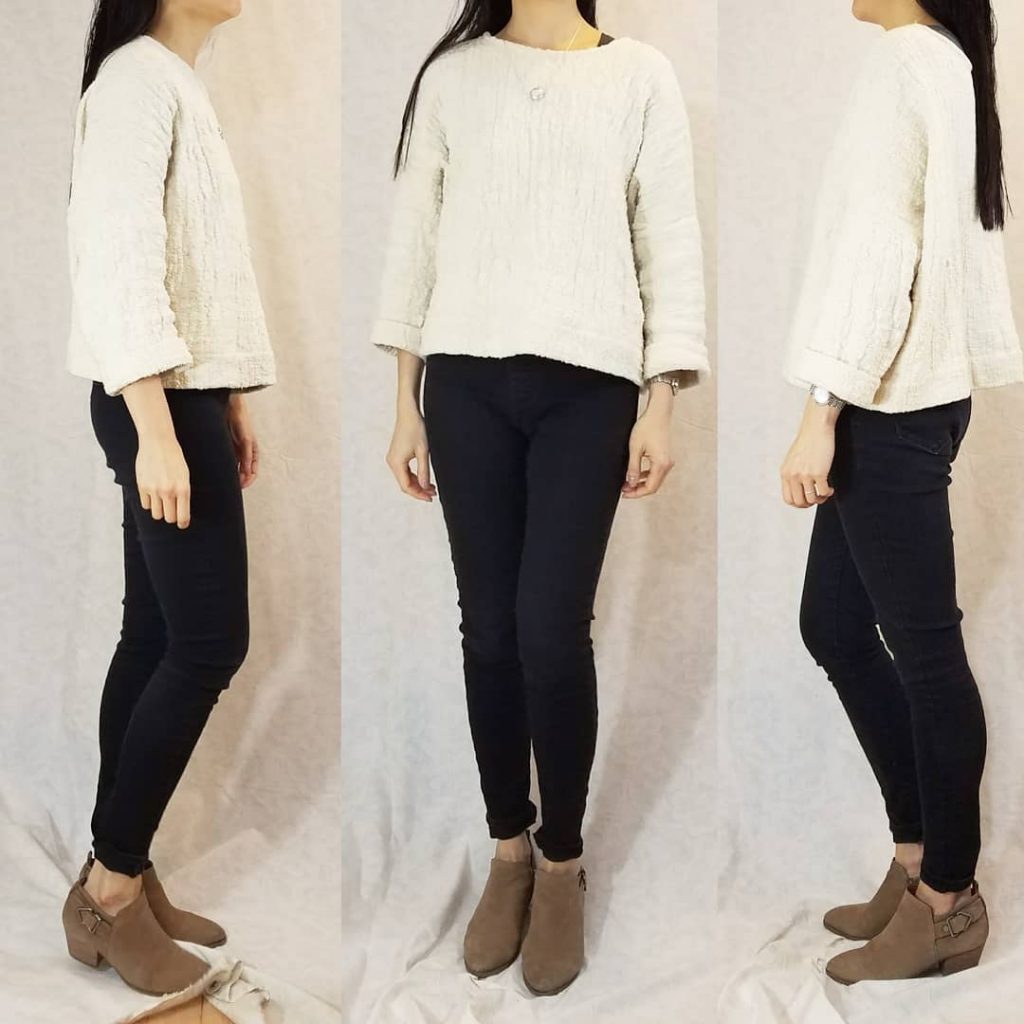 | PRICE | $228
| OVERALL IMPRESSION | This sweater is all over the blogosphere, and for good reason. The texture of the handwoven fabric and the generous cut both make this a unique piece. The weight is quite substantial, making it the perfect layer to throw on in cool weather, or be a main outfit piece in cold weather.
| SIZE | I'm wearing a small in this picture.
| CUT | This top has an big, boxy fit with some structure. I don't have the heavyweight version, but from what I've seen and read, it is even more structured and rather stiff. This midweight one isn't exactly drapey, but it's far from stiff. For me, it's the perfect cozy weight.
| STYLE | I've mostly worn this to work with black skinnies, but it will definitely work for all sorts of casual occasions paired with jeans – either boyfriend or skinny. I don't wear it as much as my cashmeres because of the slight bulkiness and higher maintenance light color, but I still love it.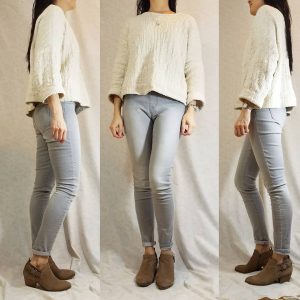 Those are the only J+J pieces I own for now. I'm eyeballing more silk crepe because I love it so much. I'm also intrigued by the cotton jersey pieces, as well as the skirt and pants in raw silk. I'll keep this page updated if I purchase anything else!