So here's my first-half round-up for the Spring10x10 challenge being hosted by Caroline at Unfancyand Lee at Stylebee: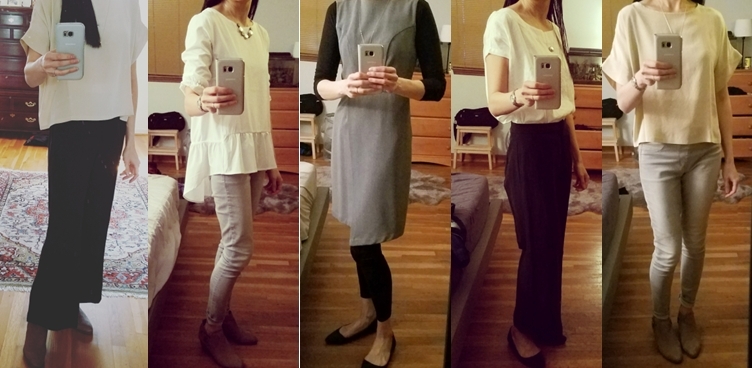 I'm concentrating on work outfits this time around (maybe will do casual for a future challenge.)
So far, it's been an interesting learning experience. There were a few things I knew I wanted to experiment with going in, namely, the wider pant silhouette, and also a wider silhouette on top too (the ES silk blouse and the linen shirt.) Other than that, I've found that the limitation to 10 pieces isn't all that different than how I usually dress. I'll probably get a bit repeat-y towards the end of this week, but again, I do that during normal times too, especially if I find an outfit that just feels amazing to me. As numerous people (e.g., Courtney Carver, Colleen Jay) have written, no one is paying nearly as much attention to what you're wearing as you are. I'm pretty sure I could wear the same outfit every day and no one would really notice. The funny thing is, as often as I repeat outfits and pieces, someone was taking an informal poll (for fun) at the office a few weeks back, asking how many pieces of clothing everyone thought they had and a co-worker of mine said, "Karen must have a lot. I've never seen her wear the same thing twice." I do know I'll steer clear of layering tops over dresses and that type of thing. Tricky layers like that never work out for me. Too complicated or something.
So as far as the main things I wanted to learn about go, I'd have to say I'll need the rest of the week (and maybe longer) to really decide. The wider pants silhouette looks best so far with tucked in shirts, and that's just not me. However, I do wonder if shorter tops could be another option. I have a few cropped-ish tanks that I've laid in for the summer season, and those might do well. Certainly the pants are comfortable and are going to be a really nice option in the summer. Also, while the skinnies have been ok in the office with cashmere sweaters, etc., they somehow seem less professional / too skinny when worn with sleeveless or tops.
How's the challenge going for everyone else! What are you learning?
April 24 update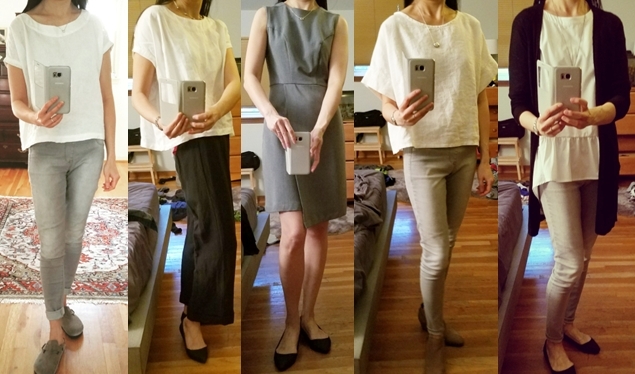 So, that's a wrap for the Spring 10×10 challenge! I'm really glad a participated. Here are a few things I learned along the way:
Wide-leg pants just might work for me, but they'll be a bit more of a high-maintenance option for me than my usual skinnies. I'll have to be more conscious of what top I wear, and consider tucking it. I have a few cropped / boxy tanks that I think will work well. I'll continue to experiment with them in the warmer months as they are much cooler and breezier than skinnies.
Elizabeth Suzann not only makes amazing clothes, they have amazing customer service. I spent way to long hemming and hawing about whether to keep the linen Georgia shirt and they were accommodating and helpful all the way through. Can't wait to wear both of my Georgias all summer!
I admire people who can get amazingly different looks with just 10 pieces (I'm looking specifically at Lee@stylebee and @onlylivinggirltx. Wow, so impressive. I may never be one of you, but you are my heroes!
I can mix and match formal and informal clothes more. The silk Georgia looked awesome with casual gray skinnies, and the gray skinnies looked good with my pointed toe flats. I'll have to experiment more there too.
Thanks to Lee and Caroline for hosting. It was great fun 

 It has been great to meet everyone in this amazing community!