2018 overview
In 2018, I continued learning about and refining my style, building off everything I learned in 2017:
I totally nerded out and coded my own wardrobe tracking program. Based on that, I can see that I wore 117 items last year (88% of my closet.) I can also now look at frequency of wear, cost per wear, and other stats (more on this later.)
I added 28 items to my wardrobe. This is a good reduction from the 49 pieces I added in 2017.
I only made 5 "big" purchases: 2 used ES pieces (silk Georgia dress and silk Georgia top, which I subsequently traded for twill Clydes), 2 silk crepe Jamie and the Jones tops, and a Vetta oversized sweater. Everything else was less than $100. Overall, including clothes and accessories, I spent $2002. This is more than I would have expected, but still a good reduction from 2017, when I spent $3430.
I made 13 #memade items. After discovering where to buy silk noil, I made 4 #memade T Tops. I also made quite a few ES copies, replacing my Mara jumpsuit, my artist's smock, and my gray Harper.
Although I started the year thinking I wouldn't need to add anything to my wardrobe, I realized I needed more color and am happy to have added blush, olive, umber, and pumpkin for fun and variety.
I further honed my understanding of what silhouettes work for me and why.
I've scaled back on my Instagram activity, to reduce temptation. While I still post my outfits photos, I haven't participated as much in the community. I just can't seem to be part of the community without getting sucked in to craving all sorts of new items.
I'm not going to fall into the trap of stating that I won't buy anything else this year (in fact, I already have bought a few things), but I do think I can continue the trend of buying less and less.
Here's a list of my top worn items for 2018 (I didn't start tracking until mid-way through February):

It's interesting to see this list because, for example, the J+J T sweater is my #1 top (worn 15 times), but I actually haven't worn it much in recent months. I would never have guessed that it would be at the top of the list. Same goes for the Charter Club black cashmere sweater (13). I haven't worn it many times since the weather got cold again, but I must have worn it quite a bit last winter. A few items aren't a surprise at all — the Poetry cardigan (33) is worn all winter, and I practically lived in my #memade Mara (23) over the summer.
At 61 and 55 wears, my boyfriend jeans and black skinnies are some of my most worn items. The boyfriend jeans are my go-to's for hanging out at home when the weather's cooler, and the black skinnies are an office staple.
The silver Birkenstocks (59) and Birk clogs (50) are also worn a ton, more even than what's reflected here. The silver Birks are my at-home slippers in warm weather, while the clogs are my at-home footwear in cooler weather.
2018 Items Sold and Bought: August through December
I sold a few more items after the round-up in July: two of my Linenfox tops (I always seem to go overboard when I find something I like, buying multiple colors and styles), a few older shoes and dresses, and my ES artist's smock (after making myself a Tencel version.) Altogether, in 2018, I sold $1200 worth of clothing and accessories. The Elizabeth Suzann items are the ones that make that total so high — I sold the charcoal linen Harper, my silk Mara, and the artist's smock.
As far as purchases, here's the breakdown:
1 | Banana Republic wide-leg jeans | $20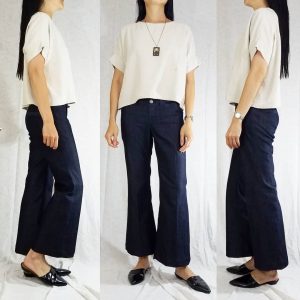 2 | Sedona bell sleeve linen top | $74

3 | #memade burnt umber T Top | $27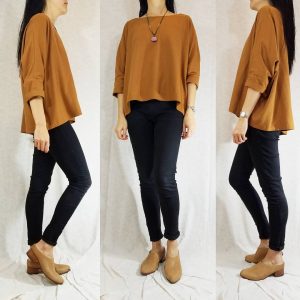 4 | BR Gray wool pants | $16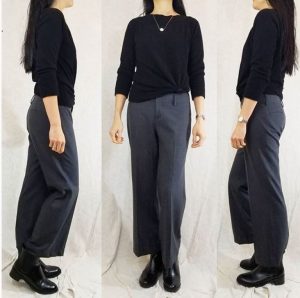 5 | Blue linen button-down | $14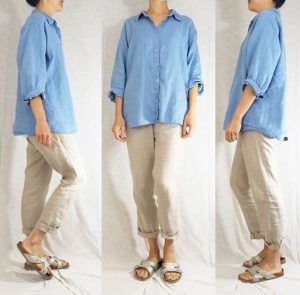 6 | #memade black linen pants | $25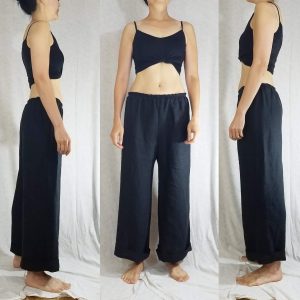 7 | #memade cherry Georgia | $25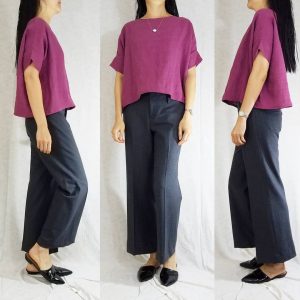 8 | #memade olive T Top | $30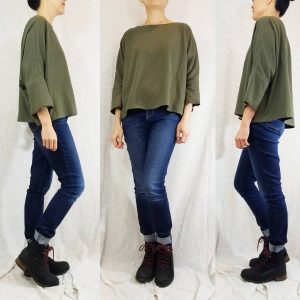 9 | Free People alpaca sweater | $40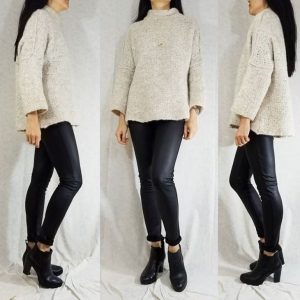 10 | Raw silk Priority top | $80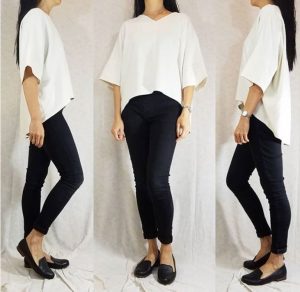 11 | #memade artist's smock | $45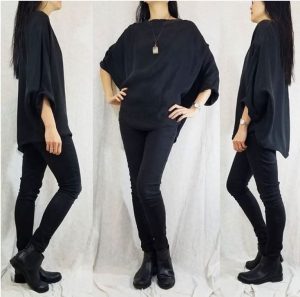 12 | Vetta sweater | $145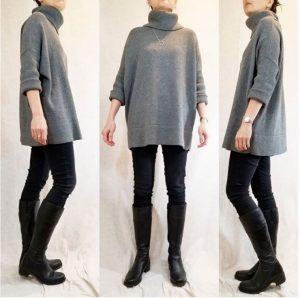 13 | ON olive suede skinnies | $25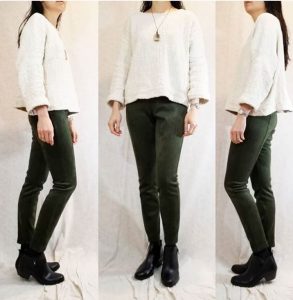 14 | ON umber suede skinnies | $25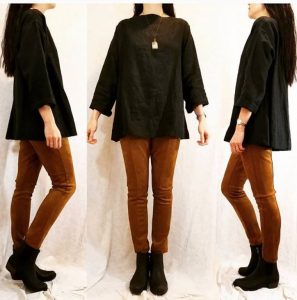 15 | ES canvas Eva | $70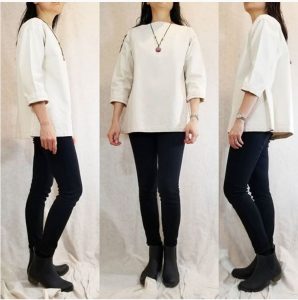 Fifteen clothing items was a lot to add in a 5 month period, but I'm really happy with every single purchase, so I'm not going to second-guess it. I also got a pair of Nisolo mules and Nisolo loafers.
I checked out a few brands of boots including Nisolo and Thursday, but either sold or returned nearly all of them. I struggle a bit with boots — trying to find the right combination of comfort, slip-resistant sole, ankle height, heel height, non-clunkiness, etc. I ended up keeping two pairs of Lucky rain boots — one in black, and one in leopard. Each pair was on sale for $45.
2018 Items Worn: August through December
| Overall size of my wardrobe | I ended July at 118 items and am now at 133 items, quite an increase! As you can see from the previous section, a lot of this addition was the color I mentioned up front — olive and umber T tops, olive and umber skinnies, the orange Sedona top, the cherry Georgia, and the blue linen top. All of these items were incrementally added to what I had vs. swapping in. I like the variety, even if it means that each item may not get a high number of wears. I feel like I have a really strong base of neutrals and just enough color to reflect my moods and add some fun to my wardrobe.
| Number of items worn | In the five months of August through December, I wore 90 items. That spans a lot of different temperatures, so I'll break that down into the relatively warmer months of August through October, and then the colder months of November and December.
In August through October, I wore 72 items. That's a lot higher than the other 3 month periods I've tracked this year. Must be the transition into cooler weather, and the addition of all the new items. Most worn items are shown here:

The burnt umber #memade T Top (8) was so fun to wear this fall. It went particularly well with linen pants in the warmer months, and then transitioned into being paired with black skinnies as it got cooler: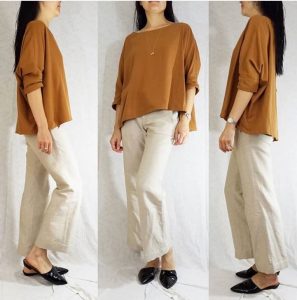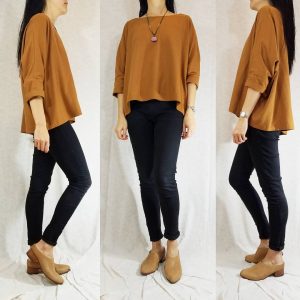 I was also really happy with the edit I made on my gray wool coat (16). It's made it much more wearable: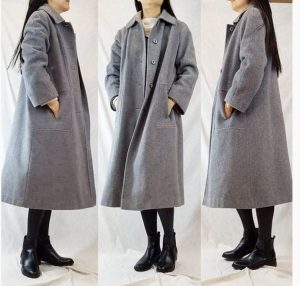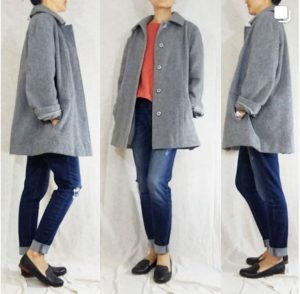 In November and December, I wore 46 items. Most worn items are below:
The Vetta oversized sweater didn't even come into play until late December, but I wore it a ton and have continued to wear it throughout the cold months: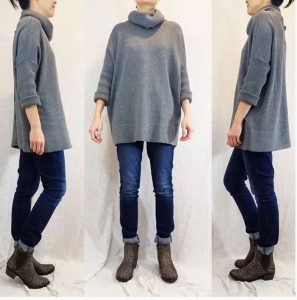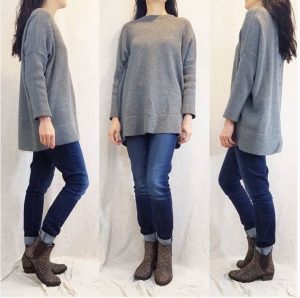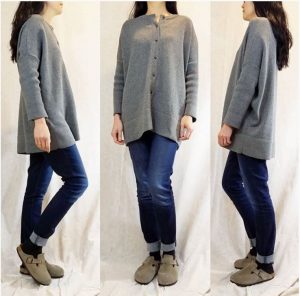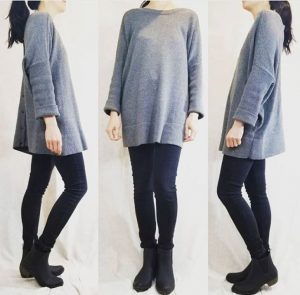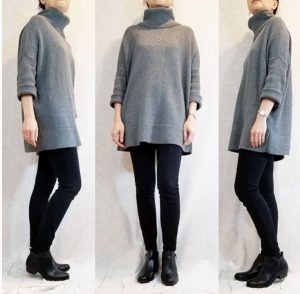 This is such an easy piece to wear — warm, comfortable and spans the trifecta – home, work, and symphony.
What I learned from the latest tracking period
| I have to keep IG to a minimum | Even if I don't follow any business accounts, the outfit posts of my fellow IG'ers are still shopping triggers for me. Thus, I've ended up muting just about everyone's accounts and just posting my outfit posts for my own record. I'm sad to have had to step back from the community, but it leaves me with more time to do other things instead of shopping and thinking about clothes, and that's the choice I'd rather make at this point.
| Color is a good thing! | The addition of just a bit of color has made my wardrobe that much more fun to wear, and gives me more ways to have my clothing reflect my mood for the day. I like having the variety. It's a good balance between overwhelming choice and boredom.
| Boxy over skinny is still the easiest silhouette for me | As much as I get tired of it and want to try something different (like high waisted, tucked looks), it takes a lot for me to pull those off, and also usually needs different tops than what I normally wear. So I have a few pairs of pants I use to vary my silhouette in the cold months, but nothing extremely wide-legged or high-waisted, as much as that seems.
I think I can pare things back down a bit this year — I have a few items I'm considering selling (the Nisolo loafers are a bit too big, my other Linenfox top isn't getting much wear, etc.) so we'll see if the overall wardrobe size goes back down. If not, I'm comfortable with it hovering around 130. And as far as purchases, we'll see. I don't have anything planned, but you never know 🙂