I have been on a #memade kick this year. I summarized part 1 here, and part 2 here. Now I'm on to part 3 of my #memades for the year 🙂
Black linen pants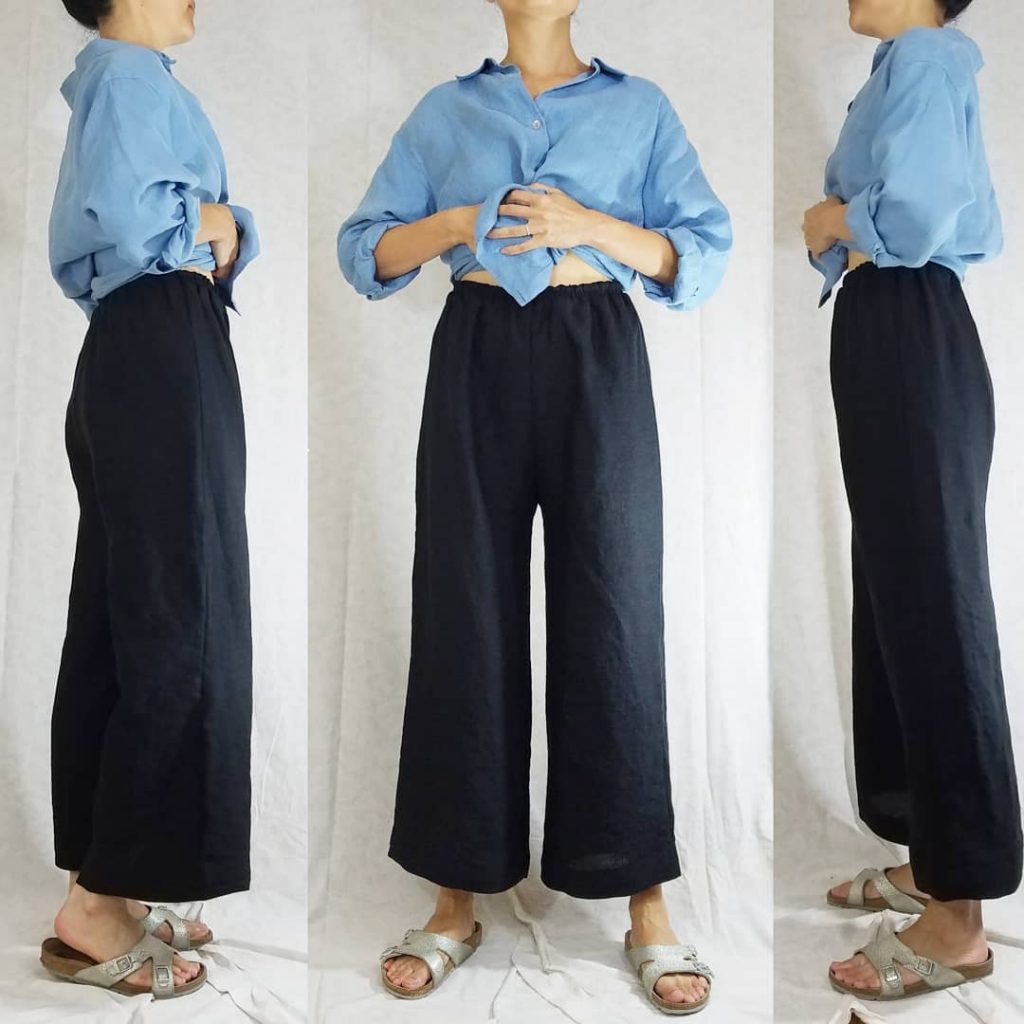 | Material & Amount | 100% softened linen, 2 yd
| Cost | ~$30
| Pattern / Inspiration | I had been mulling over getting a pair of Florence pants for a while but I really just wanted to experiment with them, and didn't want to spend $200 to do it. I've heard that the bottom of the Maras have a similar silhouette to the Florences, so I used that and also took some inspiration from this pattern to come up with the shape.
| The Process | The trickiest part was deciding the rise and the grade difference between front and back. Luckily, since these pants are very loose, the whole project is very forgiving and I didn't have any issues. For the tightness of the elastic, I threaded the elastic in, pulled the pants on and adjusted it so it felt like a hug, but not any tighter than that. I hate binding waistbands!
| The Result | I'm very happy with the result! I should have made them a bit longer (I had enough fabric), but I mismeasured the legs. As it was, if I hemmed the pants, they were a bit too short for my test, so I ultimately unstitched my hem and left it raw — call it a design feature!
| Style | These are super comfortable for hanging out around the house. They go with many of my ES-inspired tops (of course.) I made them somewhat late in the season, so I never tried wearing them to the office, but I think I easily could.
T Tops x 4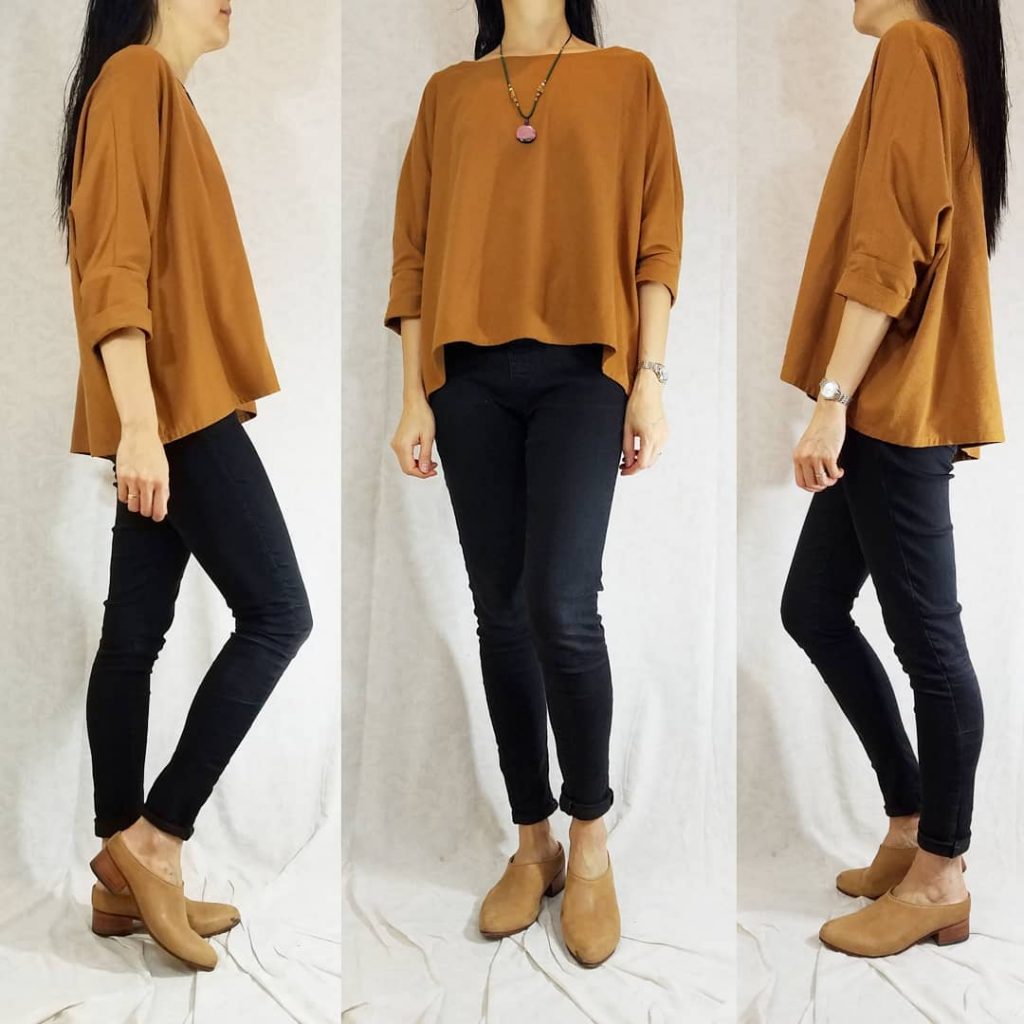 | Material & Amount | Raw silk noil, 1.5 yd
| Cost | ~$25
| Pattern / Inspiration | Once I discovered where to buy silk noil online, I went on a *huge* T Top kick. T tops are such a brilliant design — super simple, yet elegant and easy to wear. Depending on the color, they can work for casual, office, and dressy occasions.
| The Process | I had a medium T Top from J+J in slate, so I used that as a guide to make my own version. The 1.5 yd I purchased for each top isn't really enough. I had no trouble with the bodies, but the sleeves were on the short side. So for all of my T tops I used the selvedge of the fabric as the cuff and haven't hemmed the sleeves at all. When the sleeves are folded, you can't tell the difference, and when they're not, they have a raw edge feel to them that works fine for casual wear.
| The Result | I love every single one of my #memade T Tops. The silk noil is a great fabric — warm and cozy but also comfortable in warmer weather.
| Style | I mostly wear these in casual situations, but the umber and natural ones work for the office too. I really like wearing them with skinnies and long necklaces.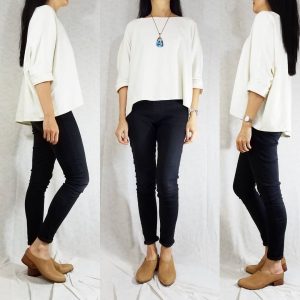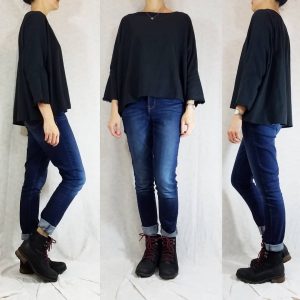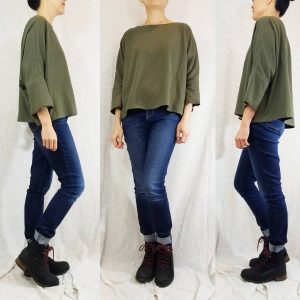 Cherry Georgia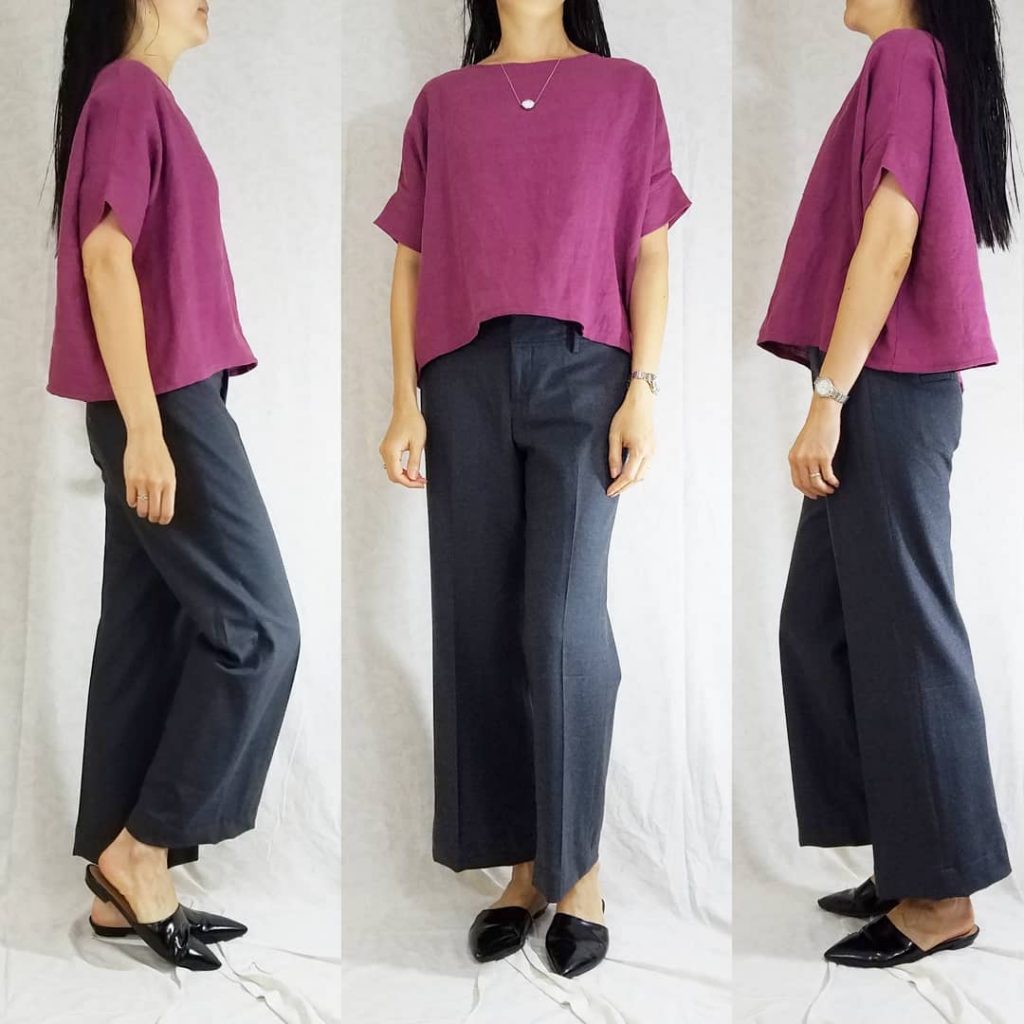 | Material & Amount | Wildcherry linen, 1 yd
| Cost | ~$11
| Pattern / Inspiration | Sometime during late summer / early fall, I decided to add a little color to my wardrobe. A Georgia-like top in a new color seemed to be calling me. I surfed around fabrics-store.com for quite a while before deciding on this Wildcherry color. It's perfect for fall!
| The Process | I used a previous generation of #memade Georgia as the pattern. I've already made three others of this top, so there wasn't really anything new in the process. I did notice that my sleeve cuffs have gotten successively smaller, so the "winginess" of this top isn't as pronounced as my others, but it still works.
| The Result | I'm very happy with this top and like how it adds color to my mostly neutral wardrobe.
| Style | I mostly wore this at work but it could go very easily with jeans for a put-together casual look.
Artist's smock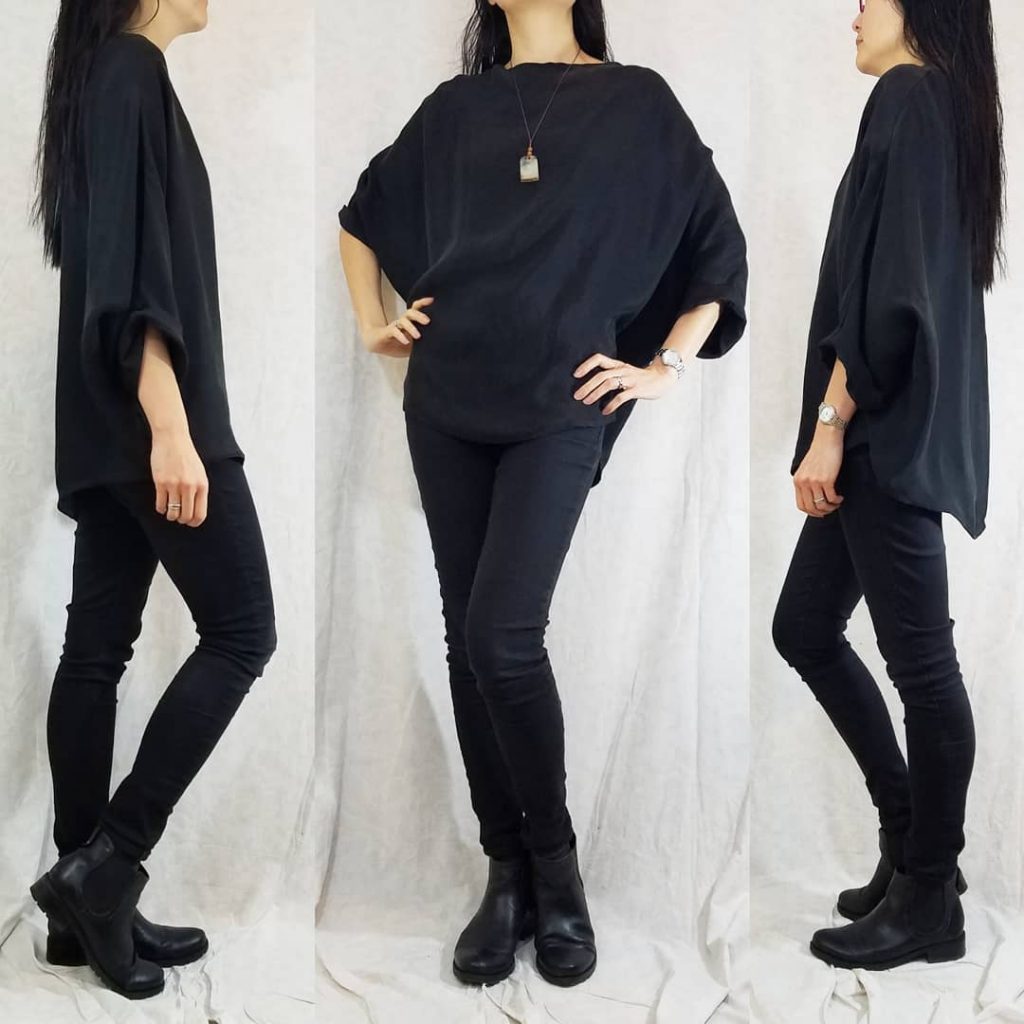 | Material & Amount | Black Rayon Cupro twill, 1.5 yd
| Cost | ~$35
| Pattern / Inspiration | I really love the shape of the Elizabeth Suzann artist's smock, but I was starting to feel that the silk was a bit thinner than I'd prefer. I think I've been spoiled by the weight of J+J's silk crepe. So, after perusing Stone Mountain Fabric's site, I decided to give their rayon cupro twill a try. I'm so glad I did! It is an absolutely gorgeous fabric. Definitely a dupe for J+J's silk crepe!
| The Process | I used my artist's smock as a pattern and make a few changes — making the neckline slightly smaller and the sleeves a little longer.
| The Result | I'm liking the result, although I ended up having to widen the neckline back out to make the top hang correctly. This is a deceptively simple pattern. Even small changes in the angle of the sleeve drop or neck opening completely change way it hangs and drapes.
| Style | I haven't had much of a chance to wear it, but I like my #memade smock version so far and have worn it to work and the symphony.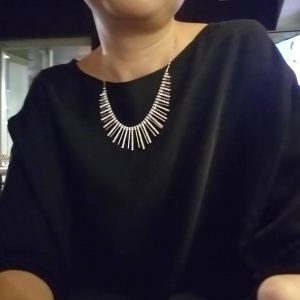 Rhapsody in Cables sweater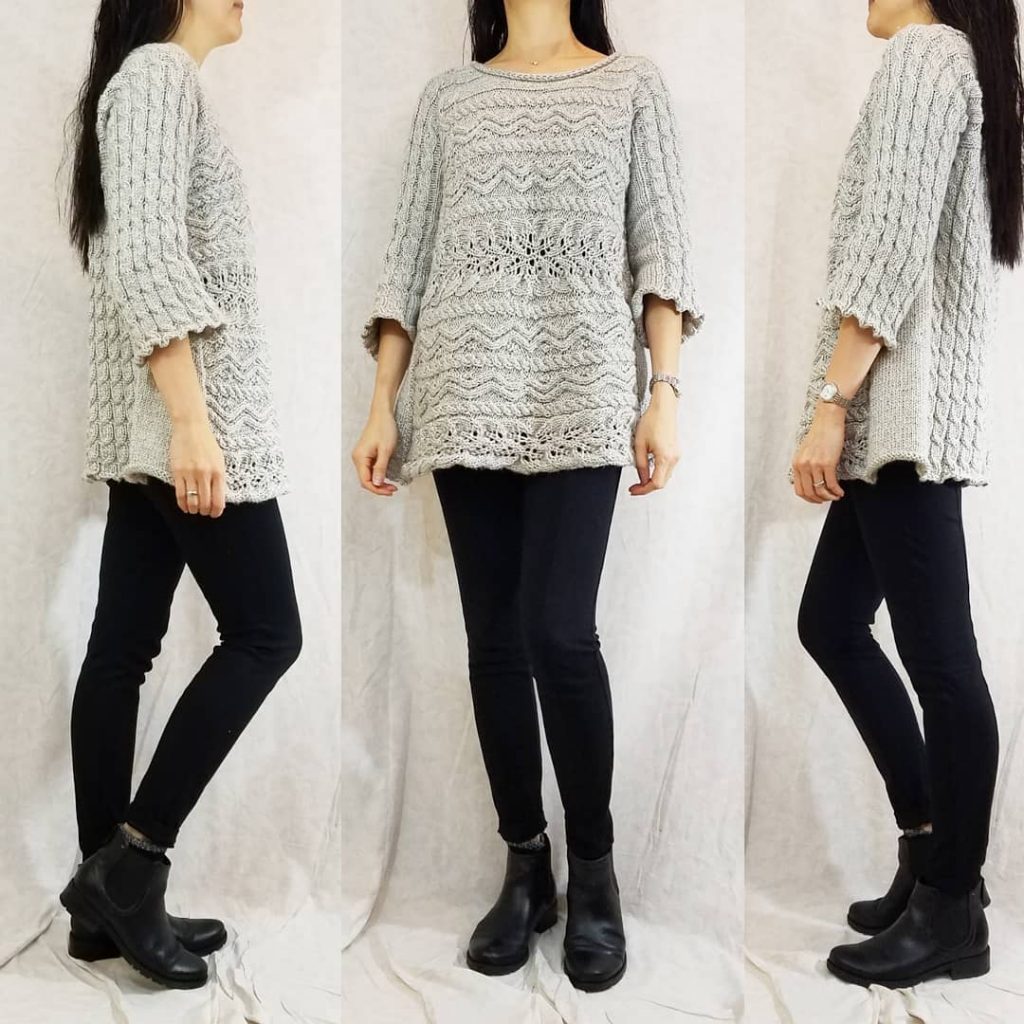 | Material & Amount | Lion Brand Heartland in Katmai, 5 skeins
| Cost | ~$20
| Pattern / Inspiration | This is an adaptation of Joji Locatelli's Rhapsody in Cables pattern.
| The Process | I followed Joji's excellent instructions with a few exceptions: I did a rolled neckline rather than ribbed; I didn't add the ribbing at the bottom hem or sleeve cuffs; and I increased stitches in the back to give the sweater an A-line shape.
| The Result | I'm loving this sweeter. I've worn it quite a few times already, both in casual situations and also to the office.
| Style | This sweater goes equally well with jeans and black skinnies.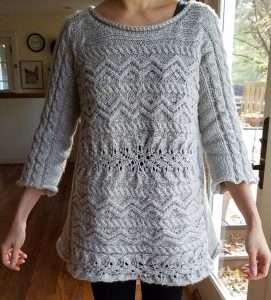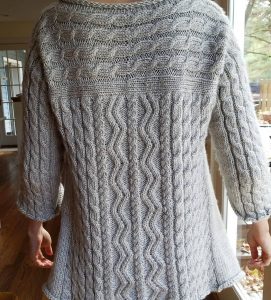 Boiled wool Eva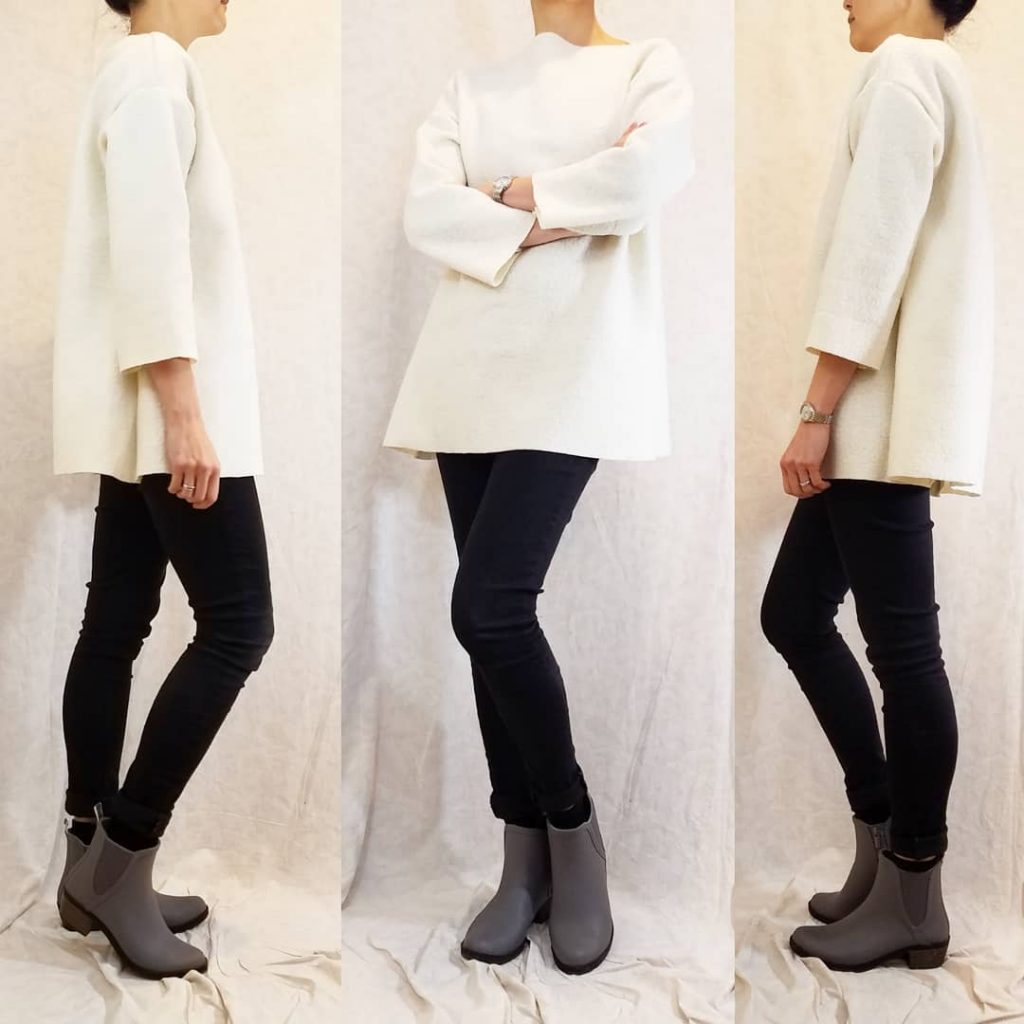 | Material & Amount | Boiled wool from Stonemountain and Daughter fabrics (not currently available), 1.25 yards
| Cost | ~$80
| Pattern / Inspiration | I've been wanting a cream colored Eva and I thought a boiled wool version would have interesting structure and texture.
| The Process | I used my #memade Eva as a pattern and didn't worry about hemming the bottom, cuffs or neckline. As a result, this went together really easily.
| The Result | I haven't decided yet. I like the structure of it, but the fabric is quite itchy and maybe too stiff. I think I might prefer the rayon wool blend, which is also cheaper. I would have purchased it originally, but I didn't see it in cream when I made my purchase. Since it's available now, I'm considering buying it and remaking this top with it.
| Style | The idea of this was to have something unique and warm to the symphony. As it is, I'm not sure I could sit in it all evening because of the itchiness factor.
Looking back and future plans
I've made 13 #memade items this year and am happy with almost all of them! I think all of this making will slow down next year. I do have a few items planned: I bought pink linen for a springtime Georgia. And I'm going to make a white Mara for my daughter's graduation. So we'll see how that all works out!