My first #memade reviews post focused on pieces I made last year. I've gotten the sewing machine out quite a few more times this year, so I figured I'd do a second post to cover the newer pieces.
Black linen Mara-like jumpsuit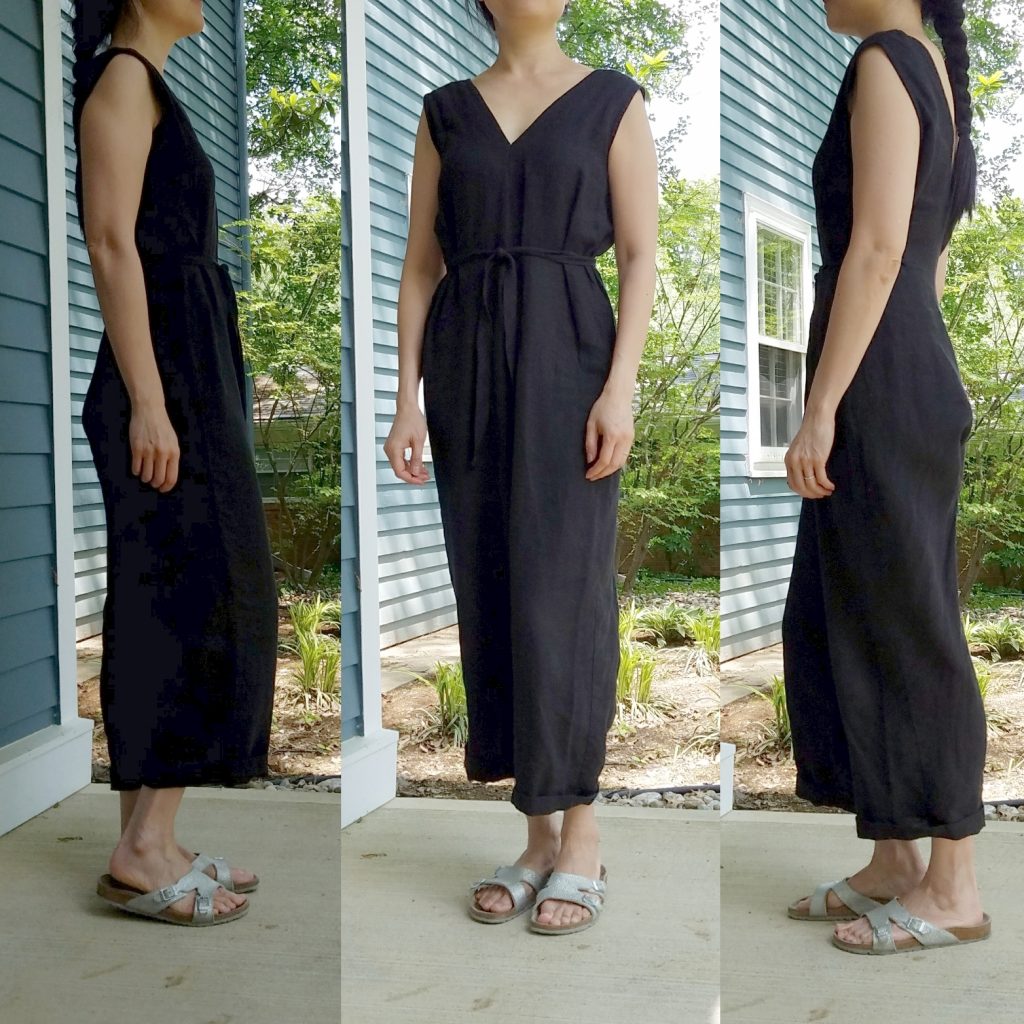 | Material & Amount | 100% softened linen, 2 yd
| Cost | ~$30
| Pattern / Inspiration | I love my Elizabeth Suzann black silk Mara. At the same time, I was thinking how nice it would be to have a linen version that I could wear more casually. I had ordered some black linen thinking to make a T Top-like top, but changed my mind since I prefer the T Top on raw silk. Since I had the fabric in hand, I decided to try making a Mara copy.
| The Process | Since I have a Mara, it was a simple matter to make measurements and follow the construction as closely as possible. It was pretty straightforward. Now that I've got the hang of bias binding, I could easily handle the armholes.
| The Result | This is my favorite #memade item ever! I've worn it a ton since I've made it. I ended up resewing the front center seam to raise the neckline slightly, which makes this an even easier piece to wear. I also ended up shortening the legs (you can see they're cuffed in this image.)
| Style | I've worn this for hanging around the house, out to eat, and even to work. I *love* this piece!
Black linen Josephine-like tunic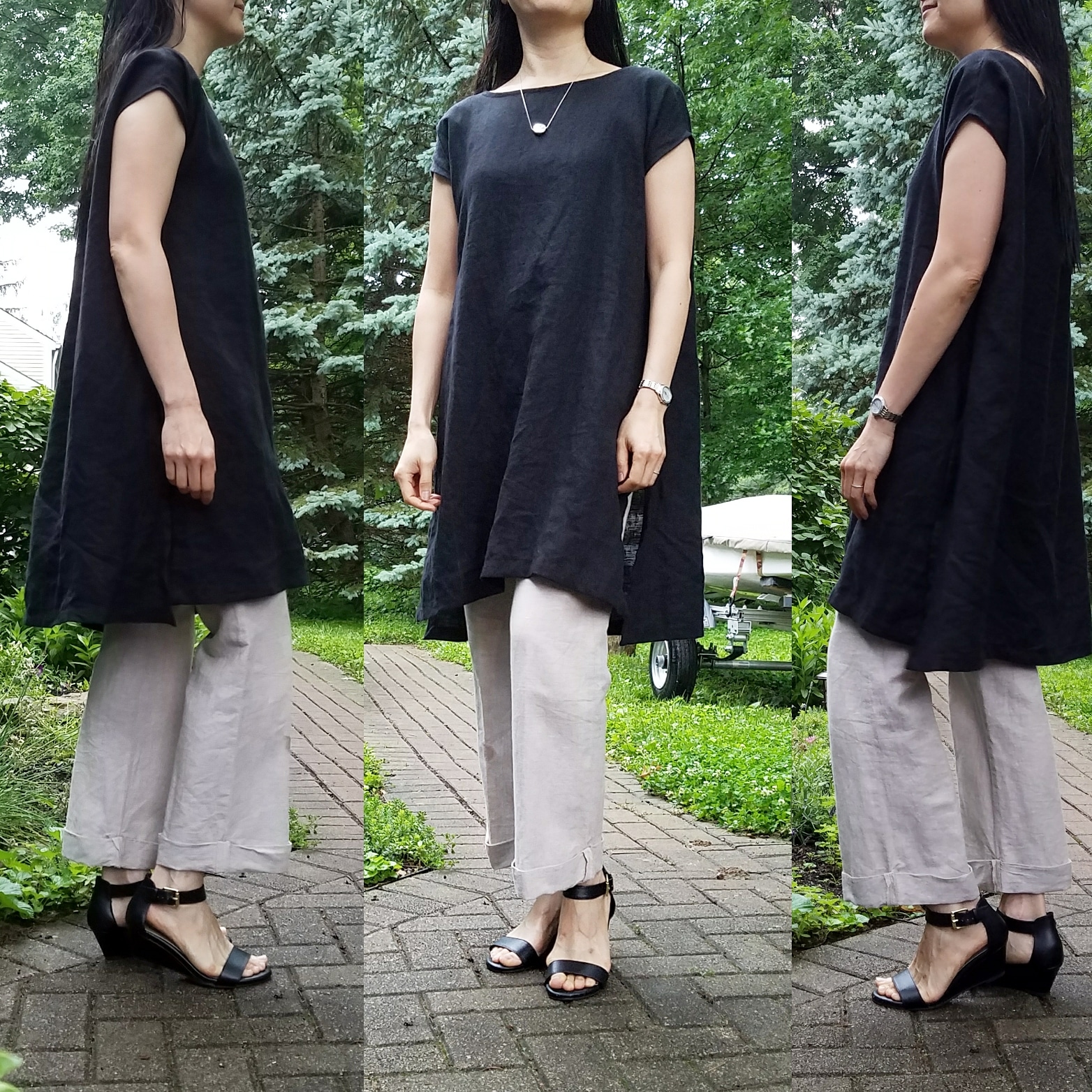 | Material & Amount | 100% softened linen, 2 yd
| Cost | ~$30
| Pattern / Inspiration | Out of nowhere, I suddenly found a hankering to have a Josephine Vented Tunic. I'd seen a few on Instagram and I love the shape of it, and the fact that it can go from a beach cover-up to office wear without the slightest hesitation.
| The Process | The tunic is another deceptively simple design. On one hand, it's just two pieces of fabric, which is as easy as it gets. On the other, it has side slits, which I hadn't tried before, and the back pleat, which meant I'd need to account for some extra width at the neckline. I studied IG pictures intently, and also had an IG buddy send me measurements of her tunic, which was a huge help.
I drafted the measurements directly onto the fabric, cut out the pieces and got to sewing. Everything went incredibly smoothly until I got to sewing the bias binding at the neckline. I had pinned my desired pleats, but somehow one of them came out as I was sewing, so I had to rip the stitches back and try again. I eventually got it worked out 🙂
| The Result | I totally love this tunic. This is another one of my favorite #memade pieces!
| Style | I've worn this for hanging around the house, out to the mall, to work… And I'd be equally happy to wear it to the beach, out for a nice date, just about anything. Talk about versatile!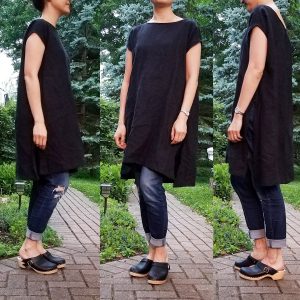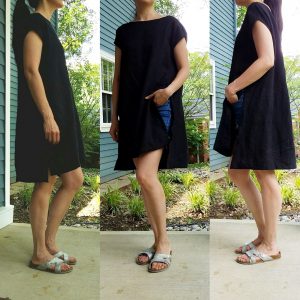 White raw silk Parabola-like top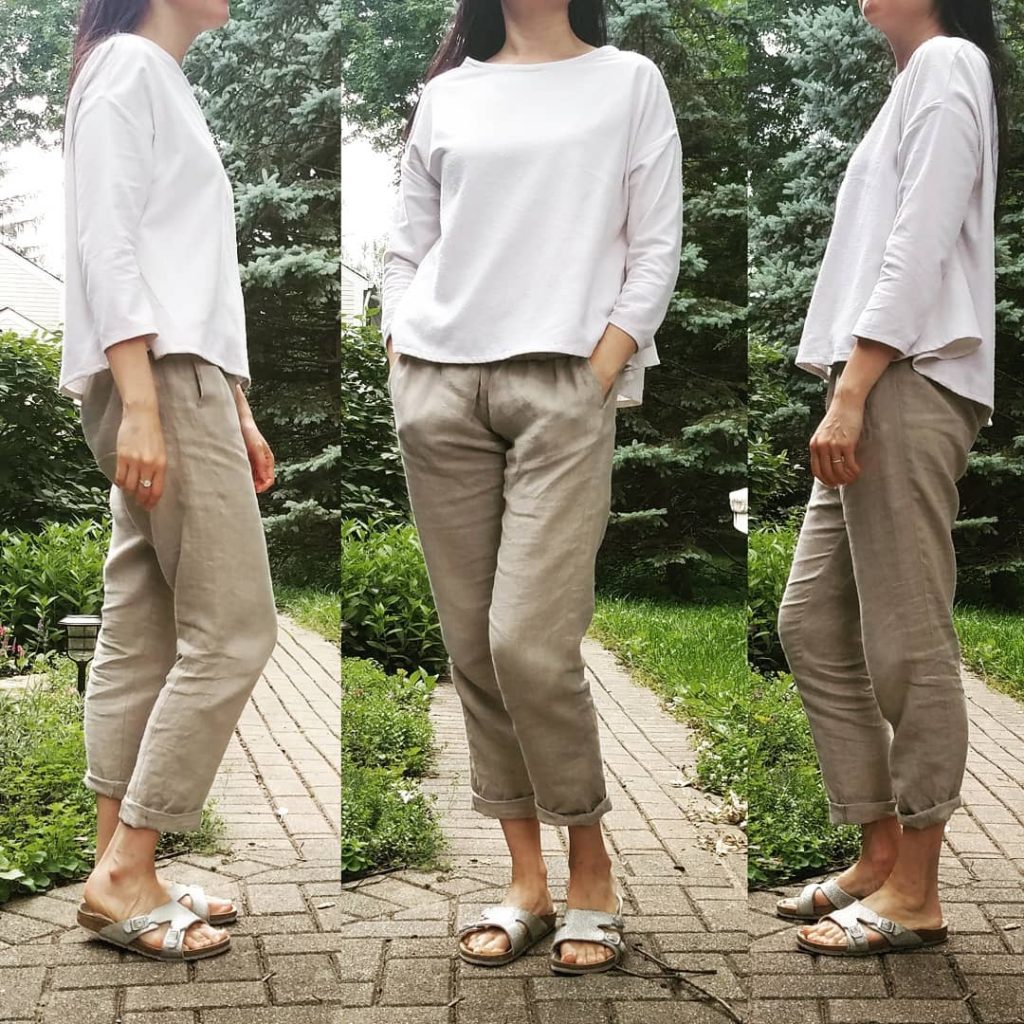 | Material & Amount | Bright white silk noil, 1.5 yards
| Cost | ~$30
| Pattern / Inspiration | I've been thinking about getting a nice top in white or natural — something light-colored. I find myself attracted by photos of people wearing white, but I often feel strange wearing it myself, so I was having trouble deciding whether it would be worth investing in an ES or J+J piece. I decided to combine the natural raw silk T Top I was considering, with the white linen Parabola top and make something myself. The investment is lower, and I'm more willing to experiment at a $30 price point versus a > $100 price point.
| The Process | I don't have a Parabola top, so I worked from photos and some measurements that a fellow IG'er kindly sent to me. I was also determined to use French seams throughout.
I sketched out the pieces and *barely* had enough material to get everything in. But somehow managed to squeeze what I needed out of my 1.5 yards. I thought that would be plenty, but I've been spoiled by the 59" wide linen I've been getting from Fabrics-Store.com. This silk noil comes in a more standard width of 45".
| The Result | I'm reasonably happy with the result. There are a few issues with it, and I need to decide whether to try to fix them or not. 1) the color: I just don't know about white. How can I find it so attractive on others, but feel so ambivalent about wearing it myself? I'm going to leave it white for a while longer, but if I still end up not liking it, I think I'll dye it a very light beige. 2) the shape of the parabolas: I think I originally sketched them ok, but in the process of doing the French seams, the curves straightened out quite a bit and are a bit more like triangles. It just de-emphasizes the shape and doesn't really come across in the final garment. 3) the curved hem: I didn't notice the curved hem of the Parabola top, so mine is straight across and it really reduces the gracefulness and uniqueness of the design. I think I could take the hem out and try to build in more of a curve. I'm just trying to decide whether it's worth attempting or not.
| Style | I've worn this just a few times, all casually. I don't think I'd wear this to work, but maybe with black skinnies. We'll see. Still trying to decide what to do with this top.
Linen Harper-like top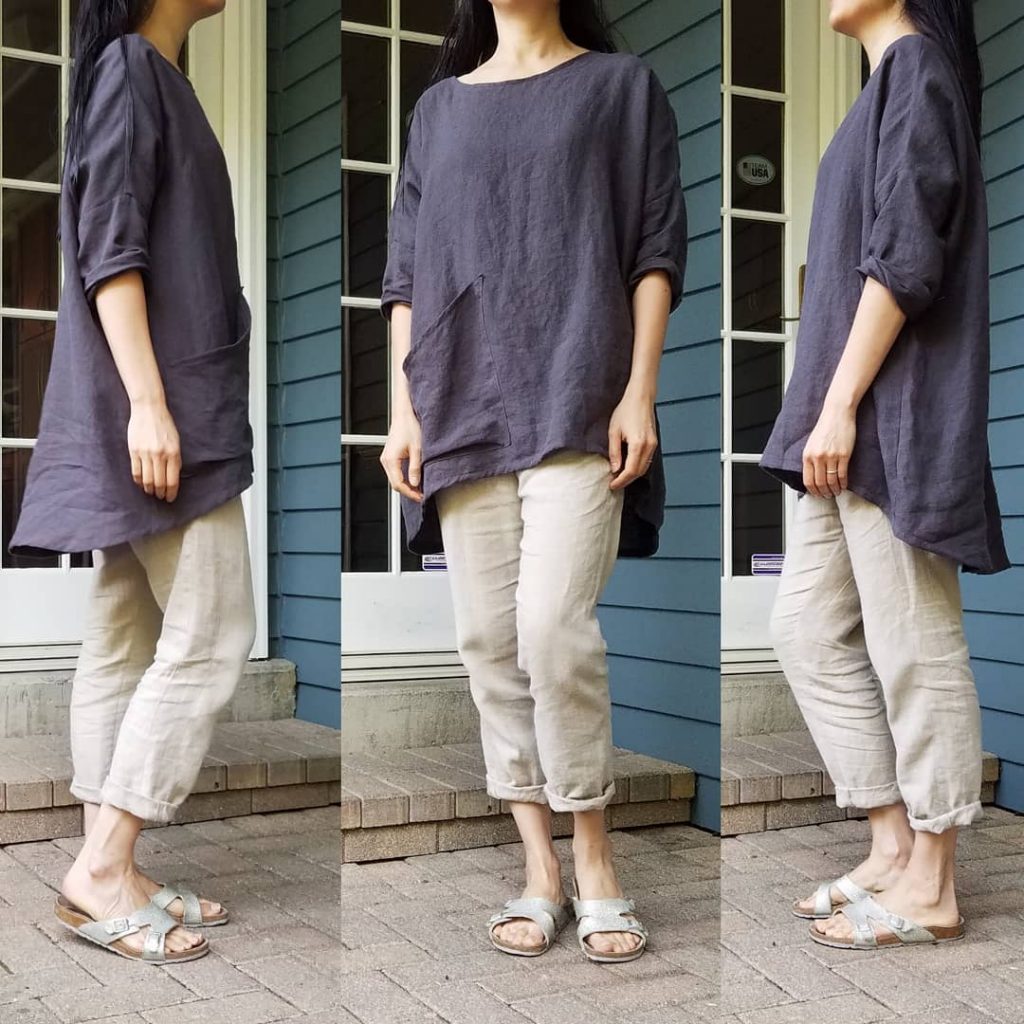 | Material & Amount | Nine Iron softened linen, 2 yd
| Cost | ~$30
| Pattern / Inspiration | I've gone back and forth on the charcoal linen Harper from Elizabeth Suzann. I had a OS last year that I eventually sold (decided it was too expensive for a casual piece, and it seemed a bit too big.) Then I regretted that sale and bought another one in OS, with the new sizing, which runs a bit smaller. Got that, decided it was too big still, and exchanged for the OS-. I wore that a few times, but decided the sleeves were a bit tight and I didn't love the linen gauze fabric. It's a bit on the scratchy side.
So, I finally decided to sell the Harper and sew my own version.
| The Process | I used my #memade short-sleeve Harper as a guide for the body, and my #memade Eva as a guide for the sleeves. Again, I focused on French seams throughout, just to get the practice. This was a much more straightforward project than the Parabola-like top. In fact, it was almost the only project I've ever done where I didn't have to rip out a single seam. However, after it was finished, the neckline, which I had double-folded, was too open and wide. So I ripped it out and used a bias binding instead, which brought it in about an inch all around. Much better!
| The Result | I'm really happy with the result. It's a big fit (probably as big as my original OS), but I'm ok with that now. Maybe what was really bothering me the whole time was the linen gauze fabric, not the fit.
| Style | It's been really hot weather lately, so I haven't worn this a ton. However, I will be wearing it casually whenever a little extra warmth is needed or if I'm just hanging out at home. As I've noted before, the Harper's are my favorite when I'm puttering around the house, cooking, or baking. This will definitely come on vacation with us in Michigan.
Linenfox-like Linen Jumpsuit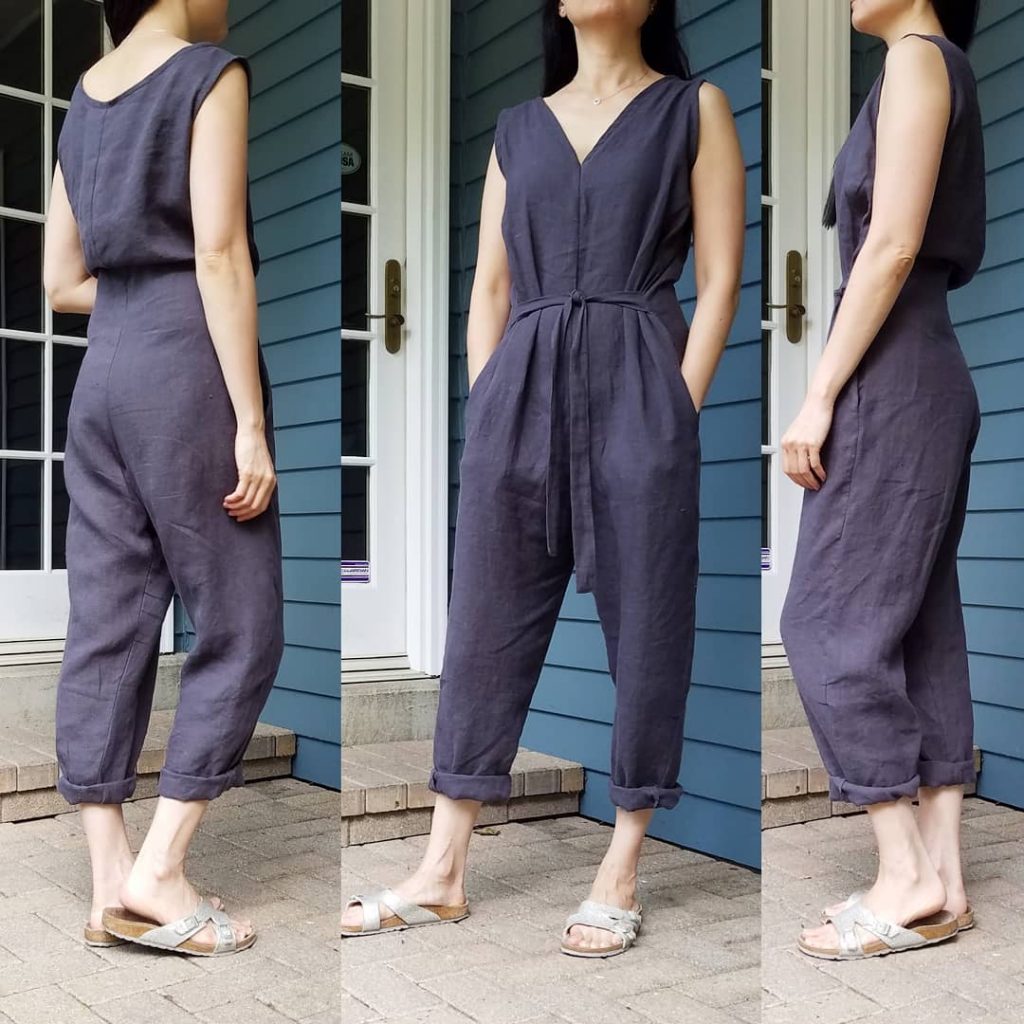 | Material & Amount | Nine Iron softened linen, 2 yd
| Cost | ~$30
| Pattern / Inspiration | I have been living in jumpsuits lately, but I only had two, so I decided to try my hand at making another one, this time inspired by the Linenfox jumpsuit. I really liked the Nine Iron color from the Harper, so, after much deliberation (I also considered black and dark blue), I decided to use it for this item.
| The Process | I've made some modifications to my Linenfox jumpsuit so that it fits well. I figured I'd build those in from the beginning for this #memade version. They include shortened straps and a shortened torso. I also decided to make the backside of the jumpsuit a single piece, and skip the dart on the front, making the suit totally reversible. I knew I might have issues getting in and out of the suit but I did some tests with my Linenfox one, pinning the V together and making sure I could get in it ok. It seemed to work.
So I traced and cut the pieces, including the pockets, and got to sewing. The initial result was ok, but not great. The straps were still to long (how is this possible when I traced off of my modified suit which fits perfectly? How?) So I bit the bullet, ripped out a portion of the bias binding on both straps, and shortened them. Then I closed up the v a bit too. Now it fits perfectly. It's a bit challenging on the shoulders to get in and out of it, but as long as I don't stiffen up too much as I age, I should be ok 😉
| The Result | Really really love it. This design is genius. It's just a big, wide jumpsuit, but when the ties are done up in front, several magical things happen: 1) it pleats up front, giving the seemingly ridiculously wide pant legs a flattering shape, 2) the pockets get pulled into a slant, so that look like fancy slash pockets on a diagonal instead of simple on-seam pockets, 3) it pulls in across the back, faking a waist seam and puffing out the top. I find the whole thing very flattering. And I really like the v-neck side. I may always wear it this direction, but it's nice to know that it's reversible.
| Style | This is definitely a casual piece and not for the office. However, I dressed it up with my heeled sandals and wore it to a semi-fancy dinner party and felt wonderful all evening.