So I pulled the trigger and ordered two Georgia shirts — one in silk crepe (nude), and one in linen (white.) I'm hoping they'll be delivered before Easter as I'd like to wear one of them that weekend.
I'm also hoping the nude color works out. I wanted something kind of blush pink, so we'll have to see how it turns out.
April 4 update
Woot! My order has already shipped 

 Looks like ES is running about a 2 week lead time instead of 3-4. And the weather's warming up too. Could be wearing a Georgia shirt by the end of the week!
April 8 update
OK — so my package arrived and it set off such a maelstrom of different thoughts and emotions, it really surprised me!
My first thought, of course, was how beautiful and beautifully made these pieces are. The quality and attention to detail are amazing. The packaging was beautiful and also came with a handwritten, personalized note 

The next thought was, "wow, that nude color is not what I expected at all." For some reason, from the images on the site, I was expecting something more peach-y. This color is more beige-y.
Then, I tried them on, and what I felt was, "I just can't wear these for every day life. They were so expensive and I'd be constantly worried about ruining them!" I guess my most comfortable path to sustainable fashion is buying quality second-hand items for a good deal. While it's obviously a wonderful goal to buy items that you wear for years, that entails a level of commitment I'm not totally comfortable with. I'd prefer to get something for what seems a reasonable price to me (maybe $30-40 for a nice top?) that I can wear in a relaxed way, without worrying about ruining it, or getting sick of it after a few wears.
At that point, I started thinking through ways to sell them for close to what I paid (which is crazy because this was within 10 minutes of receiving them. Guess I'm a nut!)
But I've slept on it for a few days, and tried them on a few more times, and this is what (I think) I've decided:
I'm keeping the nude silk tee. The material is just so beautiful. And although the color isn't what I expected, I think it looks quite nice on me and it goes with tons of stuff on my wardrobe (from jeans, the black silk-linen pants, to flax-colored linen pants, to skinnies, etc.) I've looked and I haven't been able to find any 'dupe' close to this top that I can thrift. It is truly unique, in color, cut and material so that makes it worth the price. I may end up reserving it for more fancy occasions – symphony, nice dinners, etc. I could totally wear it to work except I always go in to work with wet hair, and I don't think that will work out well with the silk. Not sure how to get around that one…
I'm probably going to return the linen tee. The color doesn't look as nice on me, and I prefer the drape of the silk vs. the more structured hang of the linen. Also, if I do end up wanting a shirt like this, there are some boxier-cut white linen tops to be had in the thrifting world (not exactly like, of course, since ES is so unique, but the same spirit.) I think I'm going to exchange for an artist's smock in black silk instead. I just love the wide cut and the drape-y hang of ES's silk.
May 1 update
So after all that agonizing and hemming and hawing, I ended up keeping both Georgia tees. I wore them each to work last week and felt very special and pampered all day. I really love how both of them make me feel. Here's a picture of each of them in action:
In addition to that, I love the silk crepe so much, I went ahead and got an artist's smock as well: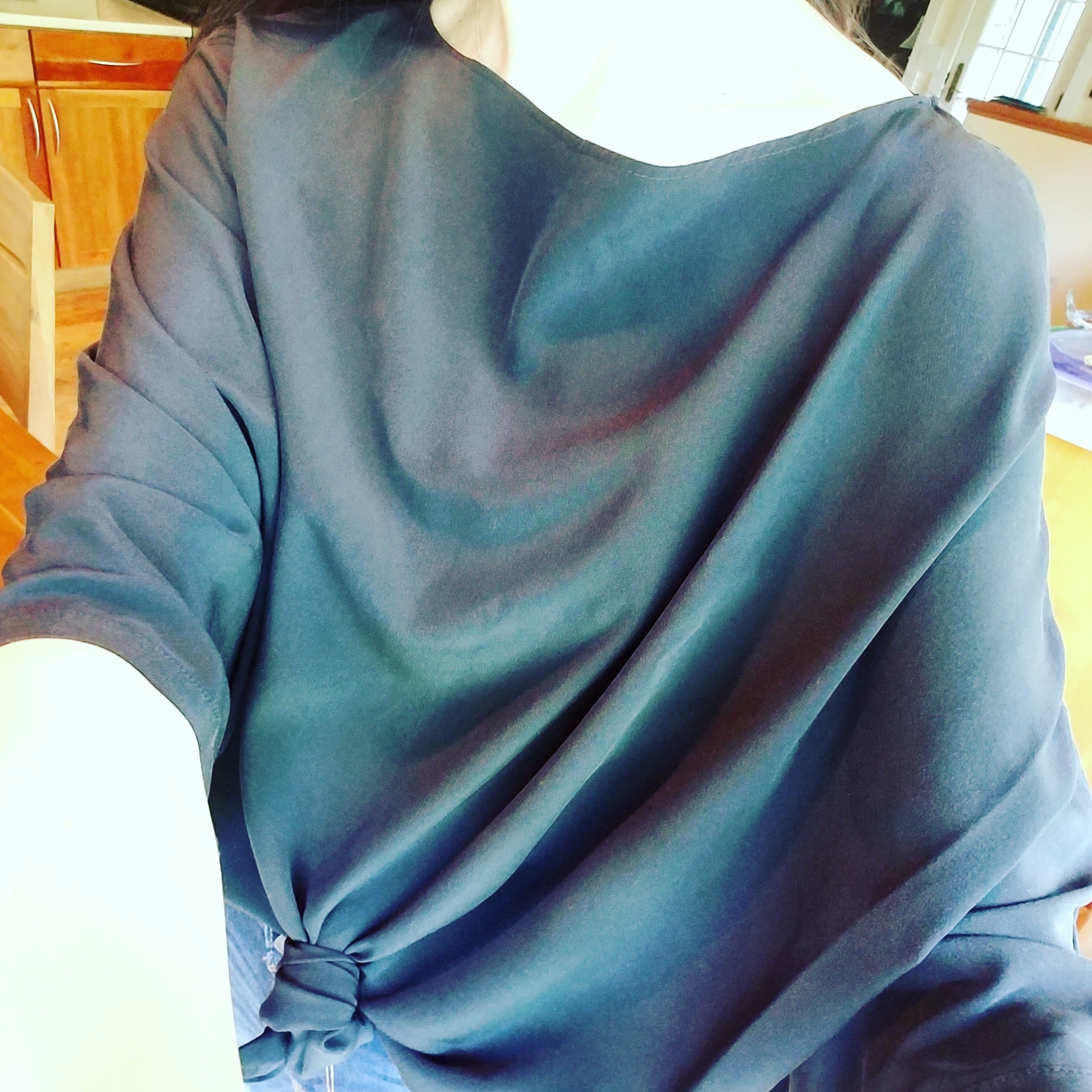 And finally, from the Warm Weather Collection launch, I picked up a Mara jumpsuit in black silk. I also got a Linn tee despite my worry about the cropped length. I just want to see the real ES version in person. The fabric is just so much nicer than what I was able to buy locally. We'll see if it works for me even with that shorter length.
May 20 update
….and, as it turns out, the arrival of the artist's smock really cemented in my mind how much more I love my ES silk than linen. So, I ended up selling the linen Georgia tee after all. And you've gotten a glimpse into how decisions are made in my brain, lol.
June 3 update
The Mara jumpsuit arrived and I unreservedly love it! No crazy brain spinning or weird return / sell decisions here. I love it and can't wait to wear it out!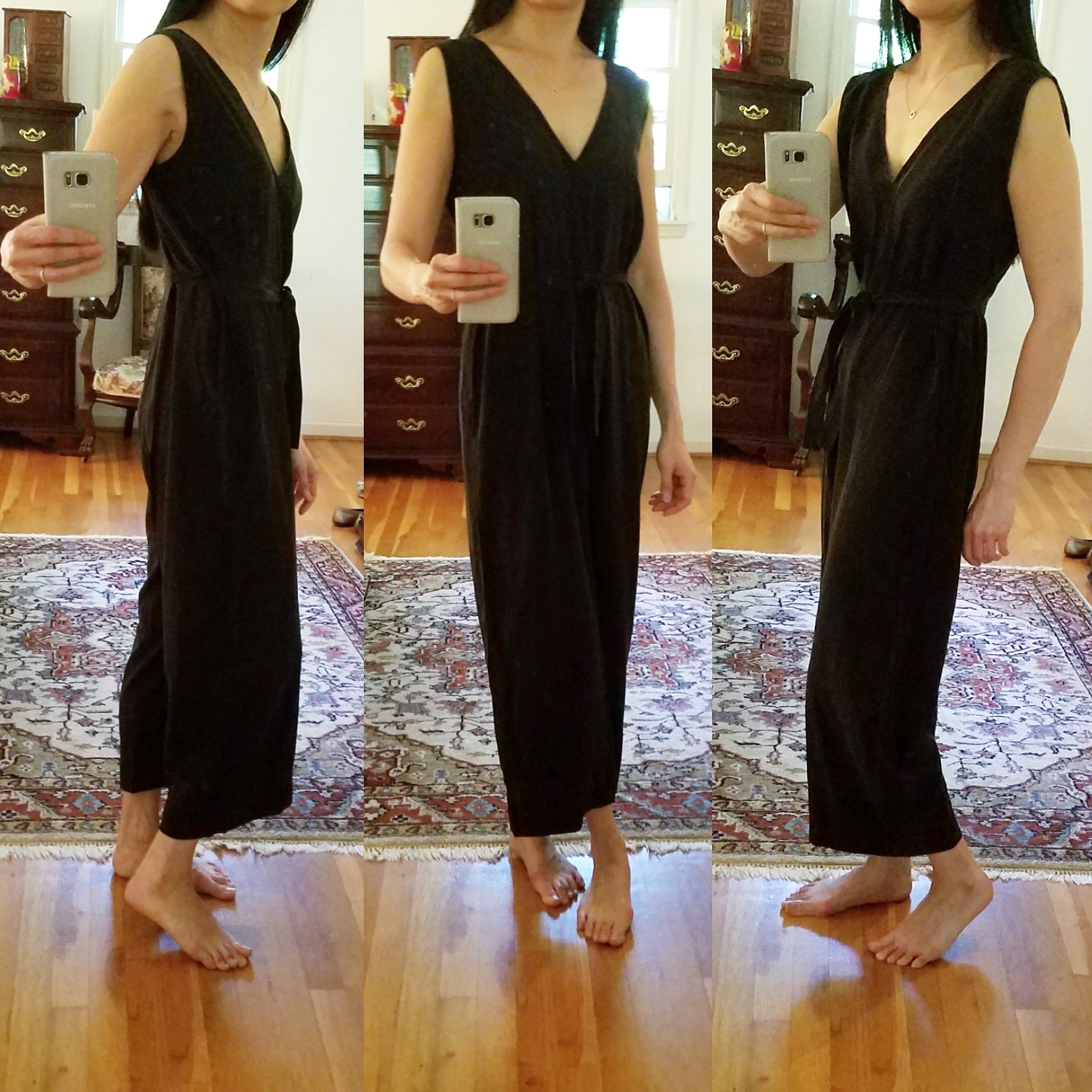 I had been worried that it would be cut too low in front or in back and I'd have to figure out an alternative bra situation when wearing it, but that isn't an issue at all. It's all around perfect!
August 13 update
So, after numerous fits and starts, lots of time spent browsing and re-browsing the site, and a few returns, canceled orders and sold items (namely the Georgias, silk Florence pants, and a silk Marlena dress), I have settled on 4 gorgeous, well-loved and easy-to-wear pieces: the artist's smock, the Mara jumpsuit, the Vera tunic, and the long-sleeve Harper. I adore every single one of these pieces and each one can be worn casually, for work, and some can be dressed up for evening dates as well (all but the Harper.) I also, of course, have a whole wardrobe of ES-inspired #memades and those are all well-loved as well. Thank you Elizabeth Suzann for your amazing designs!