Linenfox has quickly become one of my favorite places to buy affordable, responsibly made, casual, yet stylish pieces. I went from a single dress earlier this summer to 7 items in just a few months. I've gotten quite a few questions about the quality of fabric (especially how it compares to Elizabeth Suzann), so I figured I'd do a big review post of all the items I've purchased so far.
Also a disclaimer: I am not being compensated for this review nor have I been gifted any of these pieces. I just really love them and there's been quite a bit of curiosity about them, so I figured I'd do this post.
First I'll cover some overall impressions:
| CUTS & STYLES | While each piece is very simple, I still find them very unique feeling. That's one thing I've started really emphasizing in my wardrobe — uniqueness while still being understated and classic. All of my Linenfox pieces fit the bill perfectly.
| CONSTRUCTION | Every piece I have received has been extremely well-constructed. While the seams are serged vs. being french seams, everything is still completely professional and finished looking. Also, the detailing like pockets, chest darts, and waist details on the jumpsuit are all a notch above anything I would try to make myself.
| FABRIC | There's something about the Linenfox fabric that I really love. It's organic linen from Lithuania and it has a substantial feel while still draping well. It's hard for me to directly compare with ES linen because I don't own any at the moment, but from what I remember, the ES might be a bit softer and thicker. I expect the Linenfox fabric to soften over time, and while, from the pictures on the site, the milky white might be a bit see-through, all of the other colors are completely opaque. When the pieces first show up, they also have this faint fragrance, which to my mind is the scent of the linen plant itself. I don't know if it really is, but I feel somehow really connected to the earth and soil when I wear these items, especially the natural gray colored ones.
| FIT | I'll do more detailed comments for each piece below, but I find the fit absolutely true to size, except for the jumpsuit (more on that below.) I'm 5'6″, about 115 pounds and usually wear size Small and size 4. I've ordered all Smalls from Linenfox and they fit perfectly.
| PRODUCTION & SHIPPING | I've placed multiple orders now, and it typically takes about 2 weeks from when I order to when it ships. After the shipping notification, it's about a week between when it scans in Lithuania and when it arrives in the US. After that, it's another 3-4 mail days before it arrives. So generally, it's a three week wait time between order and delivery. Normal delivery is $8 flat, no many how many pieces you order. I think that's a super-reasonable price considering the pieces are coming from Lithuania!
| CUSTOMER SERVICE | The ladies at Linenfox are super-sweet. They are always responsive to questions and also completely open to customization of the pieces, which is awesome.
OK – now we'll get into a piece-by-piece breakdown. It's a bit hard to identify them because they don't have individual names in the Etsy store, so I'll link to an example piece for each one.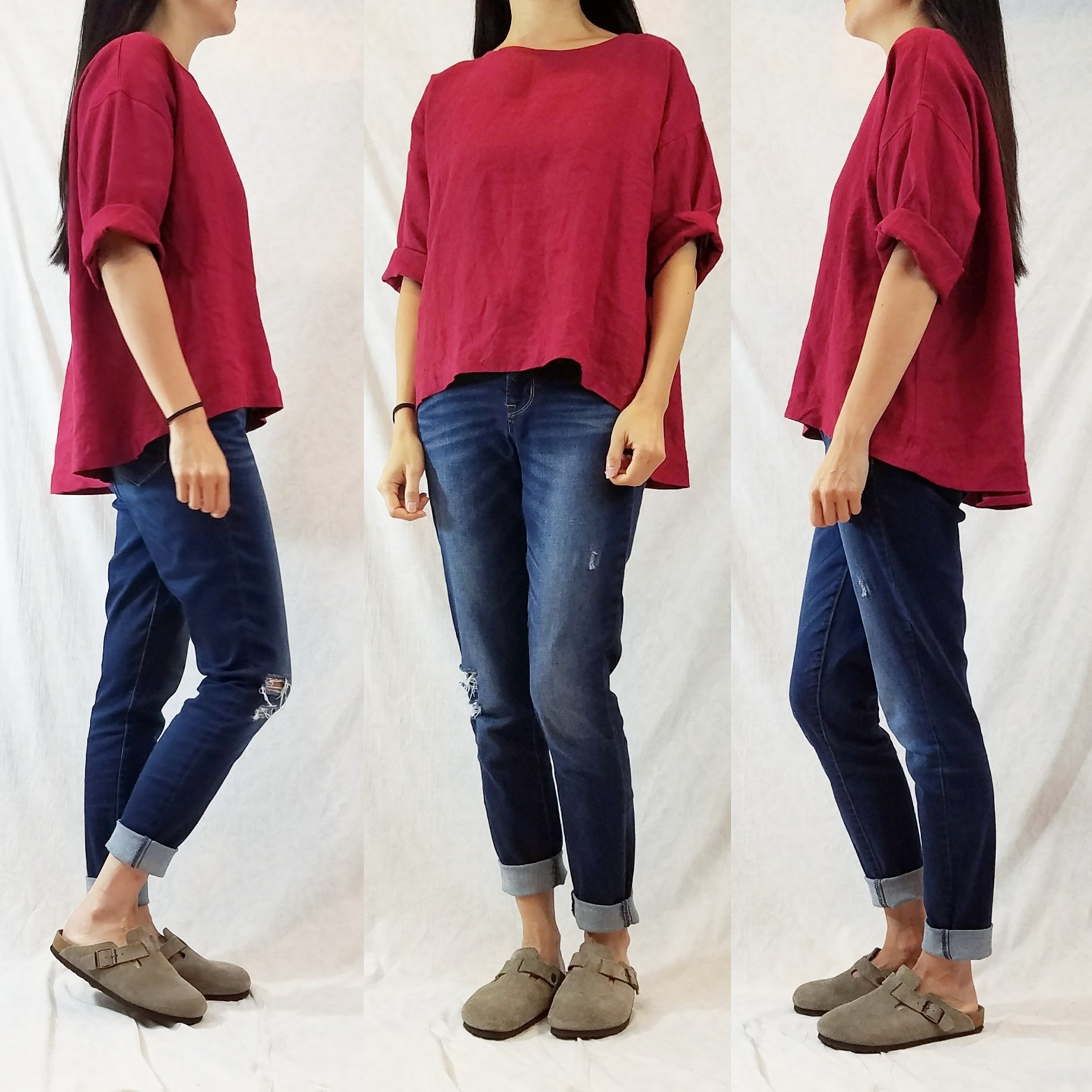 | PRICE | $50
| OVERALL IMPRESSION | I'll start with my absolute favorite piece. I love this top. The Burgundy Red color is a nice, deep red – not as orange-y as a looks on their site. It's a nice, blue-ish, cherry red.
| MEASUREMENTS | Size Small, Shoulders: 24″, chest, 23″, length 23″ / 27″
| CUT | This top has an easy, oversized fit, with a hi-lo hem and a trapeze shape. It has bracelet length sleeves, and I've rolled them up even further.
| STYLE | I bought this top just for casual wear, but I've got it as part of my #fall10x10 so it will get a spin at the office as well. We'll see how it goes! It's completely easy to pair with jeans, both boyfriend and skinny. I love how I can throw it on as easily as a sweatshirt or t-shirt, but it looks much less generic than that.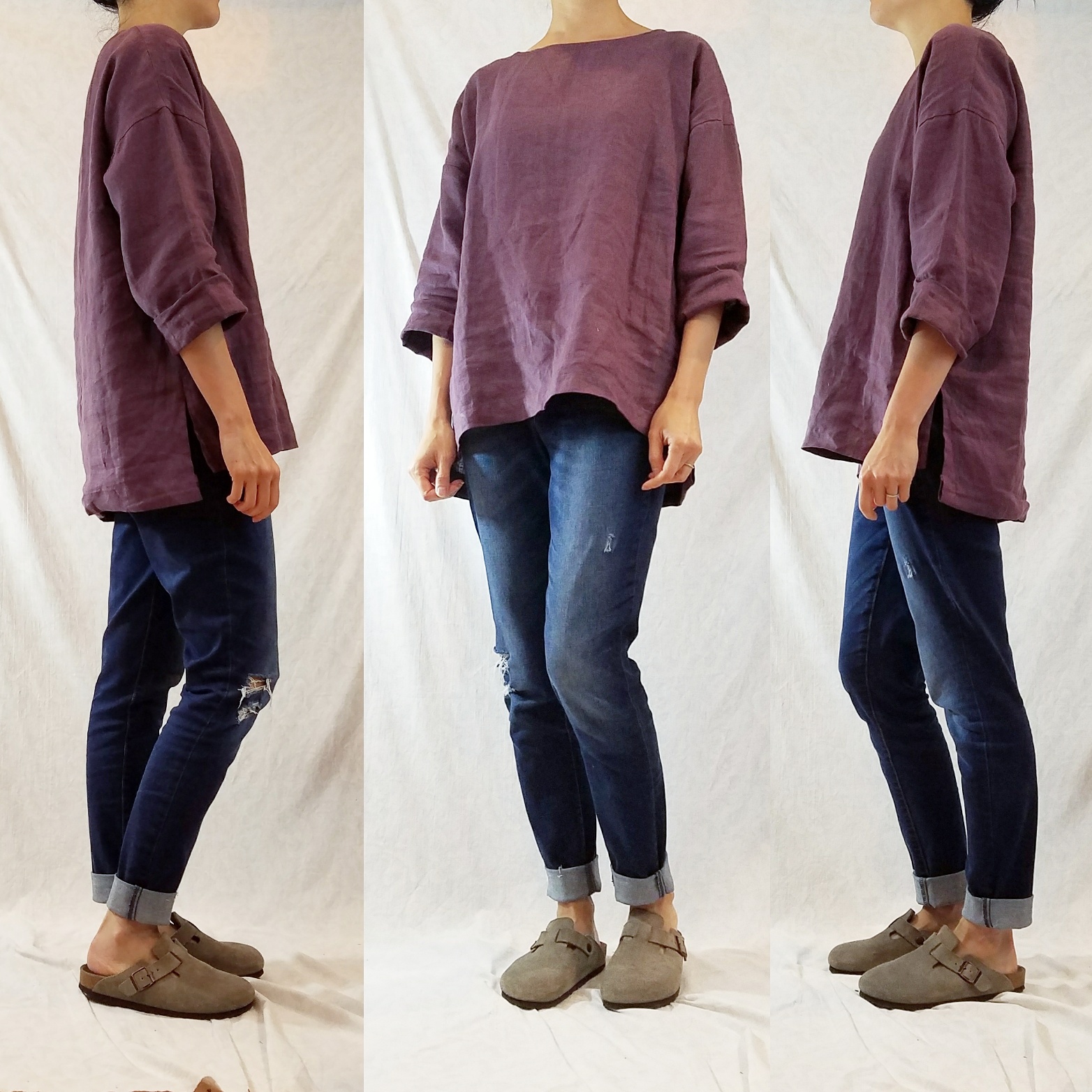 | PRICE | $58
| OVERALL IMPRESSION | I like this piece quite well. It's on the plain side, which is maybe why you don't hear the excitement in my voice. I think it might be more of a slow-burn piece that will grow on me over time 

 The Eggplant Violet color is nice and understated, the way I like it.
| MEASUREMENTS| Size small, Shoulder: 25″, Chest: 21″, Length: 26″ / 32 " (but I altered the back so it's more like 28″ in back)
| CUT | This has a nice, oversized cut, with slits on the side and a longer hem in back. The difference in front and back hem was a bit too extreme for me, so I shortened the back. The sleeves are full-length and I have them folded to 3/4 in this pictures.
| STYLE | For me, this top sits squarely in the casual realm. It's totally comfortable for hanging out, doing chores, baking, etc.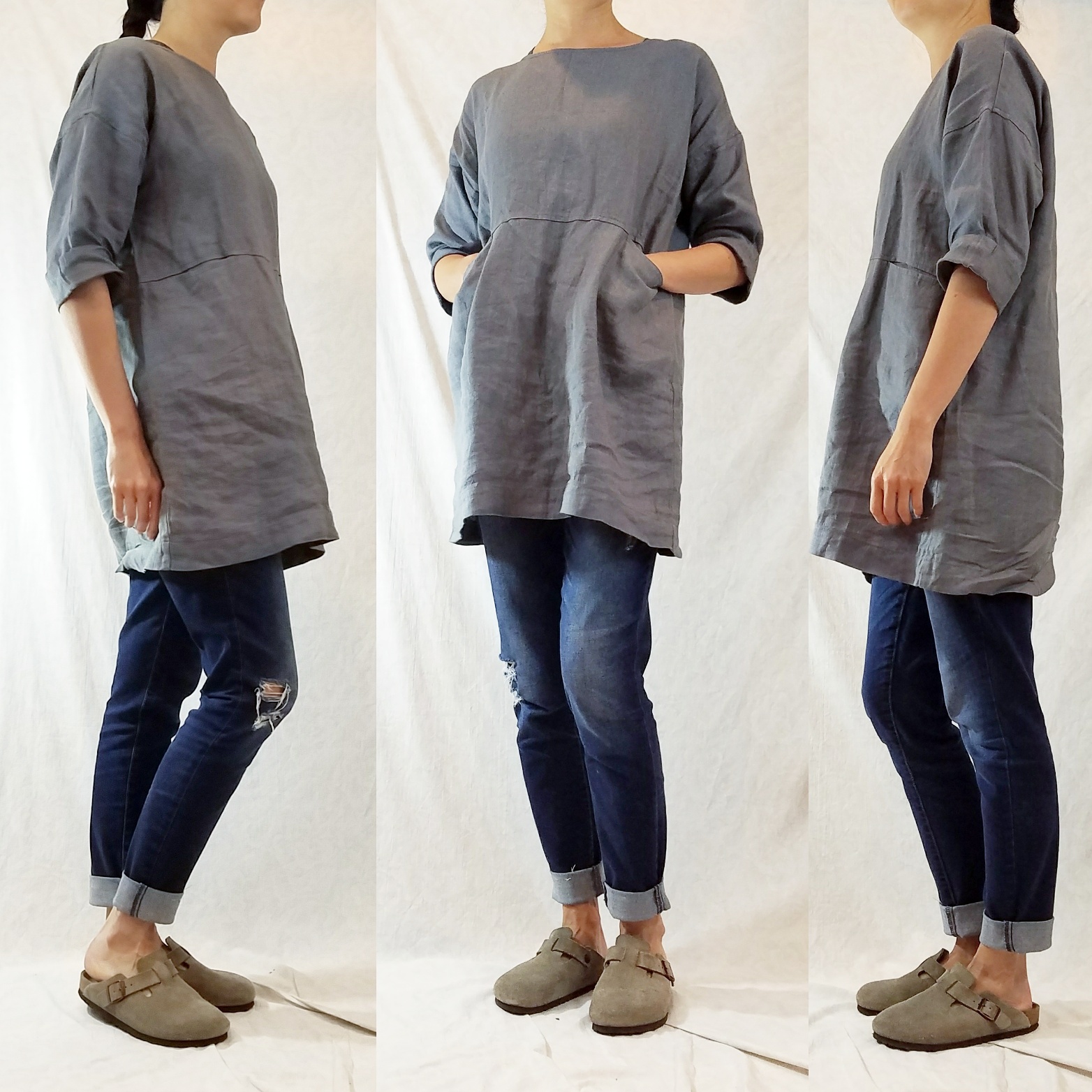 | PRICE | $60
| OVERALL IMPRESSION | I'm liking this piece. It's another one I will probably warm up to more over time. I got it in Dark Platinum Gray, which is a nice medium gray color.
| MEASUREMENTS| Size small, Shoulder: 25″, Chest: 21″, Length: 32 "
| CUT | This is a longer tunic with a really cute pocket detail high up on the waist. It is oversized without being overwhelming. It has 3/4 length sleeves with a folded cuff. I' have them folded even further here — I like wearing my sleeves on the short side 

| STYLE | While I bought this for casual wear, I may experiment with it at the office if I'm feeling like a little variety in my work wear. The length of this tunic would make a good beach cover-up, and I can even see wearing it by itself when hanging out on vacation. It's good over jeans, and I can see it going well with leggings too. Overall, a nice, versatile piece.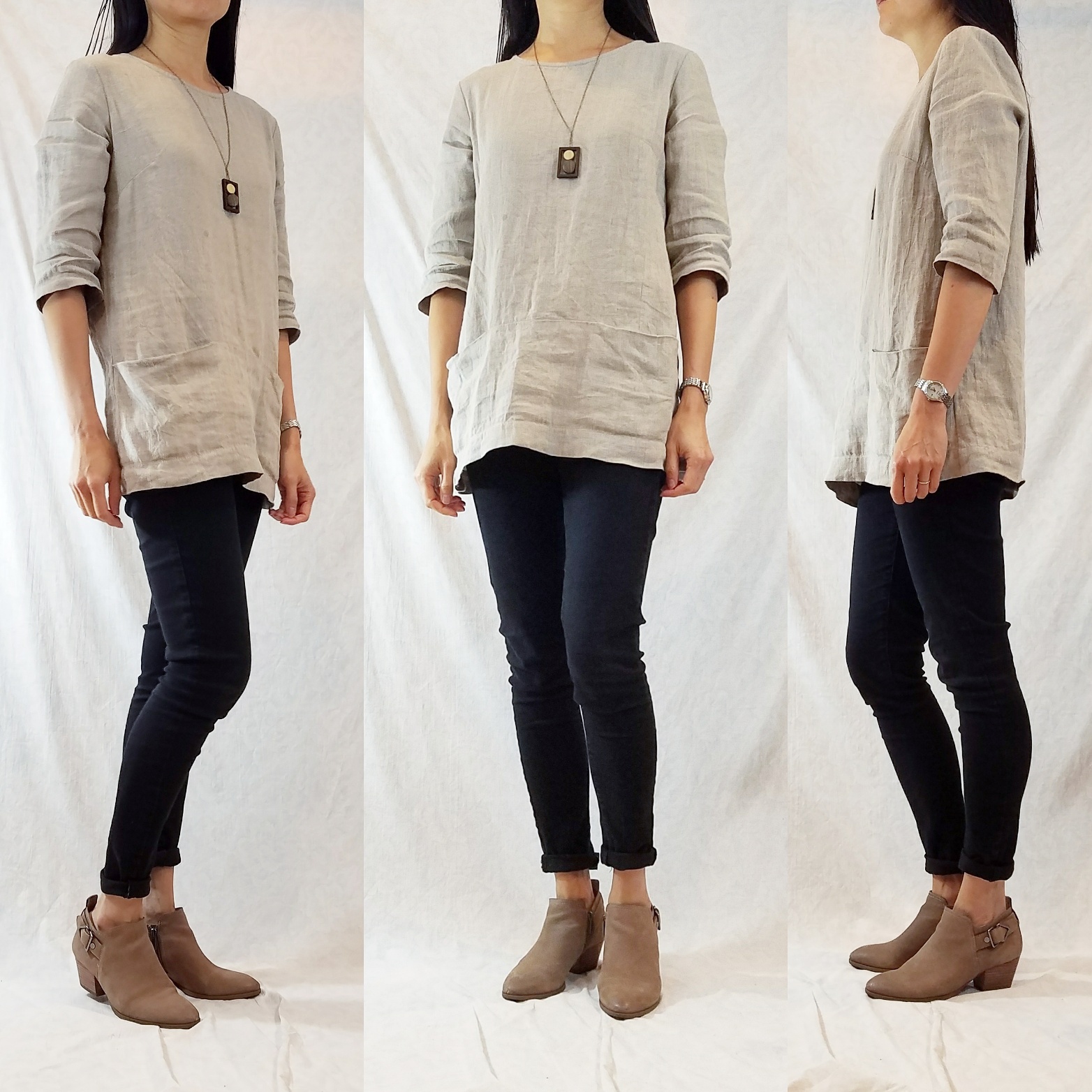 | PRICE | $50
| OVERALL IMPRESSION | I really like this piece. The Natural Gray color is one of my favorites, as you'll see (I have three pieces in this color.) It's a warm gray, more of a taupe that can read as beige in certain lights and against different colors.
| MEASUREMENTS| Size small, Shoulder: 15.5″, Chest: 19.5″, Length: 28″
| CUT | This is a much slimmer cut than the others, with 3/4 length sleeves and cute pockets at the bottom.
| STYLE | The slimmer cut of this top reads a bit dressier and less casual. I've already worn it to work and it was fine at the office. Still, it's perfectly comfortable and I happily wear it to hang out at home too.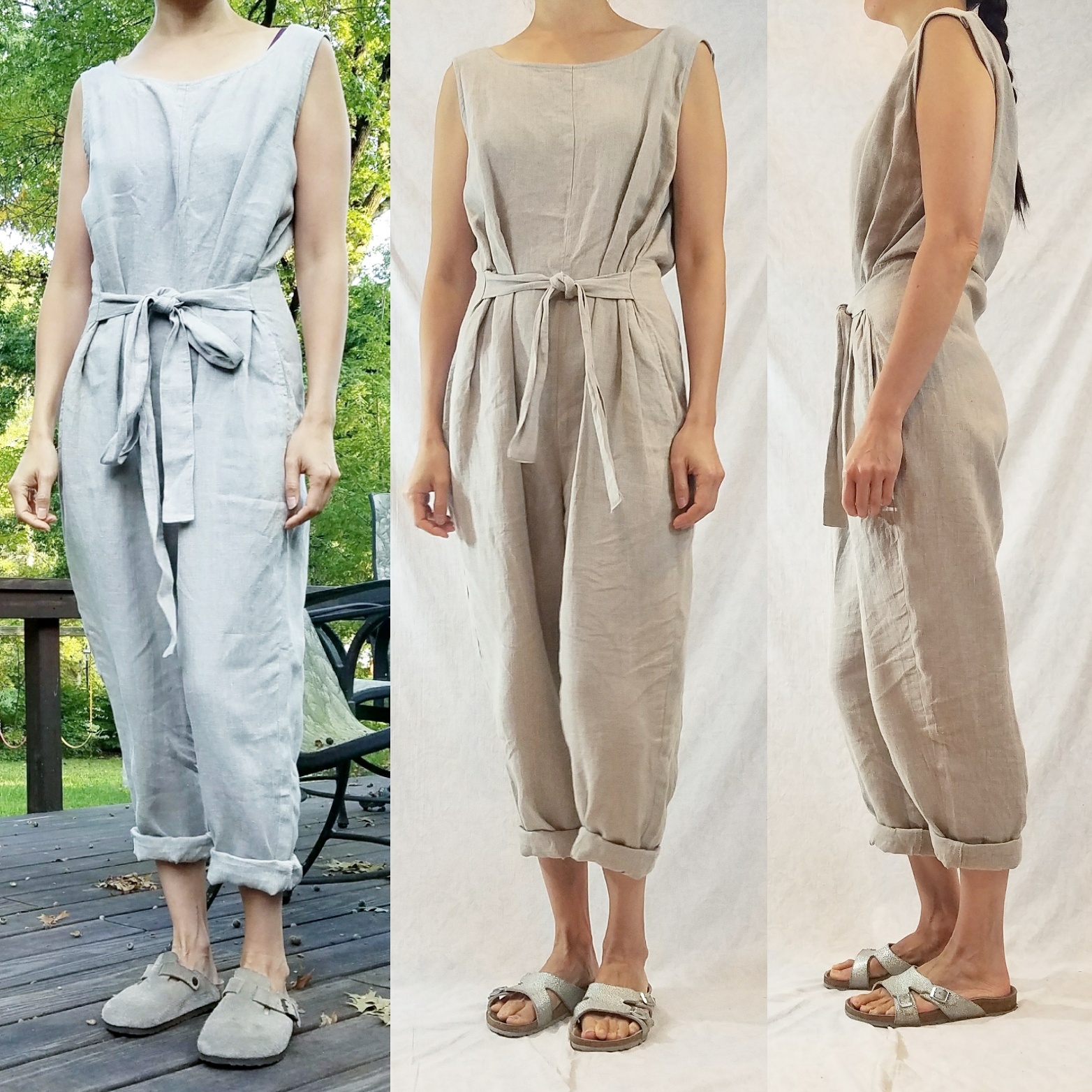 | PRICE | $85
| OVERALL IMPRESSION | At first, I didn't think this jumpsuit worked for me at all. I felt like the legs were cut ridiculously wide and I had it tied wrong (wrapped towards the back instead of the front) and it looked quite comical. Now that I've gotten the hang of it and done a few alterations, I love this piece! Again, the Natural Gray is one of my favorite colors. So peaceful and zen 

| MEASUREMENTS| Size small, Chest: 20″, Length: 56″, Length of strap to crotch: 34″, Waist: 21.5″, Thigh: 12.5″
| CUT | This is a very oversized cut, and the one time I felt like small was the wrong size for me. I probably should have gone with an XS. I had to shorten the straps as well as the overall top by taking in some length at the waist. In this picture, you can see how it originally fit on the left. I didn't take a good picture of the back, but it gaped and sagged open. The straps were also constantly falling of my shoulders.
For the bottom half, I like the look of the legs when they're folded up like in this picture. Not sure if I'll ever wear them unrolled 

I should also mention — this was a piece that I had the Linenfox team customize for me. I don't look great in low-cut scoop necks, so I had them raise the neckline for me. They did a great job 

| STYLE | As I mentioned, now that I've gotten the hang of how to wear this top, I love it. It's only for casual though. I can't see wearing this to the office.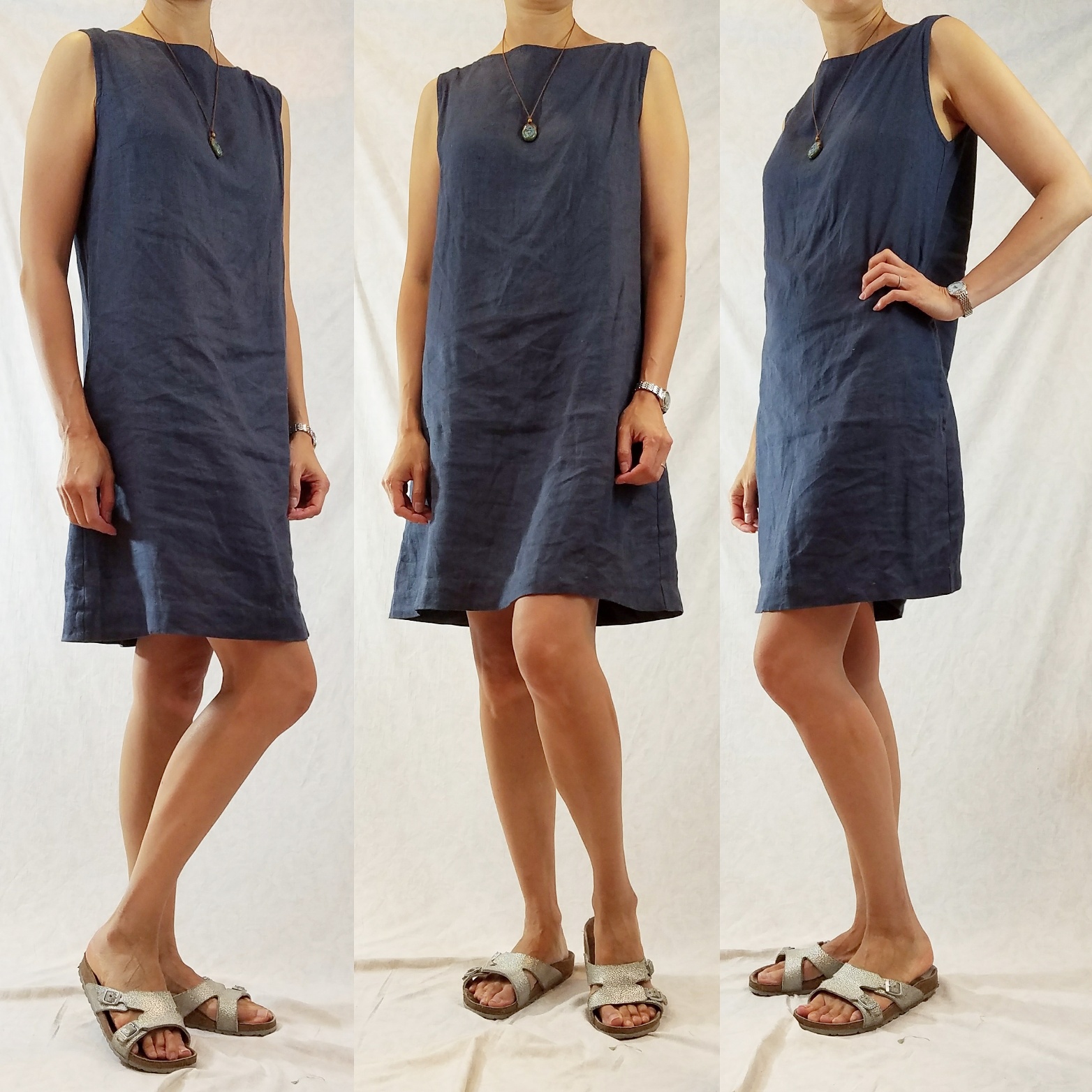 | PRICE | $50
| OVERALL IMPRESSION | A nice, simple, easy to wear dress for summertime, and it has pockets! I got this dress in Graphite Gray, which is a nice blue-ish gray.
| MEASUREMENTS| Size small, Chest: 19″, Length: 34″
| CUT | This is another piece that is more on the bland, less on the unique side, but I still love that it's so easy to toss on and go. It has a perfect cut — not too loose, not too tight. And the pockets are awesome.
| STYLE | This is definitely a dress for casual wear. I wouldn't wear this to the office. I can throw this on with sandals and be ready for whatever a summer's day might throw my way 

| PRICE | $62
| OVERALL IMPRESSION | This was an experiment for me — loose, tapered linen pants. And I love them!
| MEASUREMENTS| Size small, Waist: 12.5″ across, unstretched, Hips: 23″, Length: 29″ inseam, 38″ total
| CUT | These pants have a tapered cut, so they're very loose in the hips and taper down to the ankle. The waist is elasticized, and honestly, they were too tight for me. I ended up cutting into the waist band, lengthening the elastic, and then sewing it back up. Now they fit around my waist snugly, but without binding. I love the look with the rolled-up legs. And the pockets!
| STYLE | I was pleased to find I could wear these both casually, and also to the office. They're on the casual side for work, but, paired with a silk tank and nice shoes, fit in just fine.