[Update: I've reviewed all my #memades here, if you're looking for a comprehensive list of everything I've made.]
So I had a grand ol' time last weekend going to an awesome local fabric shop, picking up some linen fabric, and attempting to make a shirt similar to Elizabeth Suzann's Linn tee. I would have just bought one from ES, but I'm afraid the shirt is just a bit too cropped to wear with most of my pants and jeans. So I eyeballed various images of the Linn and just went for it.
First, I asked the awesome community in Instagram for help and got some good input:
* For fabric, check for local fabric shops (I did this and discovered an amazing shop, not far away, that I never knew existed!) Otherwise, check online at fabrics-store.com or Dharma Trading Company for a good selection of linens.
* Linen is a great, easy fabric to work with. It's not slippery, it doesn't stretch funny, just don't forget to pre-wash and dry before sewing.
* Don't be afraid to wing it in the pattern department. Everyone had simply sketched their own patterns, sometimes based on other pieces they had.
And here are a few things I learned, or was reminded of, since it's been a few years since I last sewed any clothing:
Pre-washing is the hardest step for me because I'm full of impatience to start a project as soon as I get the fabric home. BUT — it's an important step and shouldn't be skipped. Washing and drying the fabric will prevent future problems caused by fabric shinkage.
Rather then make a pattern (and because I was so impatient, see above), I went ahead and sketched directly on the fabric as decided how to cut the pieces. This shirt is very easy as it's just two pieces. I used the neckline of my Georgia as a guide, then estimated width and ensured I had the length I wanted in front (19″).
Ironing is another step that I always want to skip and is so worth it. Taking the time to iron hems (and it takes so much patience — two folds — once to fold the raw edge, and once more to fold it under) is well worth the time and will help the end product look more professional.
Linen is a fabric that unravels easily, so it's best not to leave any raw edges. I don't have a serger, so on the side seams, I first sewed the seam with a straight stitch, then went back and sewed the raw edge with a zig-zag stictch. Then I cut off the extra fabric (essentially serging the hard way.) Luckily on this shirt, the only places this needs to be done are the two side seams.
For sharp curves like the underarm seams, you can cut a few slits in the seam allowance on the inside so the fabric can open up around the curve and let the seam sit better.
It's hard to get the neckline to sit right. Mine stands up a bit funny. I just washed and pressed the finished shirt, so maybe that will help.
Think through balancing the length and width of sleeves / armholes to minimize any peek-a-boo side boob that might happen. The first time I finished my shirt, it was a bit too wide (sleeves hung past my elbows), so I slimmed the width, but I'm on the edge of the limit on what's viewable at the right angle from the side. Oh well…
So here's the end product. I'm pretty happy with it. However, I will note that the linen I got at the store is just plain not as nice as ES's fabric. I'll enjoy wearing this shirt, but it doesn't give me the same amazing feeling as wearing an ES shirt…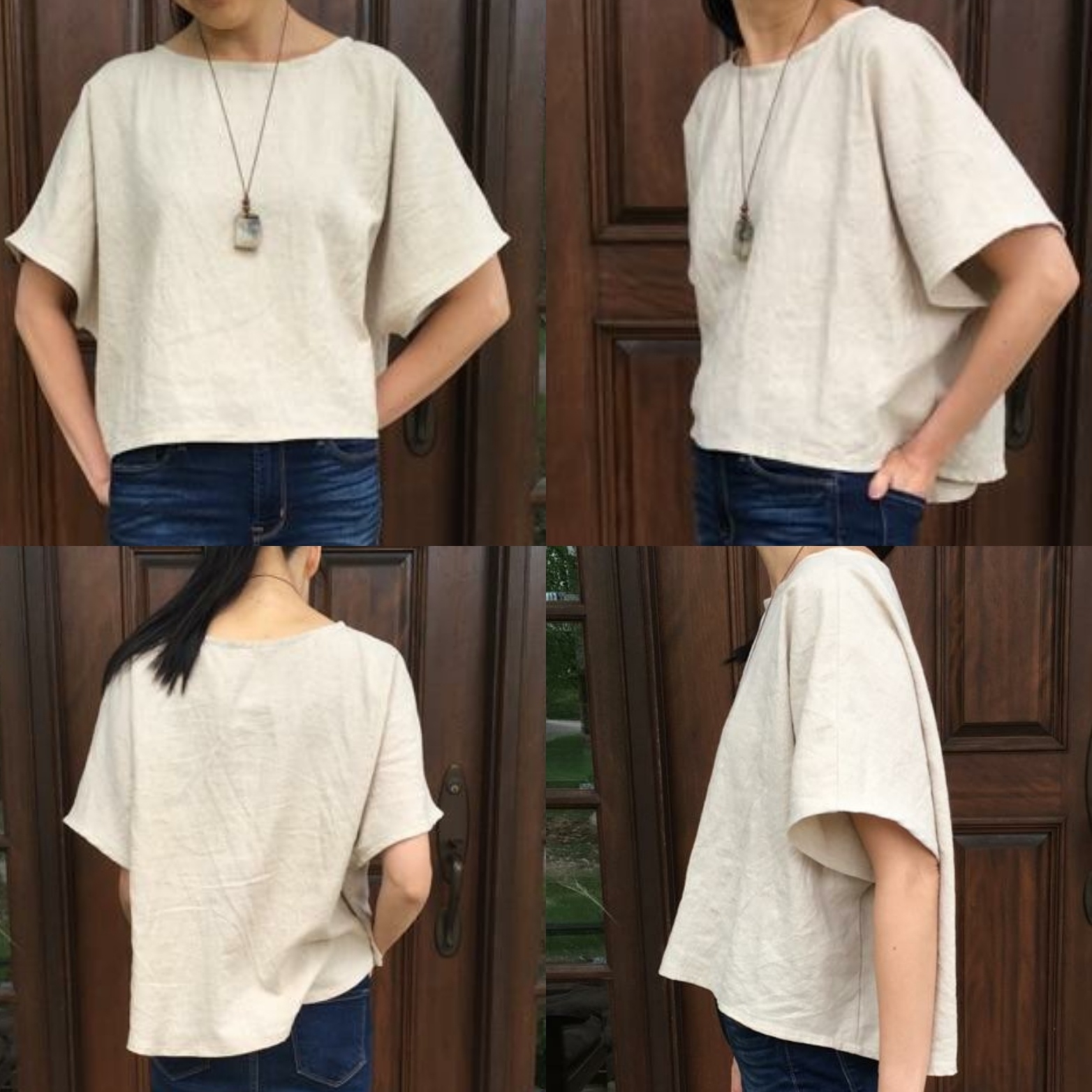 I went a little nutty around Memorial Day weekend, making three Georgia-like shirts and an Emma-like kimono.
It started when I went to wear the white linen shirt I had edited a while back. I just didn't like the overall look. The linen was a bit thin and read kind of 'cheap' to me. Plus, I missed the shape of the Georgia sleeves. I had already sold the ivory linen Georgia because the color just wasn't right. So what I needed was a bright, white Georgia. My mind went back to the raw silk fabric at Silk Trade Textiles, so I finally went back to the store to take a look.
I ended up buying a yard and a half, washing and drying it, and using my silk crepe Georgia as a template, I sewed myself a Georgia-like top. I was quite happy with how it turned out: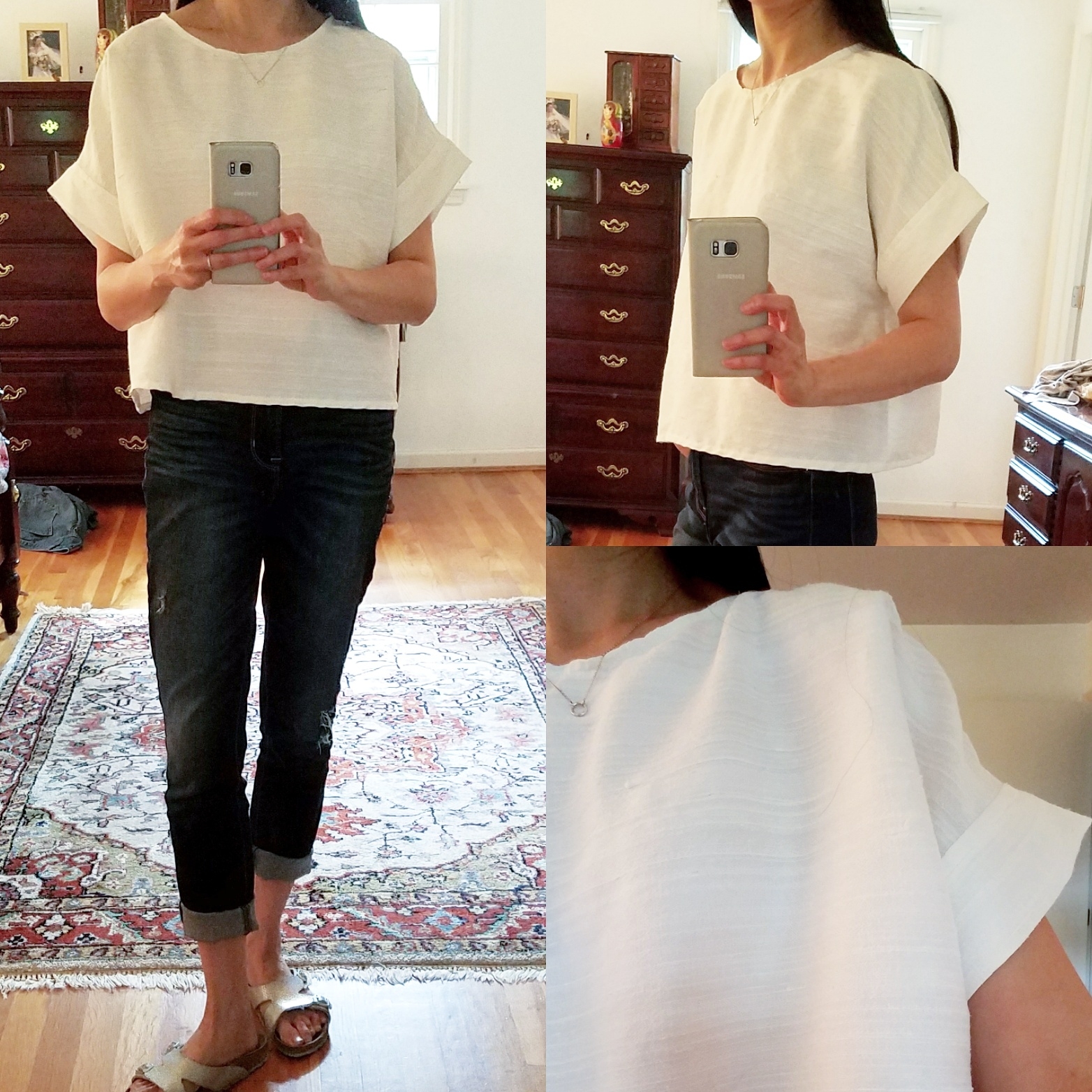 Then, a few days later, I decided what I really needed was a black linen Georgia. Which I promptly sewed up. And not long after that, I decided I needed a flax colored one too. In between all that, I noticed that this beautiful, woven silk matka fabric at the store was 40% off and bought that too, and sewed it into an Emma-like kimono. I guess I got a little obsessed with the sewing thing!
I also tried wearing the Linn-like shirt to work and that worked better than expected: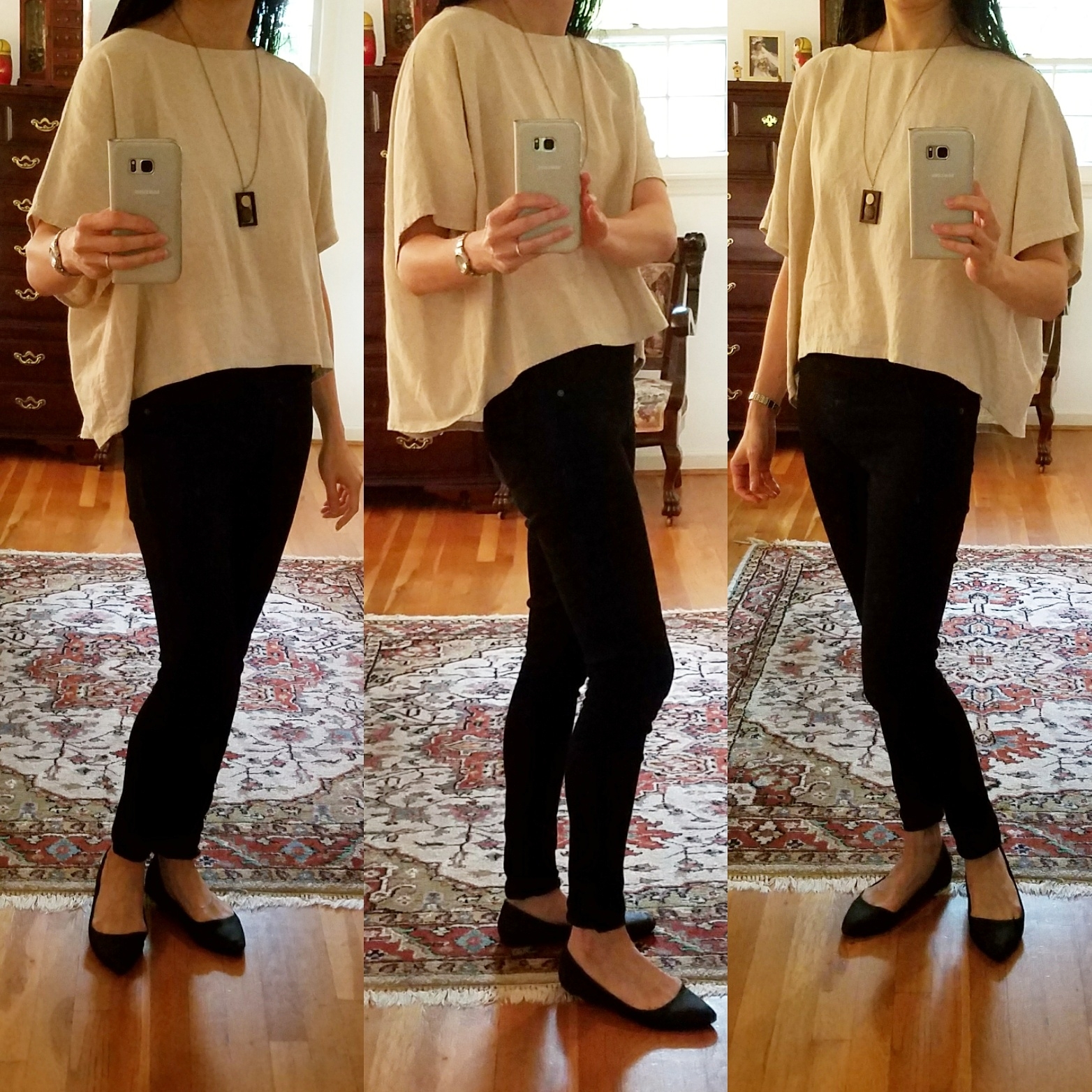 So, those are the sewing adventures for now. It's been fun!
For those looking to sew their own, I scoped out a couple of similar patterns. For the kimono, this one looks promising:
https://www.simplicitynewlook.com/6217?___SID=U
And for the Georgia-like shirt, this one looks like a good base. You'd just need to and sleeve cuffs:
https://indygojunction.com/collections/tops-tunics/products/indygo-essentials-easy-top-tunic?variant=31526090633
And here's a great tutorial on adding sleeve cuffs. I didn't follow it exactly, but it was a huge help:
https://www.salmesewingpatterns.com/blogs/salme-blog/sewing-a-simple-roll-up-cuff