Elizabeth Suzann is already a cult favorite with tons of fans, but for those who are newer to the brand, or looking for reviews and have a similar body type to mine, I figured I'd post detailed reviews of the items I have. For reference, I'm 5'6″ and 115 pounds. My measurements are: Chest – 34″, waist – 27″, hips – 36″. Pretty much a solid size 4.
Disclaimer: I am not being compensated for this review nor have I been gifted any of these pieces.
First I'll cover some overall impressions:
| CUTS & STYLES | I'm obviously not the only one who admires the simple, structural, and unique lines of Elizabeth Suzann's clothing. I truly love the combination of something that is easy to wear, understated, and still gives me the feeling of wearing something different than the norm.
| CONSTRUCTION | ES pieces are very well constructed, with French seams and professional finish.
| FABRIC | I don't currently own any ES linen, but I've had a piece in the past and it is really soft, substantial fabric. The silk crepe is luxurious, but easy to wear. Now that I have Jamie and the Jones silk to compare with, I will say that ES's fabric isn't quite as heavy as J+J silk, but it's still much thicker than anything you'll find in a department store. It's machine washable and druable, which is one of the only reasons I am now willing to add silk to my wardrobe!
| FIT | I'll do more detailed comments for each piece below, but I find the fit depends on the piece. I like the OS for my Georgia, but the OS- worked better for the Harper. Happily, ES now includes garment measurements on their website so it should be easier to order correctly.
| PRODUCTION & SHIPPING | The ES team is always striving to reduce production time and I've seen it vary from 3-4 weeks to 6-8 weeks. My experience is that it's best to expect the longer wait time. It hasn't been very often that I've gotten a piece much faster than that. What I do appreciate is that ES always keeps the wait time on their listings current, so if production is getting behind, they'll lengthen the wait time guidance on the item listing.
| CUSTOMER SERVICE | I have always gotten incredible customer service from the ES team. They are super friendly and helpful. Note that it can take a day or two to hear back from them.
OK – now we'll get into a piece-by-piece breakdown.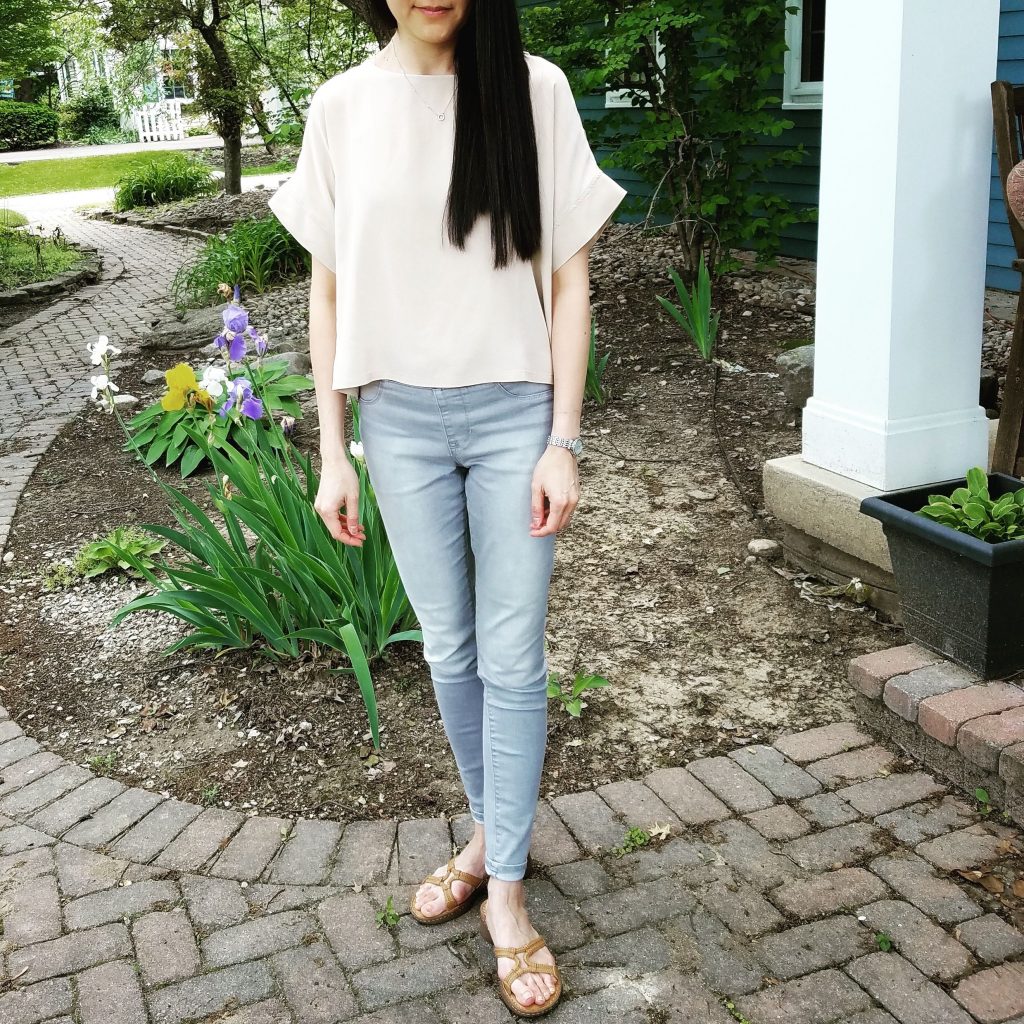 | PRICE | $175
| OVERALL IMPRESSION | The Georgia Tee is what started me on the path to wardrobe Nirvana. The boxy shape and the flippy sleeves perfectly represent the understated but unique look I had unknowingly been searching for. I originally bought a ivory linen one and the nude silk one.
I eventually sold the linen top because the color wasn't super flattering on me. My frugal nature also kicked in when I realized I could try sewing my own Georgia-like tops in linen (I eventually sewed myself two linen and one raw silk top.)
However, the silk crepe isn't a fabric I want to sew myself, and the nude color isn't something I see at fabric stores, so I'm happy to pay full price for this version.
As you'll see, all of my ES pieces are silk because I generally find myself wanting to sew my own when it comes to linen.
| SIZE | I'm wearing an OS in this picture.
| CUT | This top has an easy, boxy fit. The silk one is drapier, while the linen was more structured.
| STYLE | This top is perfect for work and dressy-casual occasions where I don't need to be overly concerned with stains or dirt (for example, I'd wear it to a restaurant, but not a backyard BBQ.)
Because of the color, I find it's not the most versatile top. I like it best with my gray and black skinnies. [Update on this piece: I dyed it a slightly differently color and I think I'll get even more use out of it now.]
Artist's Smock in Silk Crepe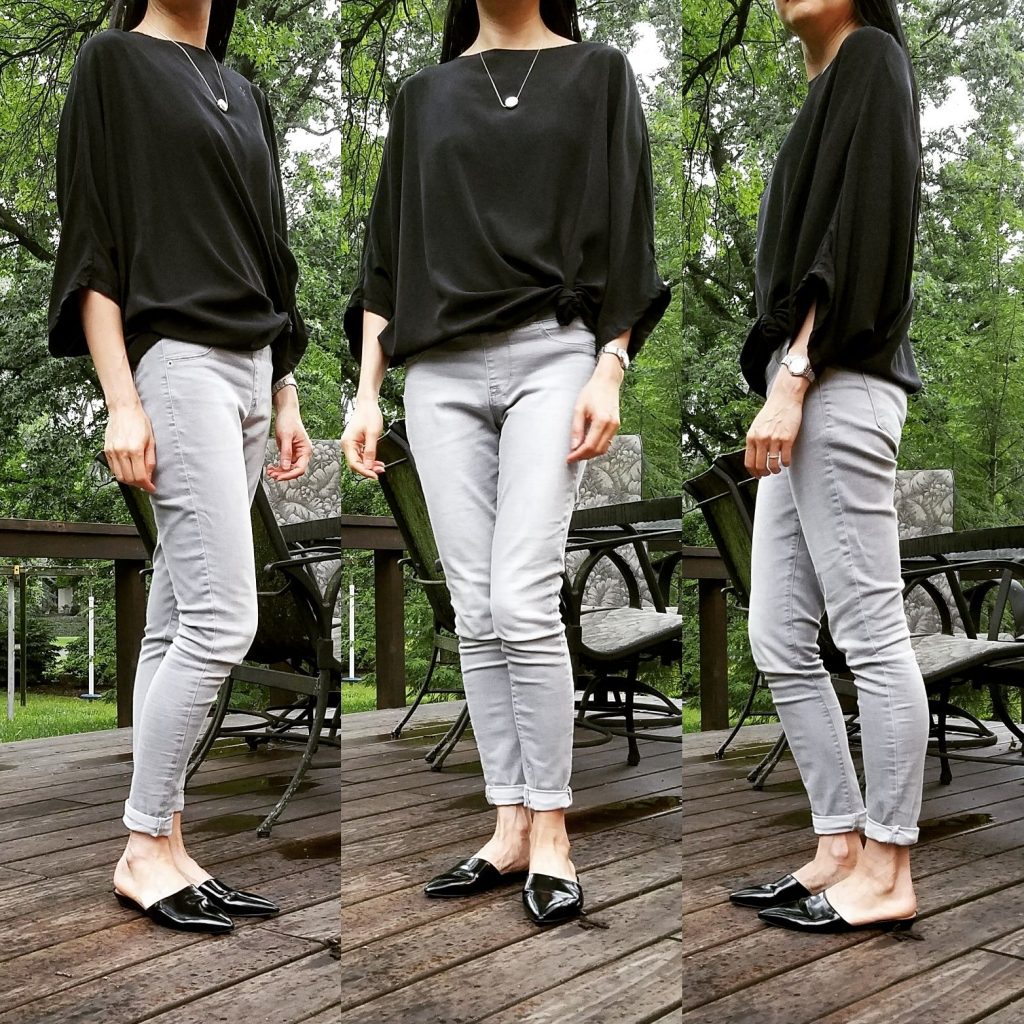 | PRICE | $185, but not currently available. Elizabeth mentioned a future update, so hopefully it will rejoin the collection soon!
| OVERALL IMPRESSION | I love this top. Like the Georgia tee, it is understated, but the statement it does make (in my mind) is, "I'm a little different than the norm." I definitely feel artsy when wearing it. The silk is drapey and the color is not a super deep, dark black. The sueded nature of the silk makes it read as a lighter black.
| SIZE | I'm wearing an OS in this picture.
| CUT | This top has a batwing sleeve and longer length.
| STYLE | I wear this top to the office and for evening events all the time. I've worn it knotted, loose, and underneath a topper like my #memade Emma-like kimono. It goes with my skinnies, whether black or gray, and even my wider leg pants, like the wool tweeds. Love it!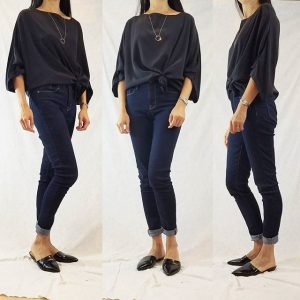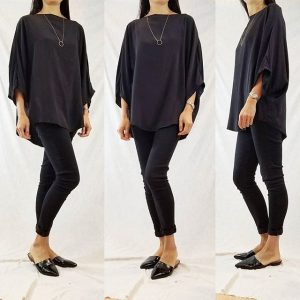 Vera Slip tank in Silk Crepe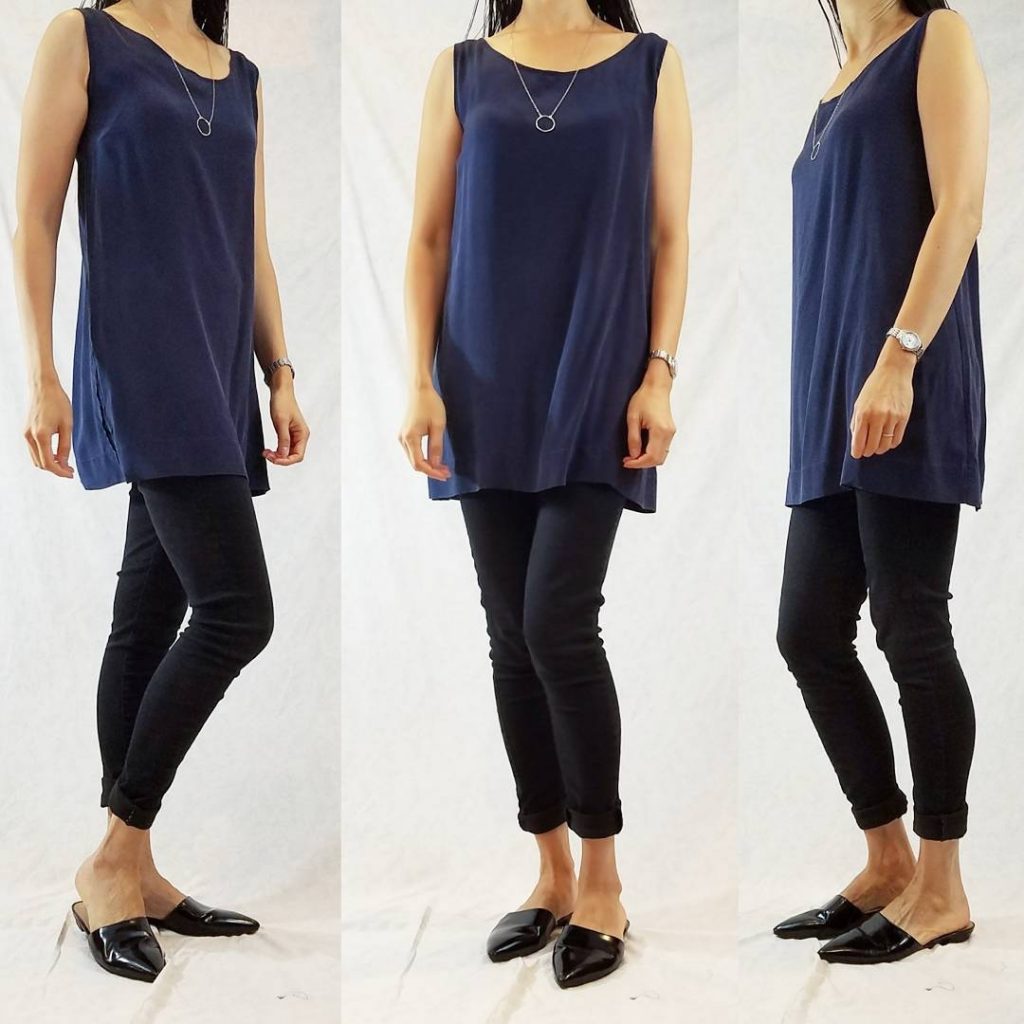 | PRICE | $150, but not currently available. Purchased on eBay – was originally a Vera slip dress that has been shortened by the original owner to a top. The Ella slip tank should be similar, although shorter.
| OVERALL IMPRESSION | The navy silk is gorgeous. It's still a really dark color, so you wouldn't think it would be that different than black, but the dark blue color gives a more casual feel to the piece.
| SIZE | I'm wearing an OS in this picture.
| CUT | This top originally had a very wide cut and I had issues with the straps falling off my shoulders. I eventually took some width in at the center seam in back and it sits better on my shoulders now (at the expense of the gracefully wide neckline.) It has a nice trapeze cut and I like that the person that had it tailored replicated the side seams that the dress had at the hemline.
| STYLE | I wear this top to the office, tucked into linen slacks; and for casual hanging out as well, paired with distressed denim shorts. The dark color makes me feel safe to wear it whether we're driving out to get ice cream, or just hanging out on the deck. The fact that it's sleeveless and silk keeps me cool, even when it's super hot and humid. I also love that it's reversible!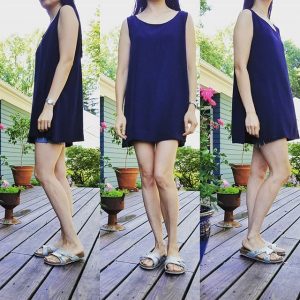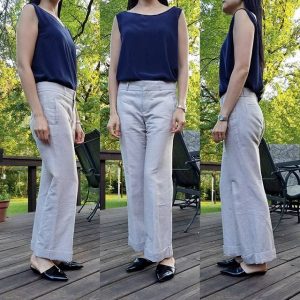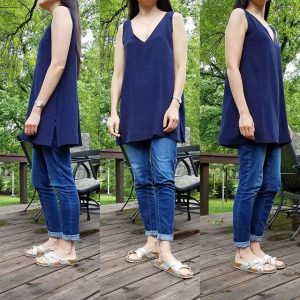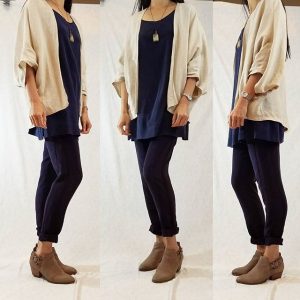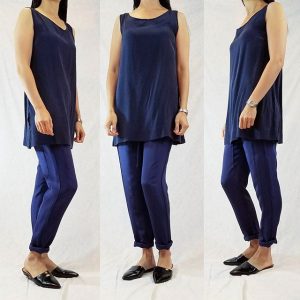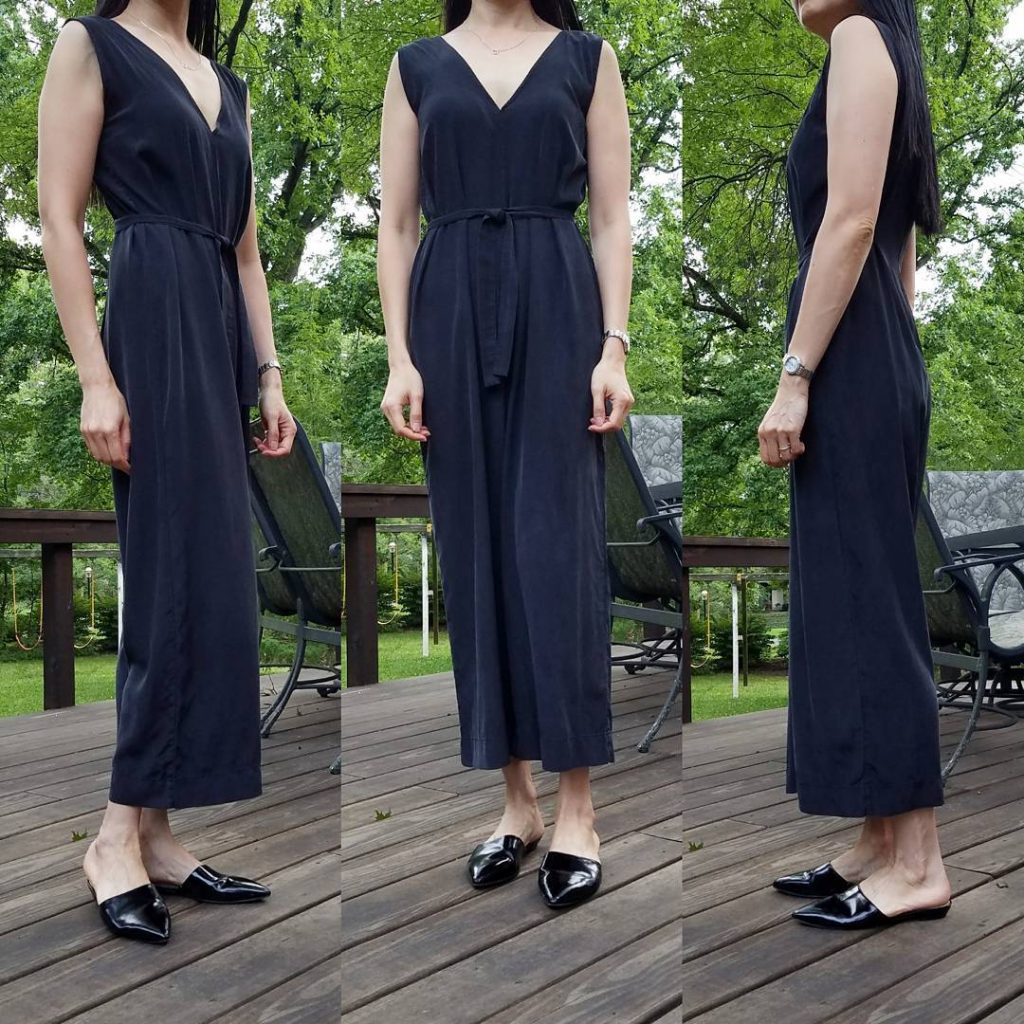 | PRICE | $295
| OVERALL IMPRESSION | This the most stunning ES piece that I own. I feel like a million bucks every time I wear it. When I bought it, I was only envisioning it for dressy occasions, but I wore it to the office quite a few times last season and liked it for that as well.
| SIZE | I'm wearing a small in this picture.
| CUT | The jumpsuit is cut loose and comfortable, and the waist tie pulls it all in and looks amazing. I usually pull the ties tight and knot them in front, but I could also wear it loose and knot in back. The length on the pants is somewhat cropped, which gives the pants a lot of movement. I would never change a thing about this jumpsuit!
| STYLE | I've worn this to shows and fancy dinners in the evening, family dinner, and to work. I like topping it with my Emma-like kimono. It's definitely an artsy feel 🙂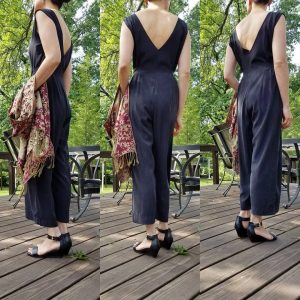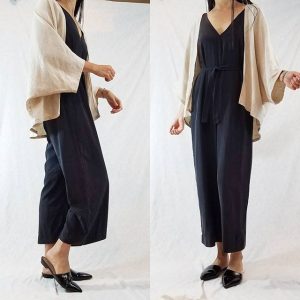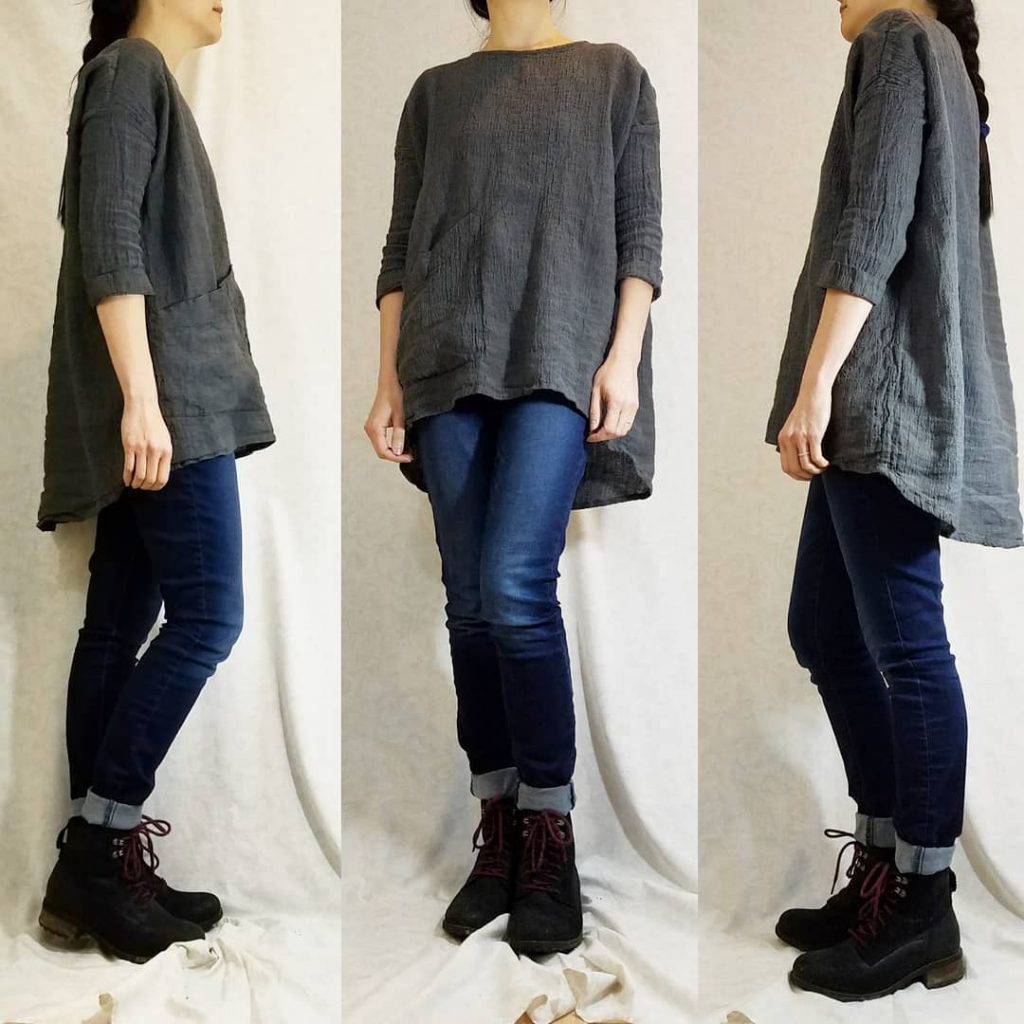 | PRICE | $195
| OVERALL IMPRESSION | I actually bought this top twice. I first bought in OS. I wore it a bit, but eventually sold it as it was so big, it felt a little overwhelming. Then I decided to try it in OS- and now I love it 🙂
| SIZE | I'm wearing an OS- in this picture.
| CUT | This top has an oversized fit. The sleeves are quite tight, and then the body is loose and flowy. It has a flattering high-low hem.
| STYLE | The Harper is the quintessential hang-around the house shirt. I wear it almost every weekend. The dark color means I can be as casual as I want as far as messes go. Last year, when I had the OS, I took it on vacation and used it like a sweatshirt while we were canoeing or hanging out at the beach. It was perfect for both occasions.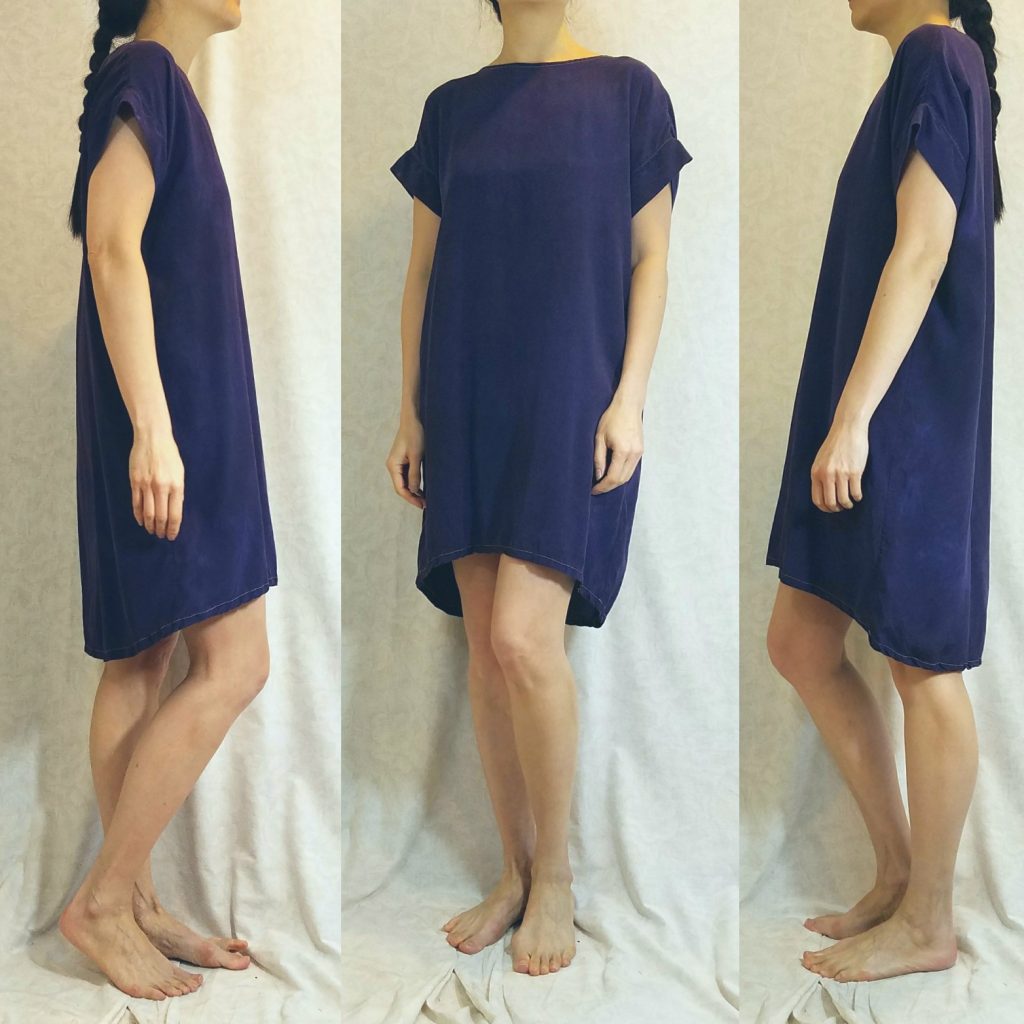 | PRICE | $245 retail, I purchased on selltradees for $160
| OVERALL IMPRESSION | This is the oops purchase I mentioned in my first-quarter purchase round-up post. I have to say, I didn't intend to keep it as a dress (I was going to shorten it to a top), but having tried it on several times, I do like the dress. I wasn't sure whether to review it as I've altered it by dyeing it, and I also haven't had a chance to wear it yet, since it's still cold, but I figured I'd throw it an after all.
| SIZE | This is an OS- which shrank a little after being dyed. Here's a picture before I dyed it. It actually fits quite large on me for an OS-. That's something to keep in mind if you order one new.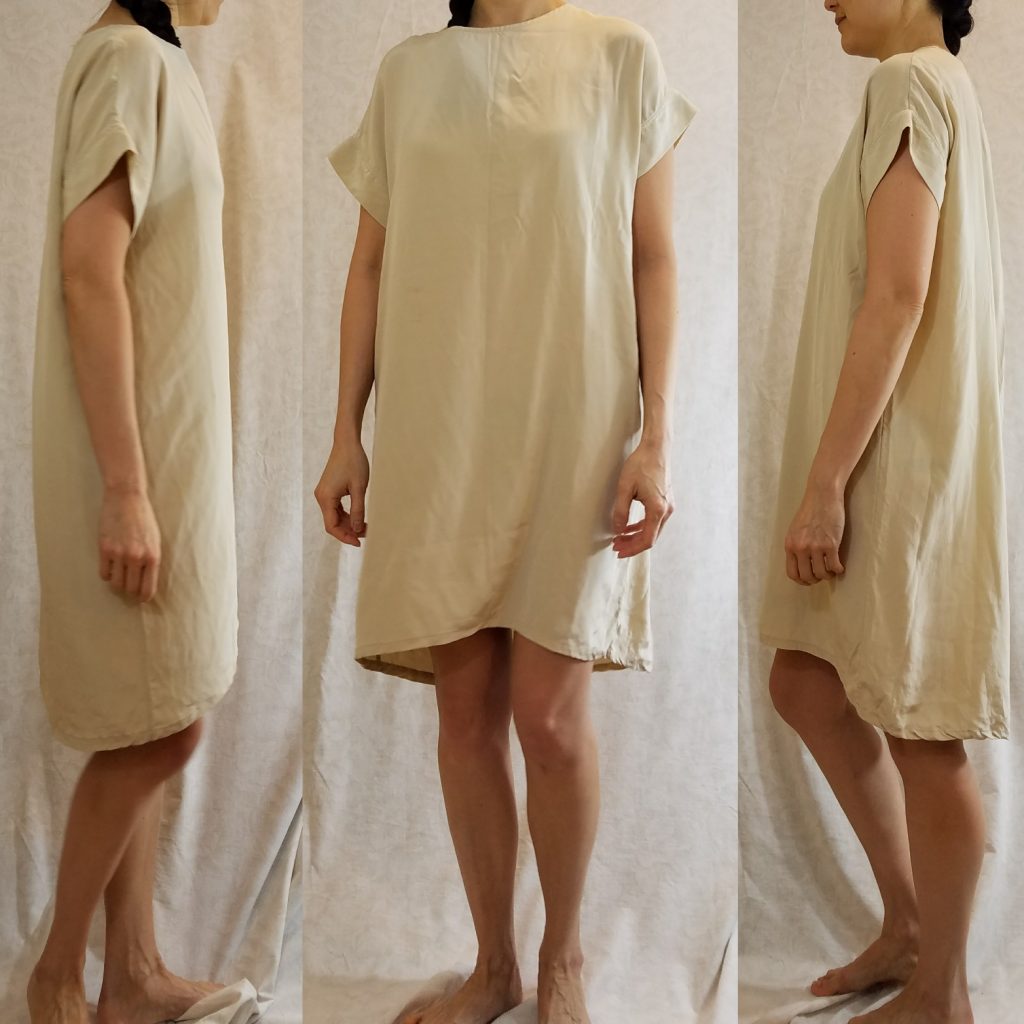 | CUT | I made myself a Georgia-like dress in linen last year, based on my OS Georgia top and it was a little big overall. This OS-, in a drapier fabric, and also slightly smaller after dyeing fits me quite well. I would have been worried that it would get too short if I'd known it would shrink, but I don't find the length to be an issue at all.
| STYLE | Given the dye job, this will strictly be a wear-at-home casual dress. Still, I can see myself enjoying the cool, breathable silk fabric on hot days hanging out on the deck. Can't wait for some warm weather!
In conclusion
Elizabeth Suzann designs, construction, and fabrics are all top notch. They seem expensive compared to most mall brands, but it is worth it for the design aesthetic and the knowledge that the garments are being made by people earning a fair wage with fabrics that are sourced sustainably. I love using my dollars to support an ethical company like this!
Not only that, I feel I owe my current wardrobe Nirvana to Elizabeth Suzann. It has really opened my eyes to clothing that enable me to feel myself — different, but in a subtle, quiet way. I am really glad to have discovered this brand!