In celebration of Me Made May, I thought it would be fun to write up reviews for my #memades, the way I have for my Linenfox and Elizabeth Suzann items. Currently, I have 14 #memade items in my wardrobe, which is more than 10% of my items (and almost 30% of my tops!) That makes me very happy 🙂
If you're looking to make your own items, I have linked to tutorials below, where I've made them, and also have some makers notes here.
Flax linen Linn-like top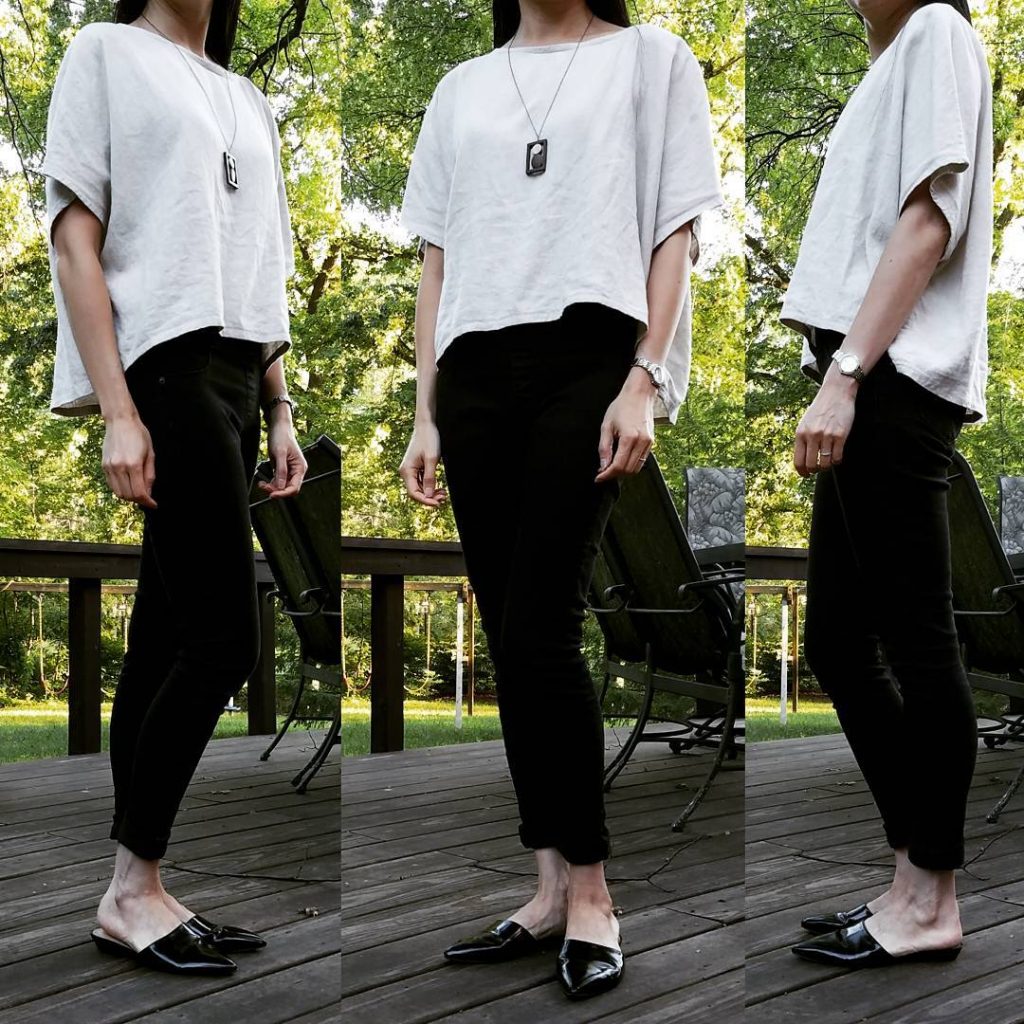 | Material & Amount | 100% linen, 1.5 yd
| Cost | ~$20
| Pattern / Inspiration | This was my first #memade of last year. I was eyeballing the Elizabeth Suzann Linn tee, but I knew the length would be too short for me. After finding a flat-lay image of the top folded in half, I decided I had enough of an idea of the shape to self-draft a version for myself. I wrote out a tutorial here.
I was surprised and pleased to find that there's a fabric store less than 10 miles from our house that carries linen. It was great to be able to see and feel it in person before buying. They had the perfect natural flax color, so I went for it.
| The Process | The Linn top is as simple as it gets, with just two pieces to sew together. Since it was self-drafted with no piece to reference from, it wasn't surprising to find that when I first finished it, it was a bit too wide. I eventually re-sewed the side seam and trimmed the sleeves shorter before re-hemming them.
| The Result | Overall, I'm happy with this top. Sometimes, I put it on after it's been hanging for a while and it makes me look really wide across the shoulders. But it must eventually soften up because it usually looks fine later in the day, draping and hanging better.
| Style | I've worn this top for casual occasions, evenings out, and work. It's very versatile! The flax color on its own reads somewhat casual, but paired with black, it suddenly feels dressy in a minimalist way. I like the flax color. It feels much less high-maintenance than white would.
Gray linen Linn-like top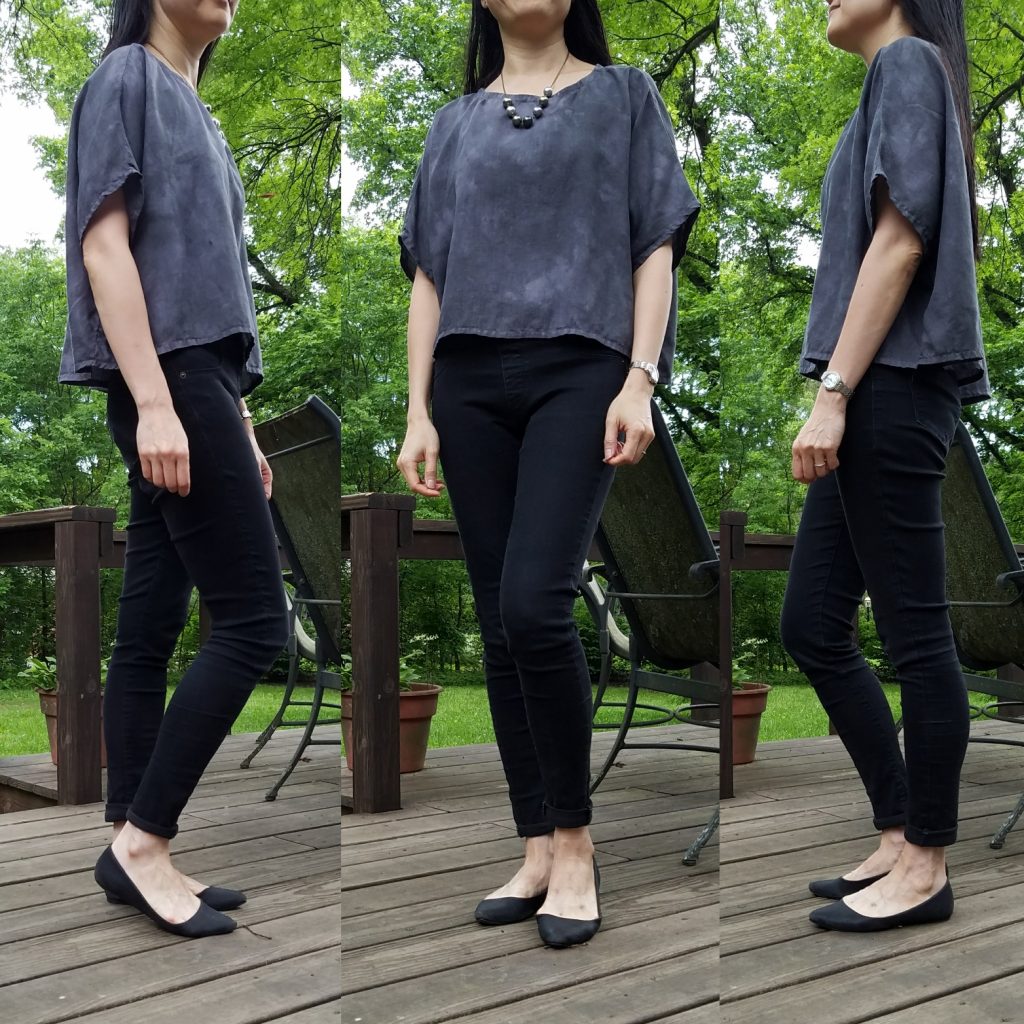 | Material & Amount | 100% linen, 1.5 yd
| Cost | ~$20
| Pattern / Inspiration | I didn't actually need another Linn-like top, but I wanted to take some pictures for the step-by-step tutorial so I figured I'd go ahead.
| The Process | The process was exactly the same as the previous Linn-like top. There were a few differences: 1) after the top was done, I decided I didn't like the light gray color, so I tried my hand at dyeing it a darker gray. As you can see, it came out a bit mottled, but I actually like the effect. 2) the neckline on this top stayed wavy, even after pressing, so I eventually ripped out the neck seam and re-did it with a bias binding.
| The Result | Somehow this top seems a bit shorter than my other one, and the linen doesn't seem to have the same heft and drape. Still, I like the top and it works equally well for the office and as a causal top.
| Style | I've worn this top with my black skinnies, shorts, and distressed jeans. It's an easy top to throw on and go.
White silk Georgia-like top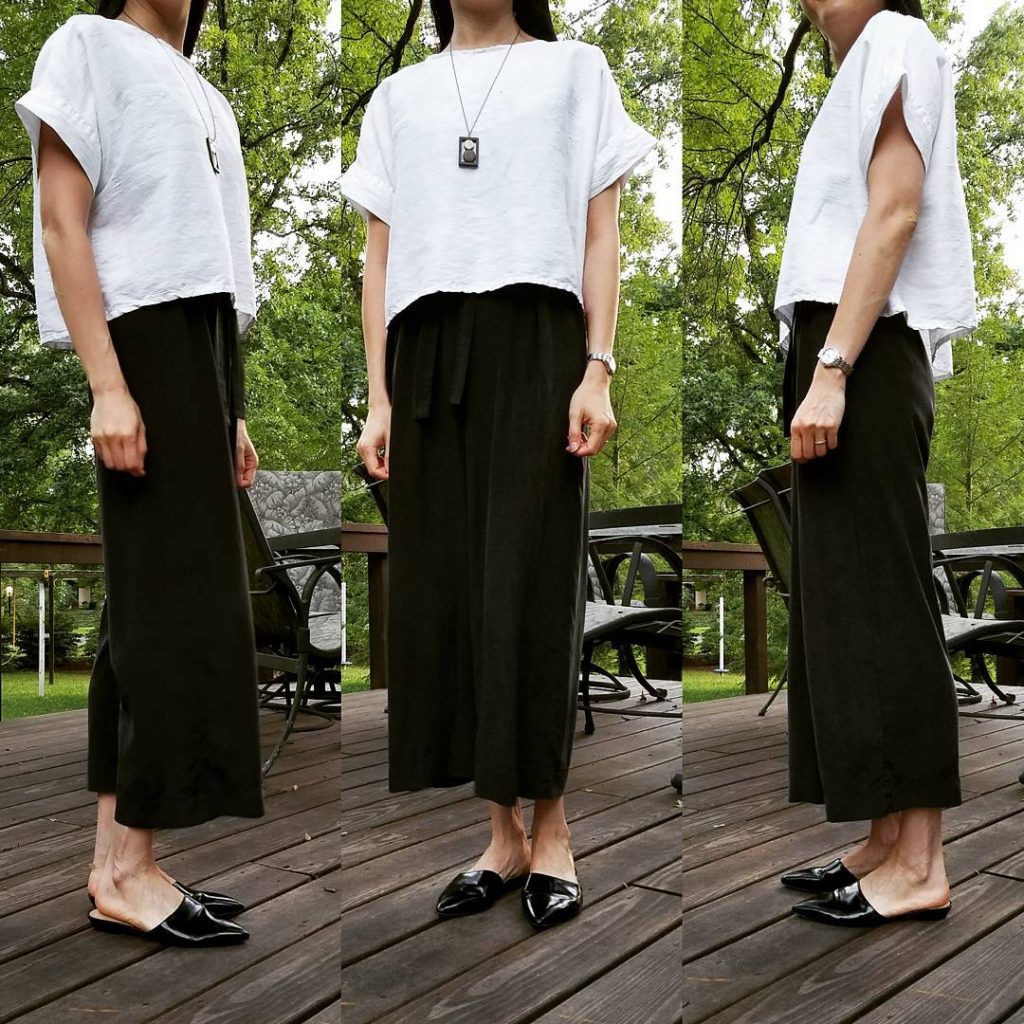 | Material & Amount | 100% silk, 1.5 yd
| Cost | ~$50
| Pattern / Inspiration | I really love the silhouette of the Elizabeth Suzann Georgia tee, but I found that the ivory color didn't work very well for me. I wanted a brighter white. I finally decided to give it a try with a white silk dupioni I found at that local fabric store. I washed and dried it to ensure that I ended up with an easy-care garment.
| The Process | For this top, I traced around a real ES Georgia tee to replicate the shape and size. This is a more complicated top than the Linn. The sleeves cuffs are separate pieces and need to be folded back and sewn on, which finishes the edge and also creates the signature "wing."
| The Result | I like this top quite a bit. A few things bother me: 1) the neckline is a bit wavy, since I didn't use bias binding (although I'm not sure that would work well on this fabric anyway), and the fabric doesn't really drape. This does mean that it has more structure, which is kind of cool, but it's also a bit stiff. Also, I like the slubbiness of the fabric, which makes white a wearable color. A bit of dust or dirt can be hidden in the texture.
| Style | This has pretty much been an office-only top. I could wear it for dressy occasions too, I suppose, but the wavy neckline keeps it from being a 'dress up' item, in my mind. I prefer it with wider-leg trousers vs. skinny. I think it's because the structure makes it pretty boxy and it's a bit too much contrast between the wide top and the skinny bottom.
Black linen Georgia-like top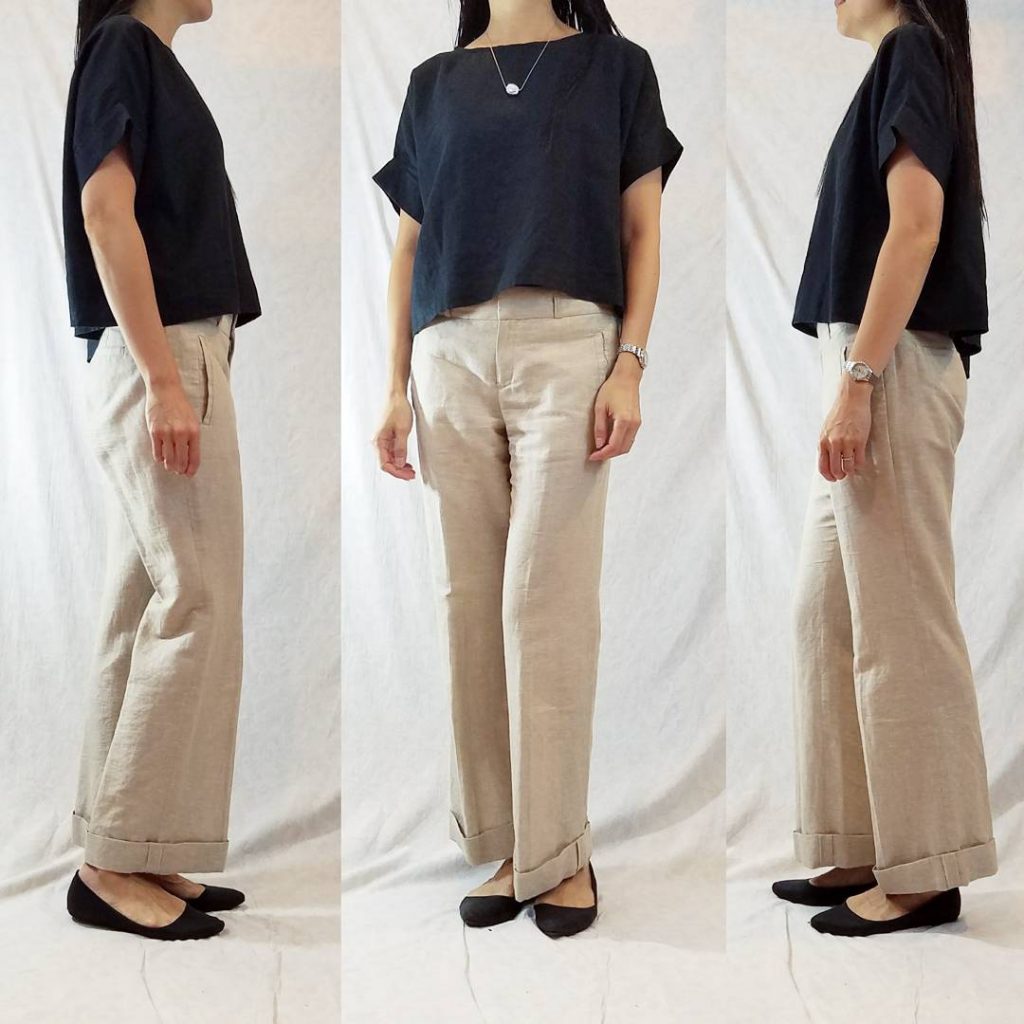 | Material & Amount | 100% linen, 1.5 yd
| Cost | ~$20
| Pattern / Inspiration | This is clearly another dupe of Elizabeth Suzann's Georgia top!
| The Process | After making the white silk Georgia, I decided I really wanted a black linen one after all. This was the first top I'd made that was a straight dupe of something I could have purchased from ES. I felt a little guilty, but the pull of being able to make my own dupe for $20 vs. buying the real thing for $145 proved to be irresistible. I freely admit that my version is not nearly as nice as the real thing, but it is close enough for me!
I'd already worked out the process for making a Georgia when I made the white one, so it was just a matter of doing it again.
| The Result | I'm very happy with the resulting top. I wore it a bunch last year and plan to again this year. I worried a bit about wearing black in the summer (too dark and depressing?), but it's all good. Turns out I love wearing black.
| Style | I mostly wear this top for work. It pairs really well with my flax linen trousers. I've worn it with jeans too, but I like it better with light-colored pants.
Flax linen Georgia-like top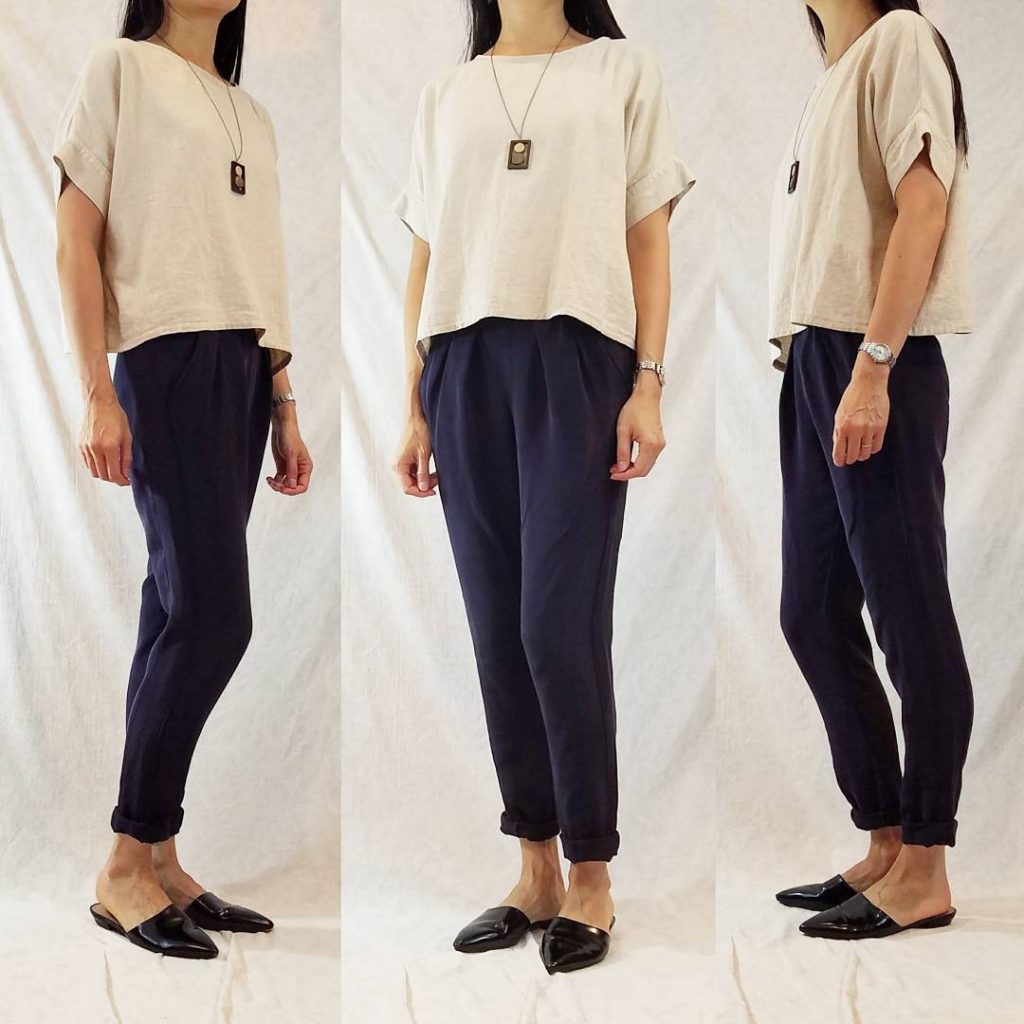 | Material & Amount | 100% linen, 1.5 yd
| Cost | ~$20
| Pattern / Inspiration | Another Georgia… This is the last one though!
| The Process | Same same 🙂 After making the black linen Georgia, I felt an overwhelming urge to have a flax colored one. Bordering on excessive? Maybe, but I was having *so* much fun making my own clothes!
| The Result | Love this one too. It pairs really well with my black silk-linen trousers, and also over my Mara jumpsuit.
| Style | The flax is an easy color to transition from office to casual wear over shorts or jeans. I wore it many times last summer and look forward to wearing it more this year.
Black silk matka Emma-like kimono
| Material & Amount | 100% silk, 2 yd
| Cost | ~$40
| Pattern / Inspiration | I was super-happy with my Georgia's, but I was having difficulty figuring out what to wear over them in the over air-conditioned corporate office where I spend my days. Somewhere along the way, I read that the Elizabeth Emma kimono has much the same shape as the artist's smock. Since I had an actual ES artist's smock, I used this as a basis for an Emma-like kimono.
In parallel, I had noticed a beautiful fabric at the store. It's called silk matka. It has a rough-woven texture, but a very soft hand. It feels more like linen or cotton than silk, but it has that silk-like ability to keep you cool when it's warm, and warm when it's cool. Perfect for an outer layer!
| The Process | Tracing the outer shape of the artist's smock was easy enough, but it was a little tricky deciding where to place the front opening. I used images from ES's site as reference and made my best guess. As it turns out, I left the front opening too big and the kimono would not stay up on my shoulders very well.
I ended up making a trim piece that I attached all around the front edge and neck of the kimono. I had to piece it together since I didn't have enough fabric to make one, long, continuous piece. As it turns out, this trim piece is one of my favorite features of the kimono. It gives it a collar effect at the back of my neck, and the piecing together gives it a bit of an origami feel. When I pieced the trim, I did it on the diagonal, and I like the subtle geometry it gives the piece.
| The Result | Love it! I wear it over my Georgia's all the time. It does its job perfectly.
| Style | This it pretty much 100% for office wear. I'm sure I could wear it out in the evenings, but our summer evenings out tend to be very casual (in contrast to the colder months when we often have symphony tickets.)
Flax-linen Emma-like kimono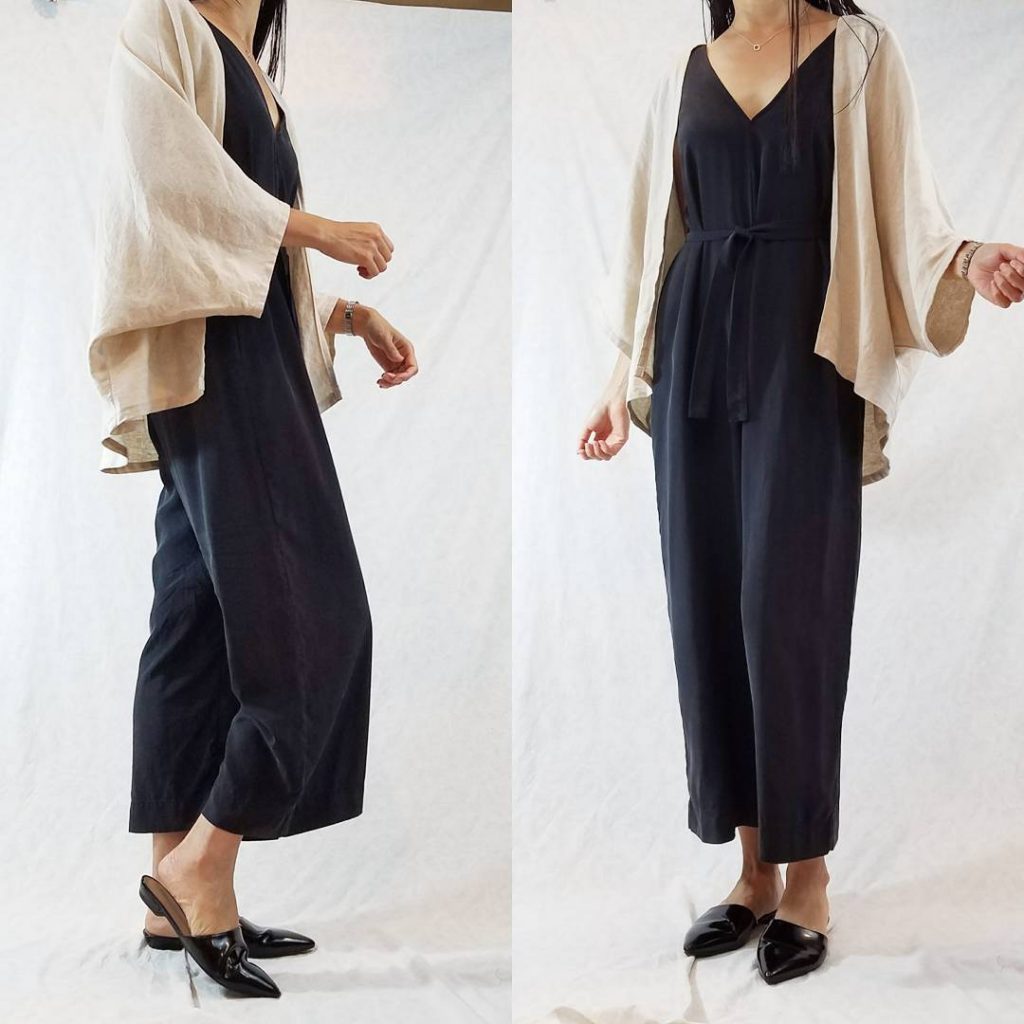 | Material & Amount | 100% linen, 2 yd
| Cost | ~$30
| Pattern / Inspiration | Having made one Emma-like kimono, I decided I'd like to have another one in a light color. I originally went with another silk matka, but the golden color didn't pair well with my skin tone. So I went back to the fabric store, talked with the owner, and traded the gold-colored kimono for more fabric and a store credit 🙂
| The Process | Same as the black kimono, but this time I narrowed the front opening so this flax-colored version doesn't have the wide trim and collar.
| The Result | Love it. It also makes a great second layer, especially over all-black outfits.
| Style | This pairs well with my Georgia's, my Mara jumpsuit, any dark top and dark bottom. I mostly wear this to work, but the linen is casual enough to wear to any family events as well.
Flax linen Harper-like top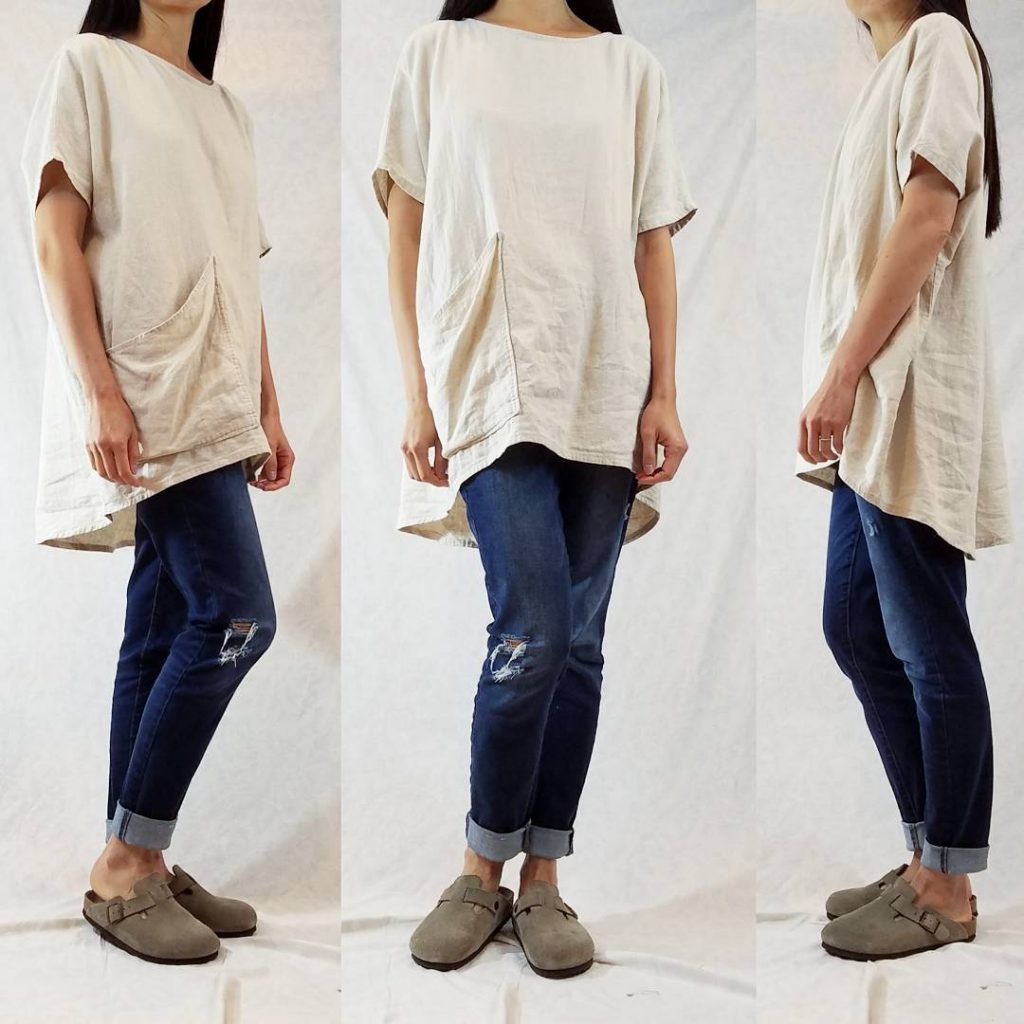 | Material & Amount | 100% linen, 2 yd
| Cost | ~$30
| Pattern / Inspiration | At some point last summer, I got a hankering to have an easy, casual top, much like the Harper. I was also just loving the flax-colored linen at my local fabric store. And I may have been getting a bit obsessed with sewing clothes. So I decided to try my hand at a Harper-like top.
| The Process | I didn't have an actual Elizabeth Suzann Harper top to copy, so I went off of pictures and measurements I could fine online. From there, I drafted my approximation of the top.
| The Result | I just love it. The Elizabeth Suzann designs are so simple, yet classy, and even my faint copy is a top I love wearing. The pocket totally makes it!
| Style | This is a 100% casual top, mostly just for hanging out at home. I love it with jeans or shorts.
Black linen Eva-like top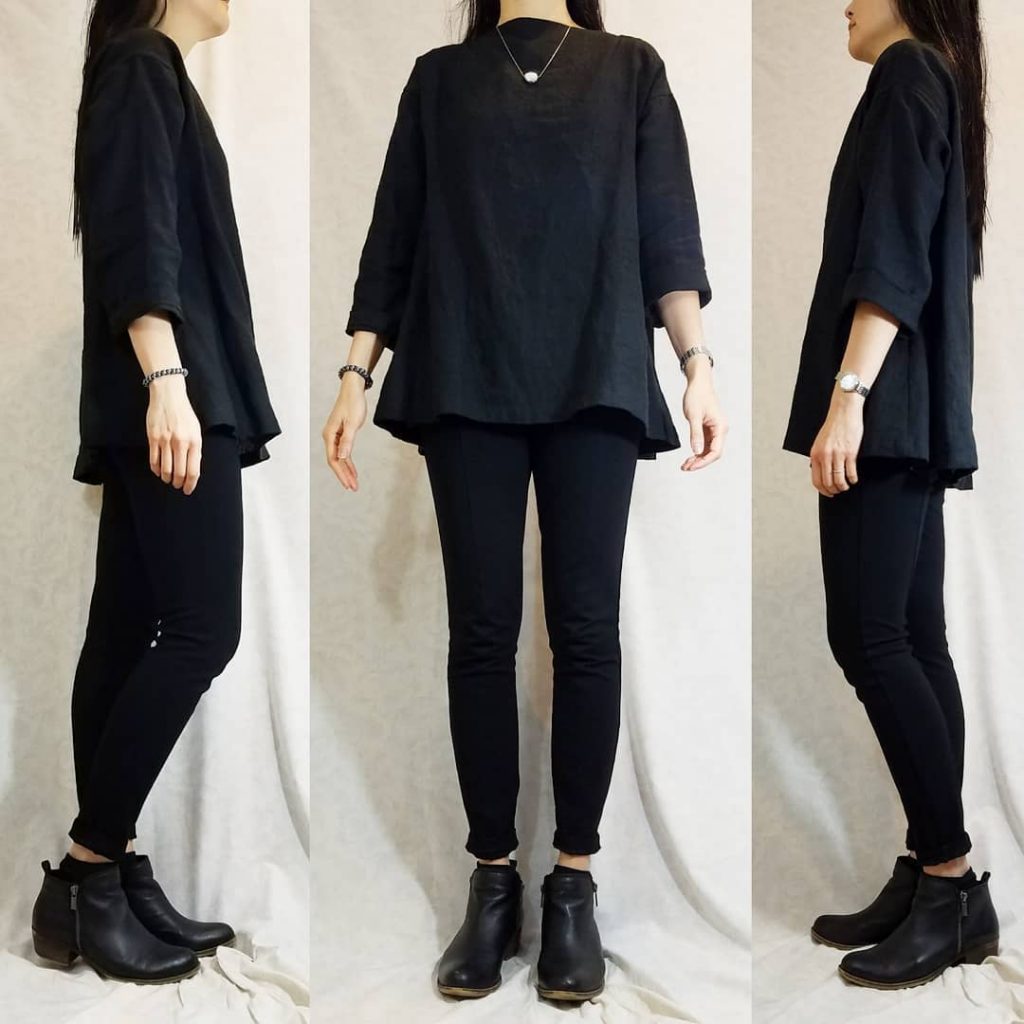 | Material & Amount | 100% heavy linen, 2 yd
| Cost | ~$20
| Pattern / Inspiration | I had ordered a black raw silk Eva from Elizabeth Suzann, but when it arrived, it didn't quite work for me. The fabric was a bit too clingy and I wasn't in love with the nubby raw-silk texture for work. But I do love the shape of the Eva, so I decided to try my hand once more at an Elizabeth Suzann copy.
| The Process | This was the first time I tried ordering linen online. It was winter when I made this top, and my usual fabric store didn't have any linen in-stock. I ended up ordering a very heavy weight of linen by mistake, but this worked out in my favor because the heavy fabric holds the structural lines of the Eva really well. It's probably similar to the ES cotton canvas version of this top.
| The Result | I am really please with how this one came out. As mentioned, the stiffer fabric means the top holds its shape really well and you can see the A-line structure of it.
| Style | I wear this top to work and also for dressy nights out. It works equally well for both. The straight neckline and trapeze shape give it a really special feel.
Gray and black silk matka T-top-like top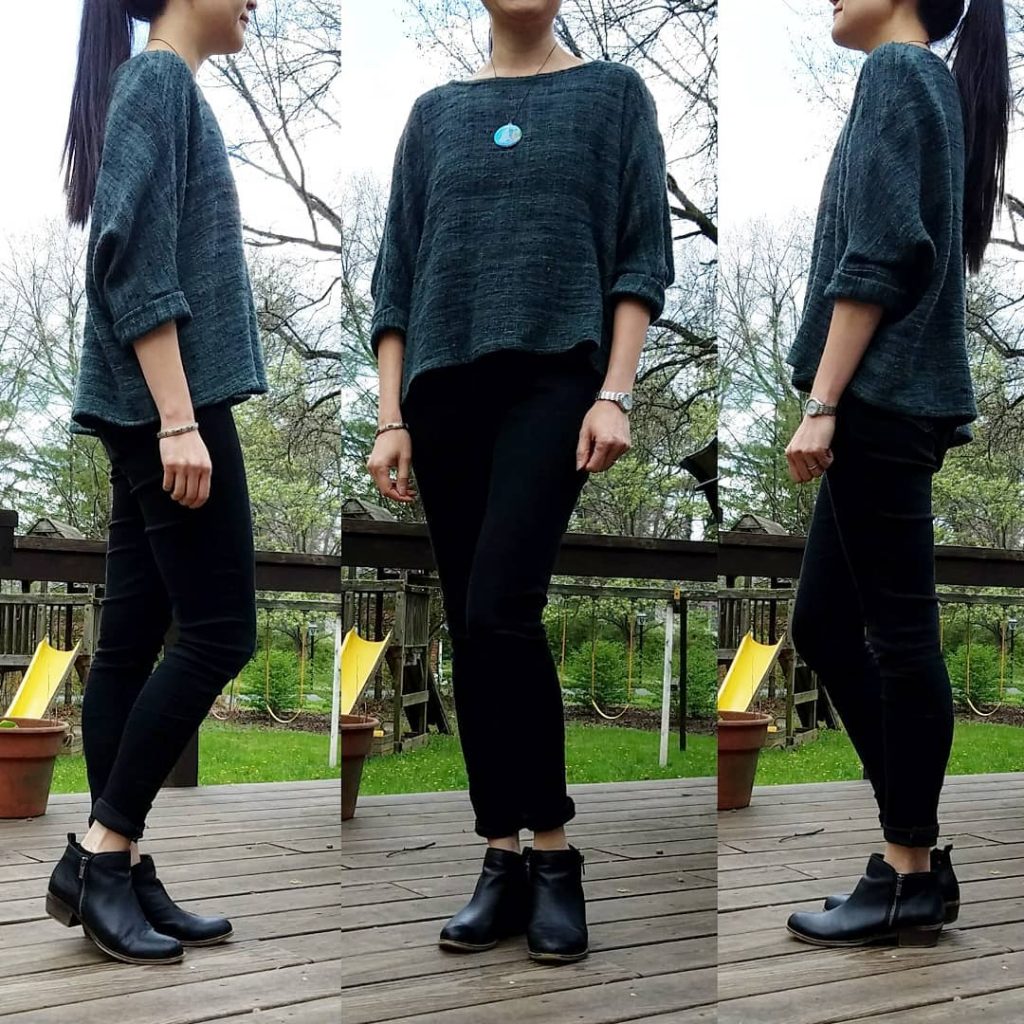 | Material & Amount | 100% gray-black silk matka, 2 yd
| Cost | ~$20
| Pattern / Inspiration | I was jonesing for a Jamie and the Jones T-sweater (I eventually broke down and bought one) because I love the slouchy shape of it. I found a site that sells silk matka and decided to spring for it despite the horrific ($15) shipping charges. I posted a tutorial for this sweater here.
| The Process | Since I didn't have a top to work from, I looked at flat-lay images of the T-top from Instagram. I also used the measurements from the J+J site to help draft an approximation. Just recently, I compared my self-drafted top to my actual J+J T-top and found that I had made the sleeves too long and had too much fabric under the arms. I re-sewed the seams and trimmed the excess fabric and like the result even better.
| The Result | I like, not love, the result. The fabric has a greenish hue that isn't my favorite. I do have to say I enjoy the fit much better after the recent edit. And the texture and color variation in the weave is nice. Maybe I can learn to love it 🙂
| Style | This is a super versatile piece. Although it's 100% silk, it is not high-maintenance at all. I've worn it for casual, work, and dressy occasions.
Charcoal knit cardigan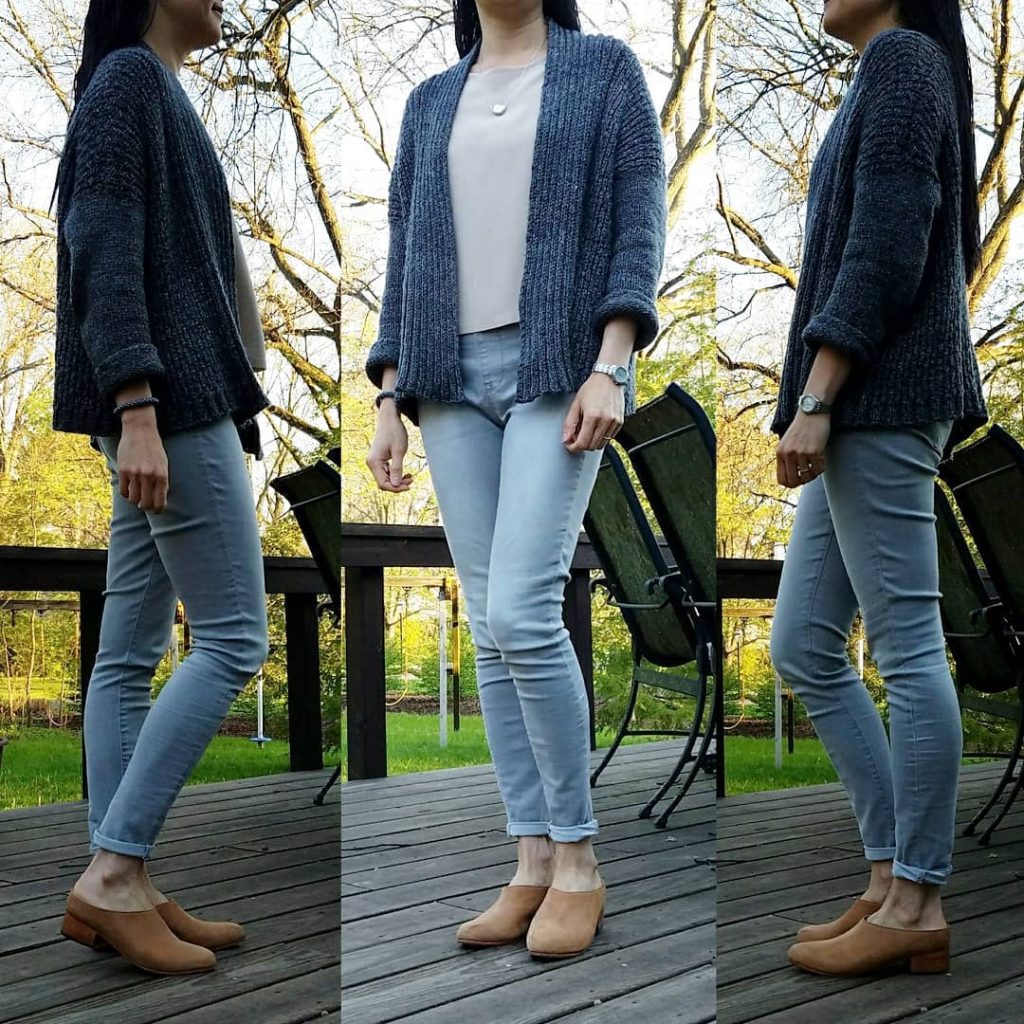 | Material & Amount | Lion brand Heartland yarn, 4-5 skeins
| Cost | ~$20
| Pattern / Inspiration | This is based on Joji Locatelli's Big Old Coat pattern. I love her patterns. So interesting to knit, and easy to follow. I made this a lot shorter than the pattern called for.
| The Process | Just followed the pattern. I like using Lion Brand's Heartland yarn because I've developed an allergy to wool yarns. Heartland is a lovely weight and softness, and yields a fabric with really nice warmth and drape. It wears really well without too much pilling, and it's easy to care for (machine wash and dry.) I pretty much only knit with this yarn these days.
| The Result | Love it! The only issue is that my skeins weren't from the same dye lot and there's a visible line where I switched. But whatever. I'm ok with it.
| Style | I wear this cardigan all the time, through all four seasons. Even in the summer. It is perfect for keeping the chill off in overly air-conditioned spaces.
Boxy sweater in light gray and charcoal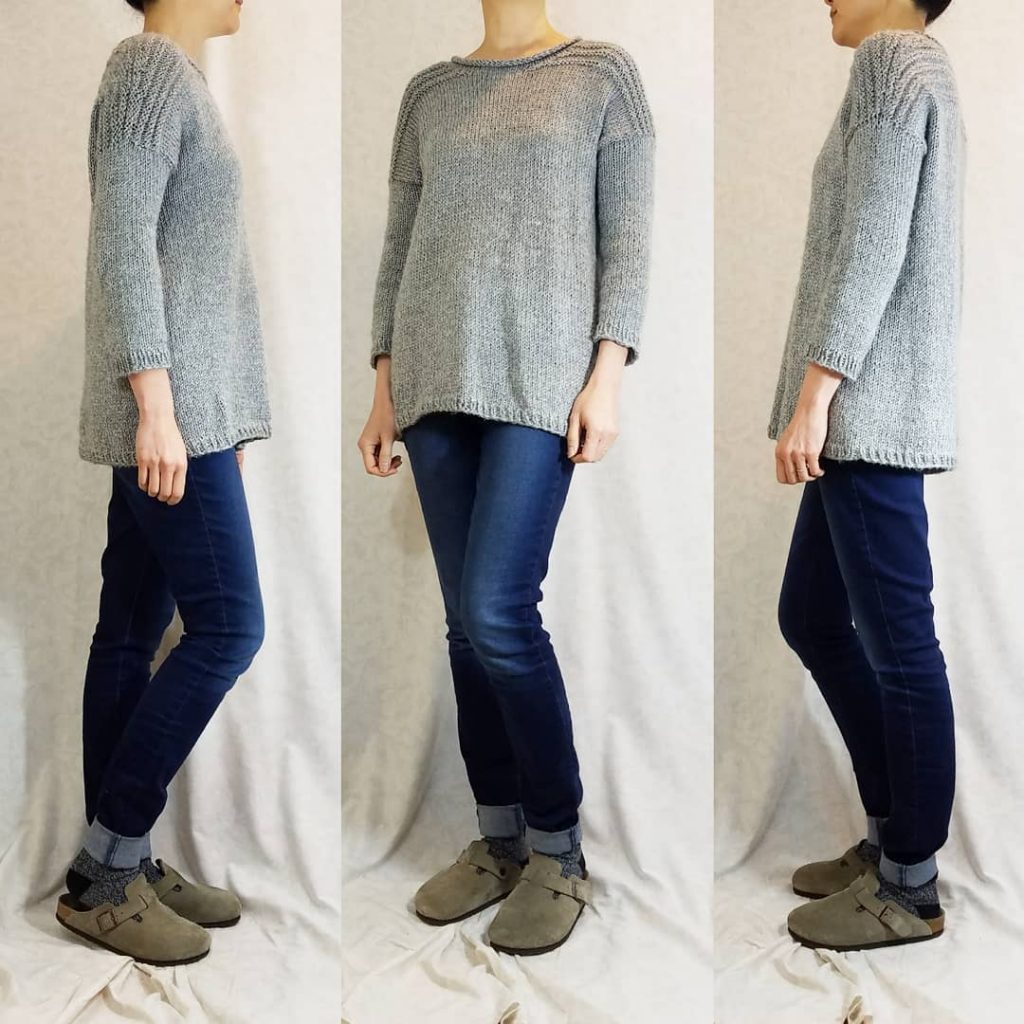 | Material & Amount | Lion brand Heartland yarn, 4 skeins
| Cost | ~$20
| Pattern / Inspiration | This is a skinnied down version of Joji's worsted Boxy pattern. I didn't want all the dramatic width. I just wanted an easy-to-wear, casual sweater.
| The Process | As mentioned, I just love Lion Brand's yarn, so that's what I went with. I followed Joji's pattern except for taking out some of the width. I've made a ton of sweaters based on this simple pattern, including multiple ones for my daughter, which she loves! I've made two for myself — one in this lighter gray, and one in a dark, almost black color.
| The Result | These are super cozy sweater. I wear them like sweatshirts. Same ease and comfort, but a step-up in terms of style.
| Style | I mostly wear these in casual situations at home, but have occasionally worn the darker one to work. It works just fine for the office 🙂
Wrap-up
So that's it for now. I have to say, my hit-rate on sewing clothes for myself is way higher than my hit-rate for knitting. I've knit tons of things that ended up being given away as gifts or even to Goodwill (that's painful!) As for sewing, there's only been one item (the Georgia-like dress) that I ended up modifying and then giving as a gift. Sewing is way faster than knitting too. So, faster and more rewarding. What's not to love?
I have one or two other items I may sew up this year, but I pretty much covered all my bases last year. I definitely made friends at the fabric shop. I may have to stop by just to say hi 🙂